ARMYs Are In Love With Halsey's Genuine Friendship With BTS
ARMYs are even adding her name to their BBMAs fanchant
It is no secret that BTS and Halsey have been friends for a long time.
The talented artists first met at the 2017 Billboard Music Awards. While this was BTS's first American music show, fortunately Halsey was there to help them feel more at ease.
She gifted each BTS member with delicious churros. In return, BTS asked Halsey to try their favourite snacks from South Korea.
Two years later, BTS and Halsey had their first collaboration with "Boy With Luv". This song has smashed countless international records.
Both artists have consistently complimented each other.
In a behind-the-scenes clip for "Boy in Luv", Halsey talks about how nervous she was as she never did choreography in a music video before.
However, she thanked BTS for encouraging her which allowed her to focus on the choreography that she pulled off in the music video.
Halsey said BTS made her feel really calmed and at home. we truly stan the right men pic.twitter.com/udO4r9a0rV

— ana with luv (@tmttshoseok) April 17, 2019
Furthermore, Halsey had the honour of writing for BTS when they made TIME 100: The Most Influential People of 2019.
In her tribute, she articulates her love for BTS's talent and how their message transcends cultural boundaries to bring people together.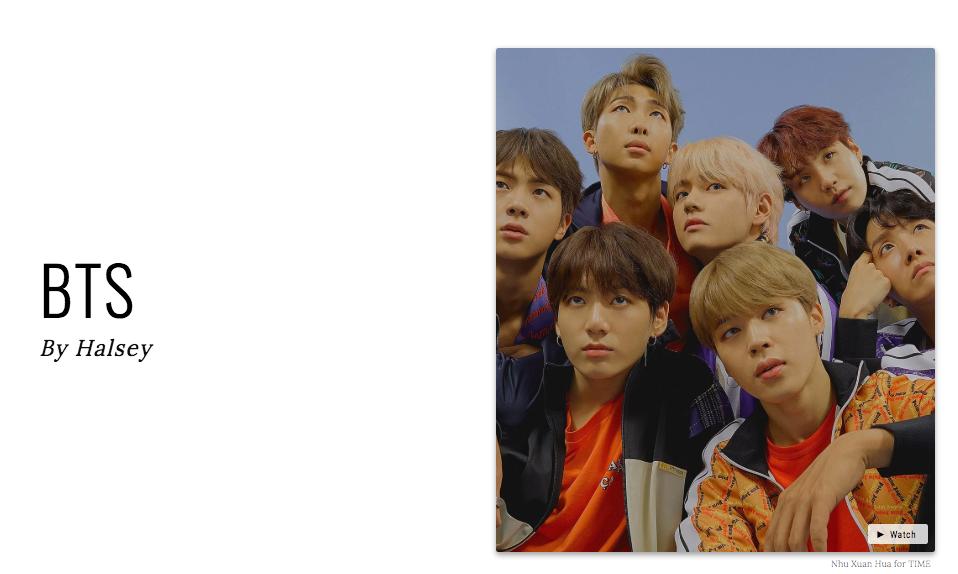 In her article, she has endless praise for BTS's message and their music.
With positive messages of self-confidence, intricacies of philosophy hidden in their sparkly songs, true synergy and brotherhood in every step of their elaborate choreography, and countless charitable and anthropological endeavours, BTS have put their 14 best feet forward as role models to millions of adoring fans
@halsey wrote this for BTS who are in @TIME 100 most influential people list of 2019 and I'm on the verge of tearing up. Thank you what you wrote is beyond beautiful 🥺

safira#BTS @BTS_twt pic.twitter.com/hL1L1ehiJr

— BTS ARMY #BOYWITHLUV (@DdaengLife) April 17, 2019
However, Halsey also highlights the friendly nature and fun-loving personalities of "the boys" as she affectionately calls them.
Outwardly, they are polished and professional, but hours of laughter, secret handshakes and gifts exchanged show those around them that underneath this showstopping, neatly groomed movement are just some guys who love music, one another and their fans
But the best part about this whole friendship has to be RM and Halsey's awesome handshake.
gang gang. #TheHandshake pic.twitter.com/T1UVQlnSBr

— h (@halsey) April 16, 2019
ARMYs have been in love with this genuine friendship between these talented singer-songwriters.
OMG this means so much😭😭😭❤️❤️❤️ we've been loving you and your music since before badlands was released, it's been a looong way!! the collab with bts was perfect we love your friendship so much💞 can't wait for your stage together at bbmas!!!

— 🌸 (@hanavbara) April 18, 2019
Is official
I am addopting @halsey
She is just the cutest and the sweetest human!
Just like our boys @BTS_twt

— Jess K – Persona🐤🐰🐨🐿💜💜💜🐹🐯🐱 (@JessicaKostele3) April 18, 2019
The way @BTS_twt and @halsey openly talk about their friendship is so rare. You can see that it's genuine, and regardless of where they're from or the languages they speak, they just truly enjoy being around each other. There's so much the world can learn from this friendship 😊

— Lilac with Luv 💜 (@LilacSeeker) April 17, 2019
ARMYs are even thinking about adding her name to their fanchant during the BBMAs.
I'm all for adding Halsey's name on the fanchant for BBMAs. It increases the value of BTS' clout amongst Western artists.

Always look at what will push the boys higher. It will also solidify the strength and value of BTS ARMY.

Think about the kind of power it will create.

— Bored Kimi Panda 록진🐼➐ (@BoredKimiPanda) April 16, 2019
I'm practicing that #BoyWithLuv @BTS_twt and Halsey fanchant like they will be able to hear me from my livingroom in Texas.
I'm sure I'm not the only one doing this!!

— 💜𝕊𝕒𝕣𝕒𝕏ℙ𝕖𝕣𝕤𝕠𝕟𝕒💗 BTS ARMY®💜 (@SaraxBTS7) April 18, 2019
We can't wait for these wonderful friends to finally perform together at the BBMAs on May 1 2019.
Share This Post