CNN Chile compares BTS to the Backstreet Boys
BTS was featured in at least two Chilean TV stations, who were astonished by the rising popularity of the group in their country.
Excitement is growing for fans in Chile as the day grows nearer to BTS' The Wings Tour. Chile was only scheduled for one day but after selling out in a record breaking 2 hours, a second day was added to the tour. The concerts will be held at the Movistar Arena in downtown Santiago on March 11 and 12.
On January 18, Chilean channel, TvN reported that avid A.R.M.Y's camped out on the streets near vendors for concert tickets. Fans from neighboring countries, Peru, Bolivia, and Argentina came all the way to Chile just to purchase tickets. With such a large fanbase, it came to no surprise that tickets sold out so quickly.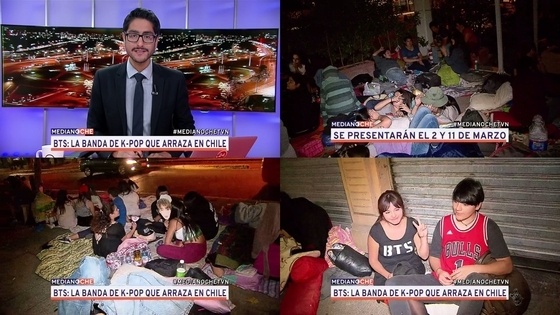 CNN Chile also covered news about the event and even went as far to name them the "Backstreet Boys of South Korea" . The coverage introduced the K-Pop group saying:
"BTS is a seven-membered group that features a K-POP style mixed with Hip-Hop. The most striking thing is that they not only dance and sing, but compose and produce their own music. It is not easy to see BTS perform, but the fans are building a powerful and dedicated fandom."
This is another achievement for the group after selling out their concert in Newark, New Jersey in just four minutes.
Check out BTS' The Wings Tour concert dates here!
Source: Dispatch
Share This Post