BTS' Rap Monster assumes responsibility after being accused of plagiarism
After being called out for plagiarism for his lyrics, Rap Monster responded to the allegations, assuming responsibility for his actions.
On December 2nd, he took to BTS's group Twitter account and wrote, "Hello. This is Rap Monster. I am currently in Hong Kong for 'MAMA.' Today is a very important day for BTS but this is also very important issue that I should address myself so I am leaving this post."
"Early today, an acquaintance informed me that the origin of my lyrics have become a controversy on SNS."
"First, I would like to sincerely apologize. Even though I am just at the start of my career, as an artist I often feel the pain of creating something. When I feel unable to write music out of my own inspiration, I get my inspiration from talking to friends, reading books I like, watching movies, interviews and letters from fans. Whenever a line leaves an impression on me, I write the line down in my memo."
"Most become forgotten over time, but after being pointed out, I realize I subconsciously made a mistake. I focused on simply writing the song without paying attention to finding out the true sources for my lines. Everything is my fault and I realize that the original creator of the quotes must feel very offended. I will personally contact and try to take responsibility. I would also like to apologize to everyone who pointed out my mistake and who were hurt by my actions. I am sorry and thankful to all the fans who love me even though I am a man of many faults. As I know the pain of creation, I will from now on think of the responsibilities of being an artist before anything."
"I apologize once again to everyone who I have inconvenienced."
안녕하세요. 방탄소년단 랩몬스터입니다. 저는 MAMA를 위해 홍콩에 와 있습니다. 오늘 방탄소년단에게는 무척 중요한 날이지만 이 일 또한 정말 중요하고 반드시 제가 직접 말씀드릴 일이라 생각돼 글을… https://t.co/R9S3GiDfn8

— 방탄소년단 (@BTS_twt) December 2, 2015
The situation arose after a Twitter user going by the handle @wevebeenhere raised the controversial lyrics again on December 1st, claiming that Rap Monster had plagiarized a line from him. Additionally, he reveals that it is not only him but another Twitter user @radiordinary whose phrases were plagiarized by Rap Monster.
In particular, the lyrics that were pointed out to be plagiarized were from the April release by Primary for the song "U" in which Rap Monster featured in and rapped, "I will become your underline because you're that important."
He wrote, "I hate people who take lines that represent another's life and use it as if it were their own. What do they get out of it? I was furious when those I cherish were made victim of such actions and I will not give up my work in such a way. I tweeted the line 'I will become your underline because you're that important' back in 2014. One Twitter friend informed me of this today and I am at a loss of words. Rap Monster wrote these lyrics. This guy has done this multiple times."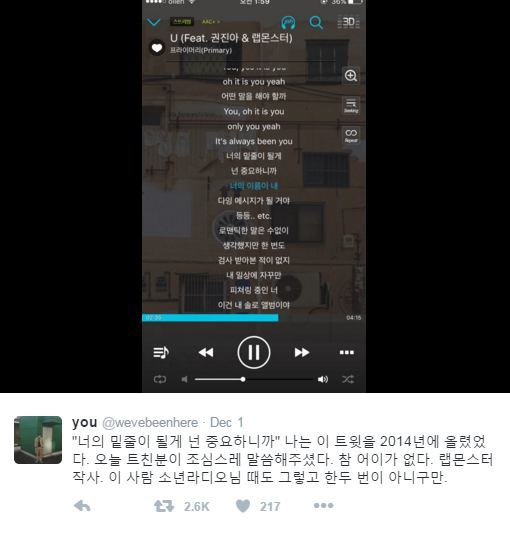 "Although I deleted that account once and the line is just saved on my computer, I am infuriated because I was going to use the line for the album cover of the band I am in. I have Twitter friend who wrote the line out in calligraphy for me. What a proud rapmaking rapper."
"San-E borrowed a line from poet Oh Eun but mentioned that he announced that he did. I don't know if a tweet has the same creative property rights as a line from a poem but the fact stands that this is an embarrassing action for an MC. Mr. Rap Monster."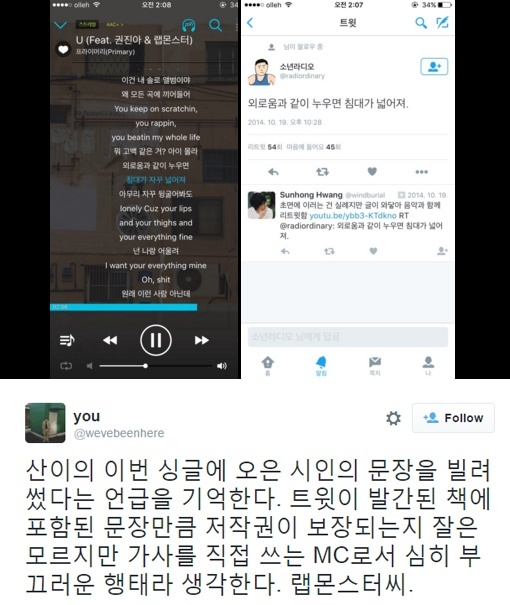 Another tweet that is the same as Rap Monster's lyrics, "When you lie in bed with loneliness the bed gets bigger."
"Evidence that the line was tweeted before 2104. 11. 16. The line was retweeted."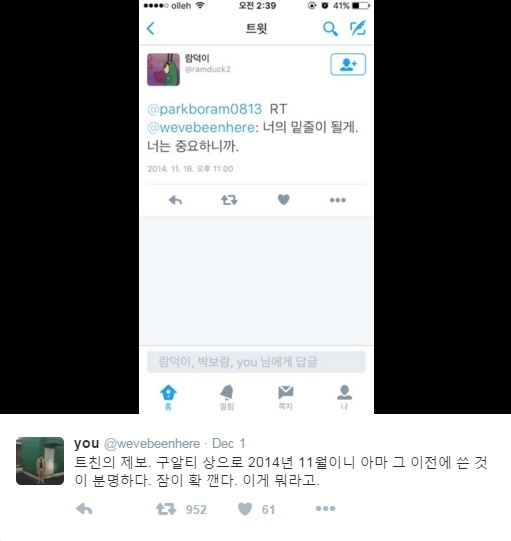 After seeing Rap Monster's apology post on SNS, @wevebeenhere posted a screen capture of his own apology to Rap Monster he had sent in a direct message on Twitter.
The screencapture and apology to Rap Monster reads: ""I am sorry for all the foul language going around on Instagram. I said what I said because I was emotional and it was a private account. Let's talk more after MAMA, Mr. Rap Monster."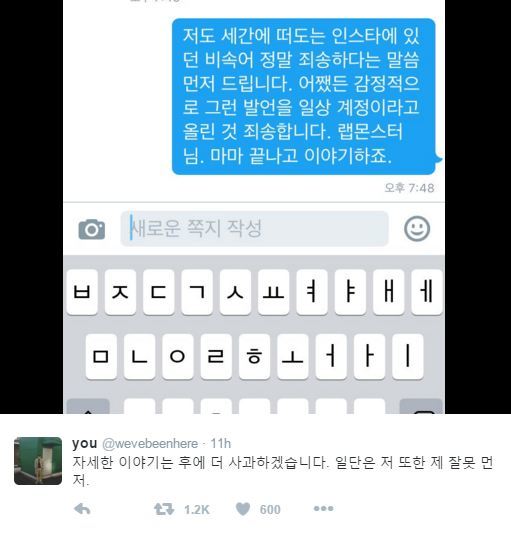 Source: OSEN
Share This Post