CCTV confirms Luhan and Wu Yifan to perform at New Year's Gala
Rumors of Luhan and Wu Yifan (Kris) sharing the same stage on CCTV's New Year's Gala has been confirmed by CCTV!
On February 2nd, CCTV officially announced through their Weibo account that Luhan and Wu Yifan are included in the line-up for their grand annual New Year's show. Additionally, CCTV revealed that the two will be bringing new renditions of classic old songs.
Other well-known celebrities who are also expect to attend CCTV's New Year's Gala include David Tao (Tao Zhe), Karen Mok (Mo Wenwei), Andy Lau (Liu Dehua), Na Ying, and more.
The program director for the night also revealed, "It is a safe option for rookies to sing old songs on a New Year's show, so we have chosen a few nice, suitable songs with youthful vibes for them."
In fact, Luhan had accidentally hinted about performing together through an interview at the press conference of Chinese movie Miss Granny, held in Hong Kong on January 23rd. At the one minute mark of the video below, Luhan acknowledged the reporter's question that the two are performing together, but hurriedly said, "You will know when the time comes. I didn't say it."
Luhan and Kris are currently still in the midst of trying to settle for their contract termination lawsuits against SM Entertainment, where both failed to reach an agreement in their second and third mediation sessions respectively.
CCTV's New Year's Gala show is set to air on February 18th at 8PM local time (9PM KST).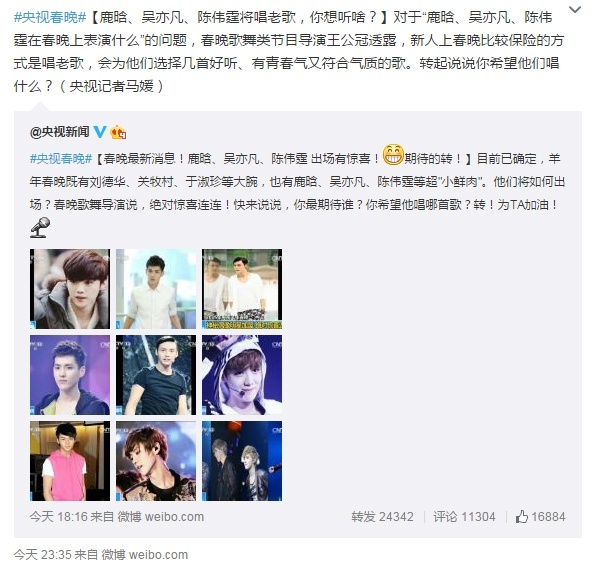 Share This Post