Crayon Pop's Soyul Writes Handwritten Letter To Fans After Marriage Announcement
Crayon Pop's Soyul has confirmed news of her soon-to-be wedding with Moon Hee Jun in a personal letter written to her fans.
Earlier today, news of Moon Hee Jun and Crayonpop Soyul's marriage broke out, surprising everyone. Soon afterwards, Moon Hee Jun's agency Koen Starz, confirmed the news.
The agency revealed, "I am sure many of you are surprised by this sudden news. Moon Hee Jun informed his fans with a hand written letter earlier today. His bride-to-be is Soyul, a member of Crayon Pop. [Soyul and Hee Jun] met around 2 years ago and began dating around April of this year. They have grown to trust each other absolutely recently and plan to get married around next February. We will keep everyone up to date if more specific details come up. We would like to congratulate Hee Jun on the news and ask that everyone congratulate the birth of the first 'Idol Couple'. "
Soyul went on to update her fan cafe page with a hand-written letter, following Moon Hee Jun's initial announcement.
Read the translated letter below: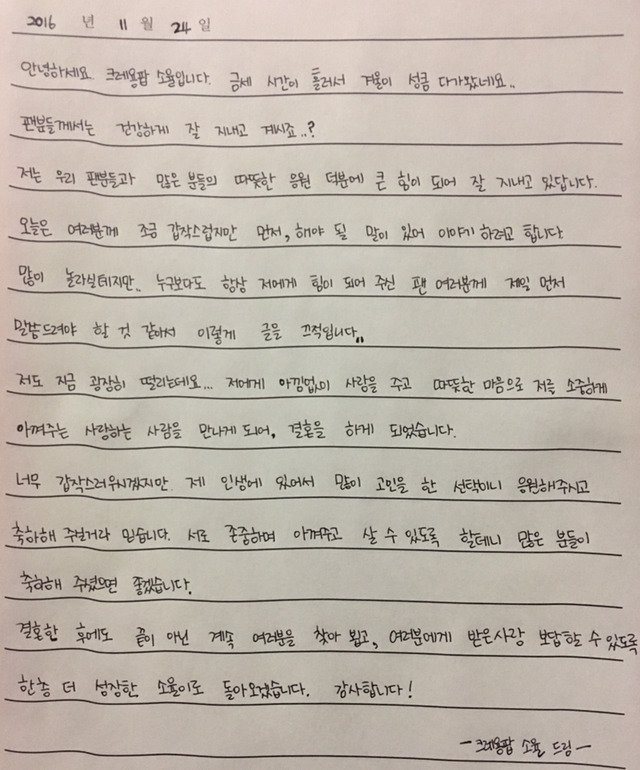 Hello this is Crayon Pop's. Time flies by so fast and it's winter already. I hope all of my fans are doing well. I am doing very well, thanks to all the love and support you guys are showing me. Today I have some surprising news which I felt you needed to hear first. I am very nervous as I write this… I have met someone who has shown me unconditional love and has cared for me with a warm heart, and I am getting married.

I know this is very sudden but I have thought a lot about this before making such a life-changing decision. I believe that you will support and congratulate my decision. I hope you guys can congratulate our life together as well. The marriage is not going to be an end but I will come back to you guys to repay you for the love you have shown me. I will come back a more mature Soyul. Thank you!
Source: Sports Donga
Share This Post