Dispatch reveals detailed timeline of Kim Hyun Joong and his girlfriend's relationship
After recent news of Kim Hyun Joong becoming a father broke out, news outlet Dispatch has released a detailed timeline in regards to his relationship with his girlfriend.
On February 22nd, unexpected news of Kim Hyun Joong and his ex-girlfriend having a child together was revealed to the public. The ex-girlfriend is the same person who had accused the celebrity of assault last year in August 2014. In January 2015 Kim Hyun Joong was also fined 5 million won for the case. Since the release of the news, Dispatch has revealed a timeline as to when all the events unfolded.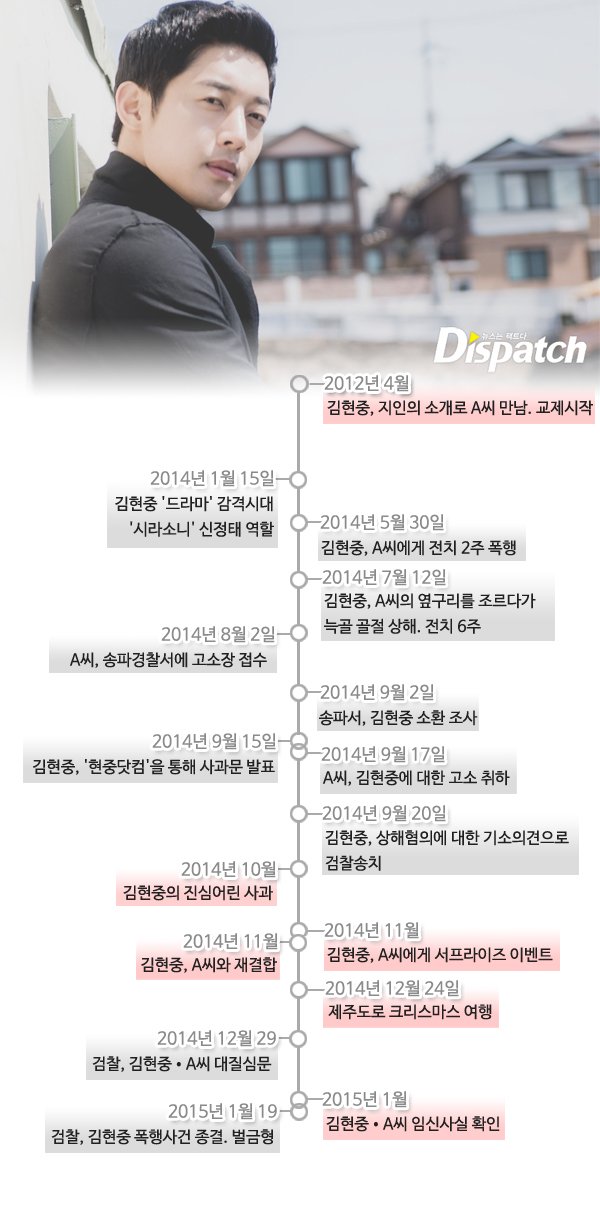 (from the top)
April 2012: Kim Hyun Joong meets A through a friend and starts dating.
January 15th, 2014: Kim Hyun Joong takes up a role in drama Inspiring Generation
May 30th, 2014: Kim Hyun Joong assaults A, and spends two weeks in hospital getting diagnosed
July 12th, 2014: Kim Hyun Joong squishes A on the side. A obtains a bone injury and spends 6 weeks in the hospital
August 2nd, 2014: Case filed against Kim Hyun Joong
September 2nd, 2014: Kim Hyun Joong summoned for investigations
September 15th, 2014: Kim Hyun Joong apologizes publicly through Hyunjoong.com
September 17th, 2014 : A withdraws her charges against Kim Hyun Joong
Spetember 20th, 2014: Kim Hyun Joong appears at police station for cancellation of charges
October 2014 : Kim Hyun Joong makes a sincere apology to A
November 2014: Kim Hyun Joong holds a surprise event for A
November 2014: The two get back together
December 24th, 2014 : Christmas trip to Jeju
December 29th, 2014: Kim Hyun Joong and A go to the police for questioning regarding the previous case
January 2015 : Kim Hyun Joong and A confirms pregnancy
January 19th, 2015 : Kim Hyun Joong pays fine for the previous case
Source: Dispatch
Share This Post