"Drinking Solo" Producer's Suicide Note Released To The Public
Six months after a popular drama producer's death, the truth behind what caused his death has been revealed.
On October 26, 2016, Lee Han Bit, an assistant producer for Drinking Solo, committed suicide. Until now, the circumstances surrounding his death have been largely a mystery as his family and CJ E&M remained fairly tight-lipped about the situation. Lee Han Bit's brother, Lee Han Sol, has now revealed the contents of Han Bit's suicide note and it has shed some light on the ordeal.
The suicide note disclosed what he experienced while working for CJ E&M on Drinking Solo, mentioning that he had been forced to work for 55 days straight, with only two days off.
He also talked about the harsh reality that came with his position and stated that he was wracked with guilt for having been forced to exploit his workers.
"The phrase 'exploitation of labor', which the staff on set would say half jokingly and half seriously, dug a hole in my heart. Of course, I am also just a worker, but at the very least, I shouldn't have to force as much work as possible out of the others.

I had to force them to work more than 20 hours a day, with only 2-3 hours of sleep, and then call them back to work. We were forced to push the already tired workers into creating the results that the company wanted. I despised this type of life; it was hard to continue living."

— Lee Han Bit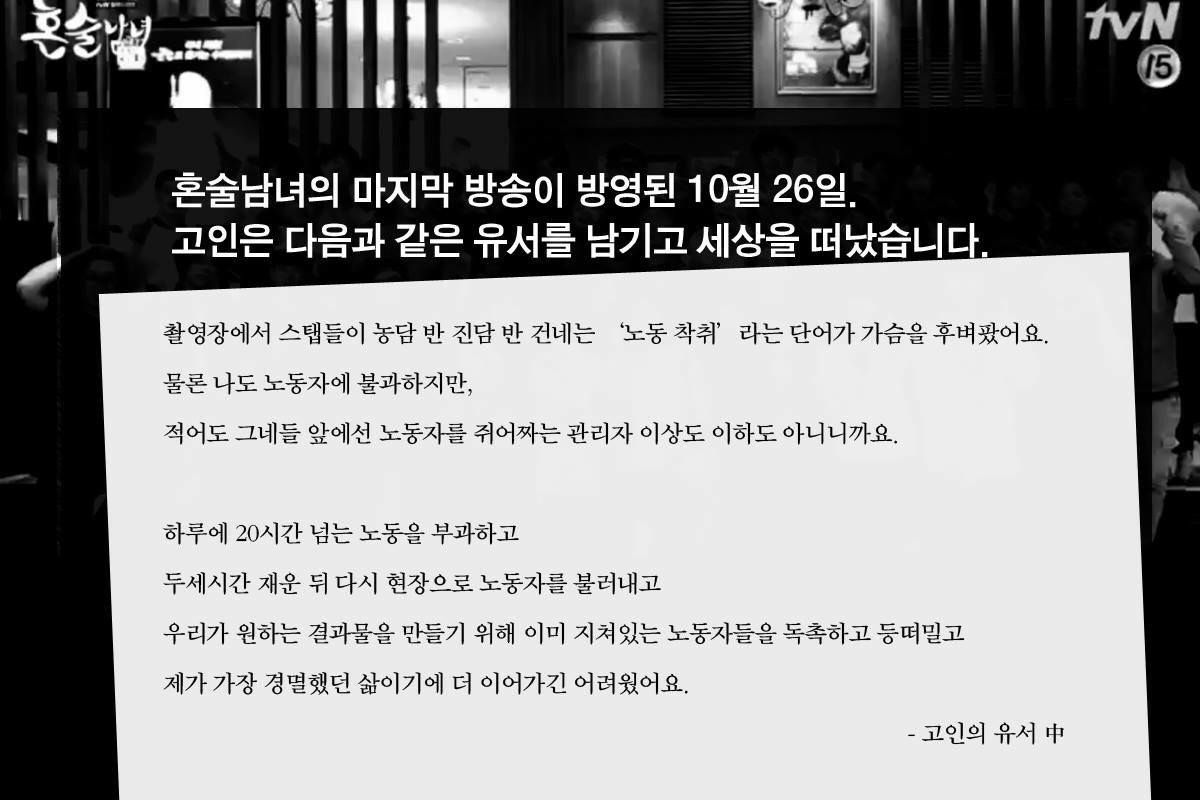 Lee Han Sol also revealed there were audio recordings and Kakaotalk messages full of insults. After his disappearance on October 21, CJ E&M apparently continued to berate him, even calling him a "son of a bitch".
CJ E&M has denied any claims of abuse.
The company has also issued an official statement following the revelation of the suicide note.
"We are very sad about the death of Lee Han Bit. We regret today's situation. We would like to offer our deepest condolences to his family who is grieving in these tough times. While we have been discussing the cause of death with both the police and family after the investigatiom, we are very sorry about what happened today. The company and its executives and employees will actively cooperate should the police and authorities wish to begin an investigation."

— CJ E&M
Source: MBN, Lee Han Sol
Share This Post