Remaining The East Light Members Break Their Silence, Lee Brothers' Lawyer Deny It All
The Lee family's legal team has denied several of the claims.
Back in October 2018, former The East Light members Lee Seokcheol and Lee Seunghyun reported to the media and to the police that they had been victims of assault by Producer Moon Young Il and that their CEO Kim Chang Hwan was complicit as a bystander.
Last week, came news of Moon Young Il being arrested on the charges of assault. Kim Chang Hwan and Representative Lee Jeong Hyun were also prosecuted for aiding the assault and violating the Child Welfare Act.
On December 26, The East Light members Lee Eunsung and Jung Sagang spoke at a press conference alongside Media Line CEO Kim Chang Hwan refuting the claims made by the Lee brothers.
The Lee family's legal team has denied several of the claims made at the press conference and to the media afterwards.
Sagang said they participated in the press conference despite the The East Light contracts being terminated because they could no longer hold back anymore.
"My heart hurt because not just our beloved CEO Kim Chang Hwan, but others were also being hurt in other ways."

— Jung Sagang
Eunsung stated it was a shame that the public had only heard one side of the story and yet decided who they would side with, and that people who were precious to him had become bad people in the eyes of the public.
Both Sagang and Eunsung expressed feelings of betrayal in regards to Seunghyun and Seokcheol.
"Though we fought sometimes and had some troubles, we thought that we had stuck through and risen above that. We didn't know they would sue. They never consulted us, and so we find their behaviour ridiculous."

— Sagang and Eunsung
They also told the media that the incident in which guitar strings were tied around Seokcheol's neck, was in fact a moment in which they were joking around.
"Our member Woojin was joking with Seokcheol. There's a similar scene in the movie 'Whiplash'. At that time, Moon PD joked around with them. We're so sad that all of our happy times are being twisted into seeming like time in hell."

— Sagang and Eunsung
To this, the Lee family lawyer insisted that it is not true that the members went to watch "Whiplash" and that the film doesn't even contain a similar choking scene. They added that Woojin wasn't even there at the time, since he wasn't part of the "Holla" debut team. It is true that while talking about "Whiplash", he would tighten the guitar cable around Seokcheol's neck whenever he made a mistake.
"We don't know if Lee Eunsung and Jung Sagang really thought of this as a joke, but that day the bruises around Lee Seokcheol's neck lasted for 3 to 4 hours."

— Lee Family's Lawyer
Sagang and Eunsung also wanted the public to know that they regarded Kim Chang Hwan and Producer Moon as a "father-like figure" and that the Lee brothers used to do so as well.
"I am angry, and I just can't understand why Lee Seok Cheol spoke like the representative of The East Light and held a press conference."

— Jung Sagang
Media Line producer Lee Jung Hyun also revealed that Lee Seung Hyun had a lot of problems and as a result was removed from The East Light. For example, he would be a no-show to schedules. He also brought up his suspicions that the wounds shown to the media as evidence were actually caused by their father.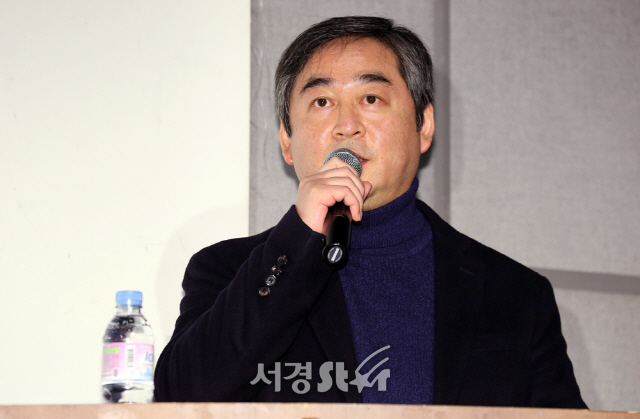 "Every time Lee Seung Hyun and Lee Seok Cheol stirred up trouble, their father would come to Seoul from Daejeon and physically punish them with a belt, bat, and golf club."

— Eunsung and Sagang
To this claim that their father punished Lee Seung Hyun for skipping a schedule on June 13 and that their parents sorted out the issue with producer Moon Young Il — they rebuked this and claimed that Seung Hyun was forcibly locked up and assaulted for playing soccer and was unable to attend the June 13 schedule because of the wounds sustained.
At this time, their father received a 1-week vacation and came to Seoul to meet his sons and discovered that they were being regularly abused. The next day, CEO Kim Chang Hwan claimed this was the first time they had been abused and the father said that if Seung Hyun had done something wrong then the parents would also help sort out the issue.
To the claim that they received further punishment from their father after being physically punished by producer Moon Young Il — the Lee family insisted that their father has never hit the boys before and that they do not even own a golf club.
Media Line representative Lee Jung Hyun also revealed that Lee Seokcheol and his father stole equipment from the practice rooms. The video shows Seokcheol moving equipment from the 3rd floor office to the 5th floor studio.
"On October 18, one hour before the first report went out and there was no one at the company, around 8:20 AM, Seokcheol and his father went inside the 5th floor studio and took 4.7 million KRW (~$4191 USD) worth of equipment (electric drum set, DJ launch pad, etc) without permission. I held back for so long but I can't hold back any longer. We expect to press charges for theft."

— Lee Jung Hyun
The family also refuted the claim that Lee Seokcheol and his father stole electric drums used by the company. They stated that Seokcheol simply took his personal use instruments the morning before the press conference. Since the company didn't purchase instruments for them, these were instruments purchased from Seokcheol's personal funds.
Furthermore, it was claimed at the Media Line press conference that "the members were aware that they would of course receive physical punishment."
"After they were disciplined, their parents were contacted and instructed to have the wounds treated. We were in frequent contact with Lee Seung Hyun's father, who had a lot of issues."

— Media Line
The Lee parents insisted they never received a phone call or text message in regards to having their son's wounds treated as soon as the corporeal punishment happened.
They also noted that "physical punishment" is just another way of saying "abuse" or "assault".
Share This Post