Event attended by Lee Kwang Soo in Shanghai downscale for safety reasons due to his high popularity
"Prince of Asia" Lee Kwang Soo is undoubtedly popular in Asia, but he's so popular that a recent event he attended had to be downscale for safety precautions.
On August 27th, Lee Kwang Soo attended the 2015 Korea Brand & Hallyu Expo held in Shanghai as the honorary ambassador which was hosted by the Ministry of Trade, Industry, and Energy and the Ministry of Culture, Sports and Tourism, and arranged by the Korea Trade-Investment Promotion Agency (KOTRA).
The Shanghai even was the largest event of its kind ever regarding the Hallyu Wave and was attended by both Lee Kwang Soo and male idol group INFINITE. There, Lee Kwang Soo was awarded as the Secretary of the Ministry of Trade, Industry, and Energy for his various activities as one of Korea's top stars active in China.
Lee Kwang Soo was originally scheduled to appear on both the 27th and 28th, however, Chinese authorities told the actor to reduce his activities as "The risk of accidents is high due to Lee Kwang Soo's high popularity," thus his schedule of appearance for the 28th was reduced.
Additional measures were also taken so that his accommodations were relocated away from the venue.
On this day, Lee Kwang Soo also held a fan signing for his fans where he showed off his good manners as he not only gave them an autograph, but gave fans hugs and an opportunity to take a photo with them.
A staff member praised Lee Kwang Soo, saying, "Everyone, fans and even local officials, were impressed with his gentle and kind personality. Even though he is really popular, he is humble and the best Korean star."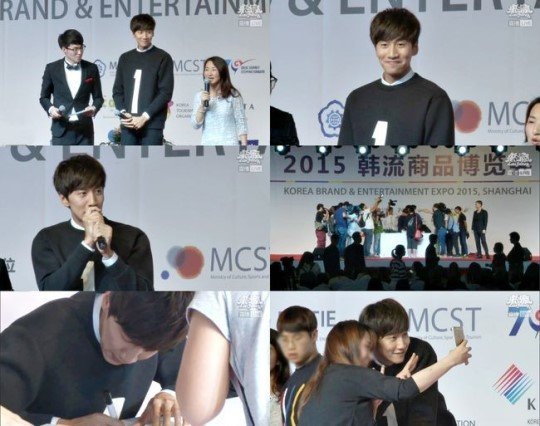 Source: OSEN
Share This Post