EXO Tao's leg injury revealed to have gotten worse after comeback stage performance
With their first comeback stage on Mnet M! Countdown now complete, there have been worrying fans and speculations whether member Tao will be joining the next few promotional stages.
As comeback performances usually involved numerous takes to make the stage as perfect as possible, there is a high probability the filming of M! Countdown was especially strenuous for Tao, as there were reports of recurrent injuries suffered by the artist in the past year.
In July 2014, Tao injured his foot while filming SBS variety show Laws of the Jungle, following another ankle injury at the Idol Star Athletics Championships. Tao was spotted traveling around in a wheelchair, and had to opt out from the group performance of "Growl" at EXO's second solo concert last month.
At the most recent EXODUS album press conference, it was announced that "as long that his injuries does not worsen, he will be joining EXO in all comeback performances."
Although it has not been explicitly said that Tao is going to take a rest from the next upcoming performances, there a lot of concerns for the need of a break so his leg injury does not worsen.
A Twitter update by Tao's largest Chinese Baidu fanbase, PreciousTaoBar, also added on to the speculations that the worsened leg injury after rehearsals that morning (at M! Countdown) might lead to his withdrawal from the following comeback stages.
TAO's injury has gotten worse after the rehearsal this morning, so he will not join the following comeback stages #getwellsoontao

— PreciousZTaoBar (@BaiduTaoBar) April 2, 2015
After the stage on M! Countdown, Tao updated his Instagram and Weibo accounts in response towards his fans' worries about his injury. He shared a selca of himself on Instagram, cheekily sticking out his tongue though still looking in pain, and captioned in English, "I will get well soon." 
He also updated his Weibo profile information with "It really hurts T.T But I really want to dance. Today's performance has brought disappointment to many of you. I will be obedient and recuperate."
[instagram://0-HLD8BPfK]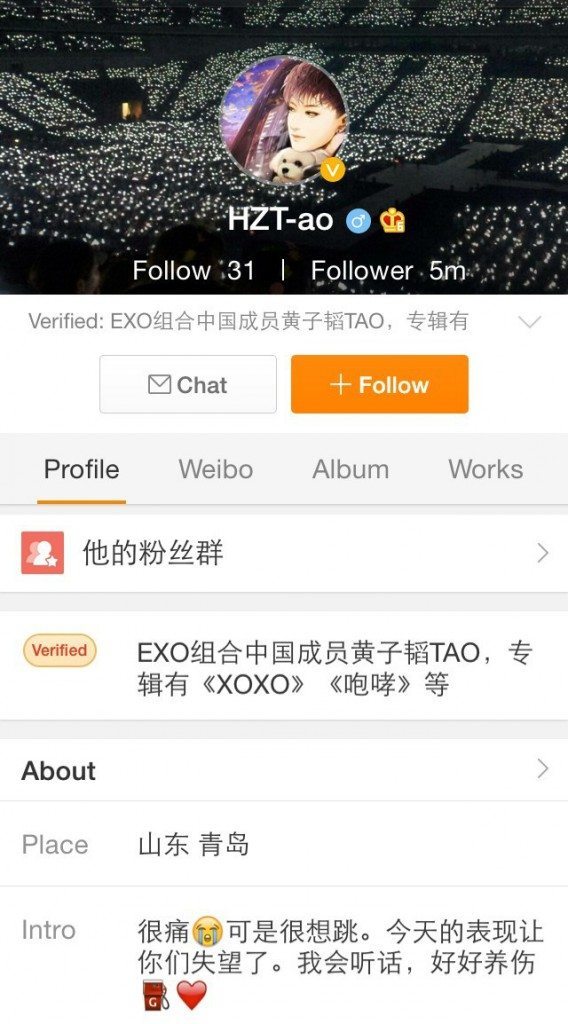 #GetWellSoonTao also trended worldwide on Twitter as fans expressed their concern over the unexpected turn of events.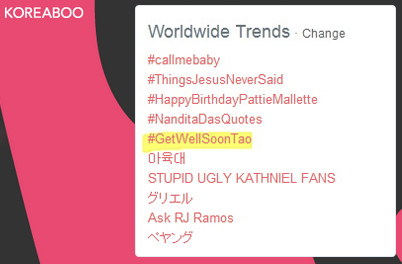 Stay tuned to Koreaboo for official statements and updates on Tao's participation in promotional activities.
Share This Post