FNC Entertainment artist's suspicious jump in votes for "2015 MAMA" has netizens crying out fraud
Everyone is in full voting mode with less than a full month left remaining for the 2015 Mnet Asian Music Awards set to take place on December 2nd in Hong Kong.
Despite voting for the event having started only a week ago, a controversy has already arise when a netizen pointed out a suspicious occurrence in the "Rookie of the Year" category, suspecting an illegal manipulation in the numbers taking place.
Find out what Netizens had to say about this article below!
Posted on Pann on November 6th and titled "@@Voting for MAMA's Rookie of the Year suspicion of manipulation@@," and the netizen writes, "Hello. I am trying to write an article about suspicion of manipulation on 'MAMA' Rookie of the Year voting. It's long, but please read until the endㅠㅠ! I apologize but I will start writing in banmal (casual/informal language)."
In summary, the netizen took the time to record the online voting into a chart, revealing the suspicious manipulation by doing so. They add that they have nothing against said artist or their fans.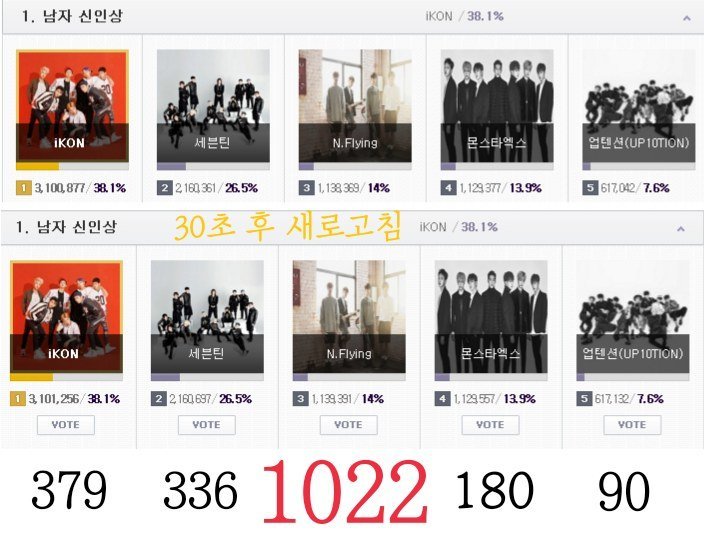 iKON | 3,100,877 → 3,101,256 = 379 votes
SEVENTEEN | 2,160,361 → 2,160,697 = 336 votes
N.Flying | 1,138,369 →1,139,391 = 1022 votes
MONSTA X | 1,129,377 → 1,129,557 = 180 votes
UP10TION | 617,042 → 617,132 = 90 votes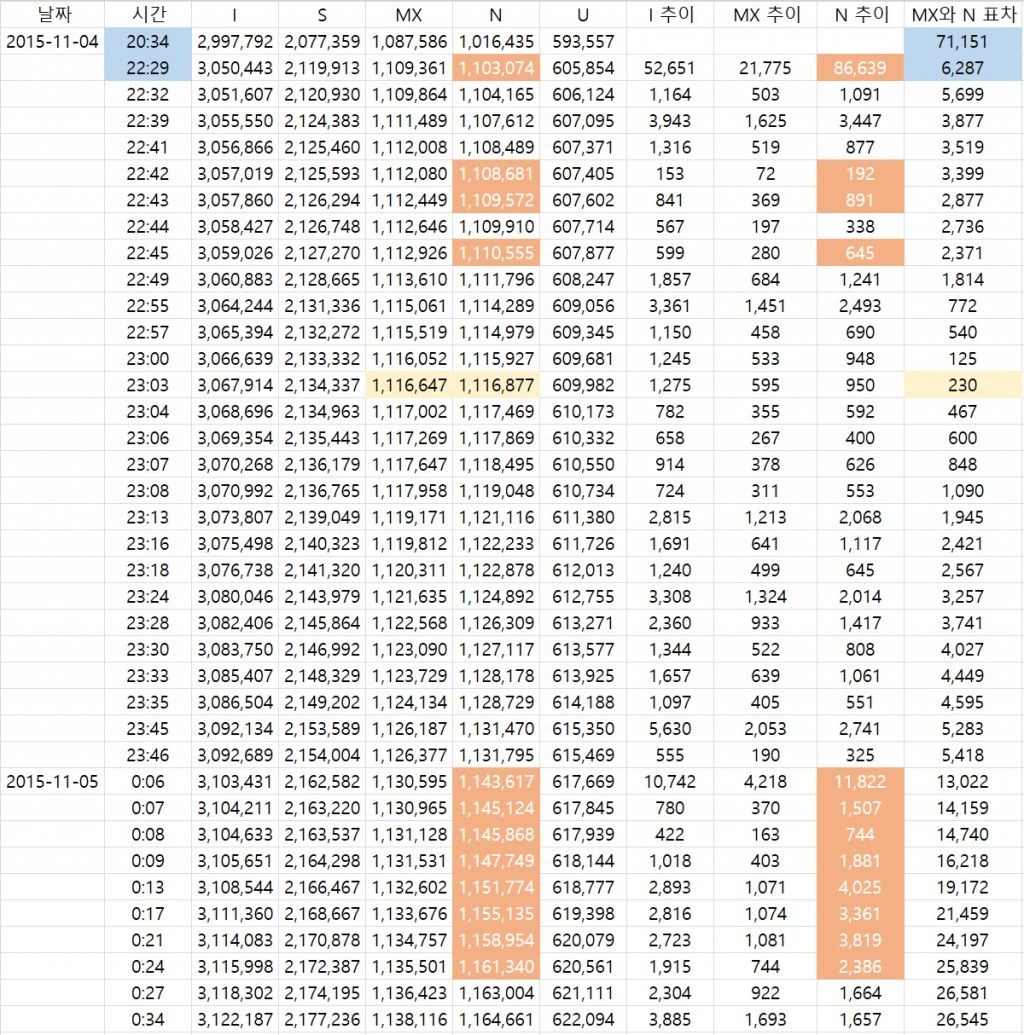 "As indicated in blue & orange at 22:29 → In two hours, N.Flying got approximately 86,639 votes"
"Previous situation"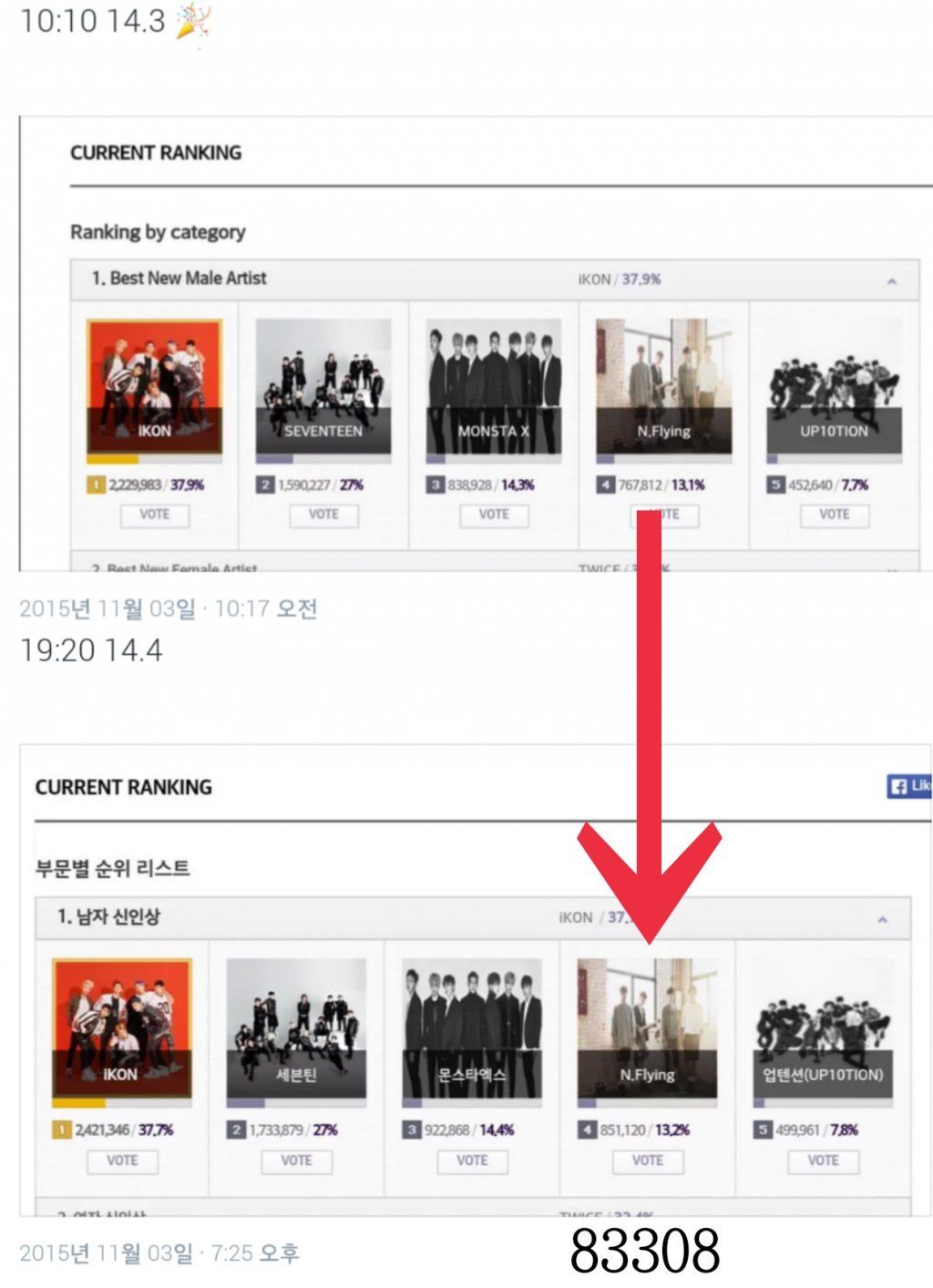 "N.Flying: In approximately 9 hours, they had 83,000 votes = 9200 votes per hour. But in two hours, they got more than 20,000 votes. 86,000 votes is four times more than usual."
"The strangest time was on November 5th between 0:06 and 0:24."
#1 Difference in Fandom Size

The following are what the netizen provides for the artists' number in their fancafe:
iKON – 25,483
MONSTA X – 18,317
N.Flying – 5,140
UP10TION- 5,346
The netizen points out how can a group with nearly five times less fans in their fancafe than iKON gain so many votes out of nowhere.
#2 The power of domestic fans right now?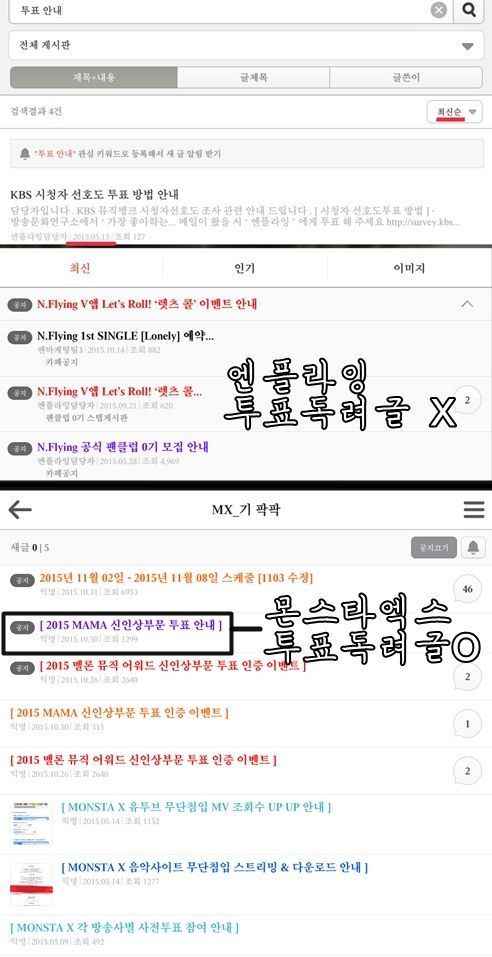 #3 Then what about the power of the foreign fans?

#4 Voting for MelOn Music (Awards) began around the same time?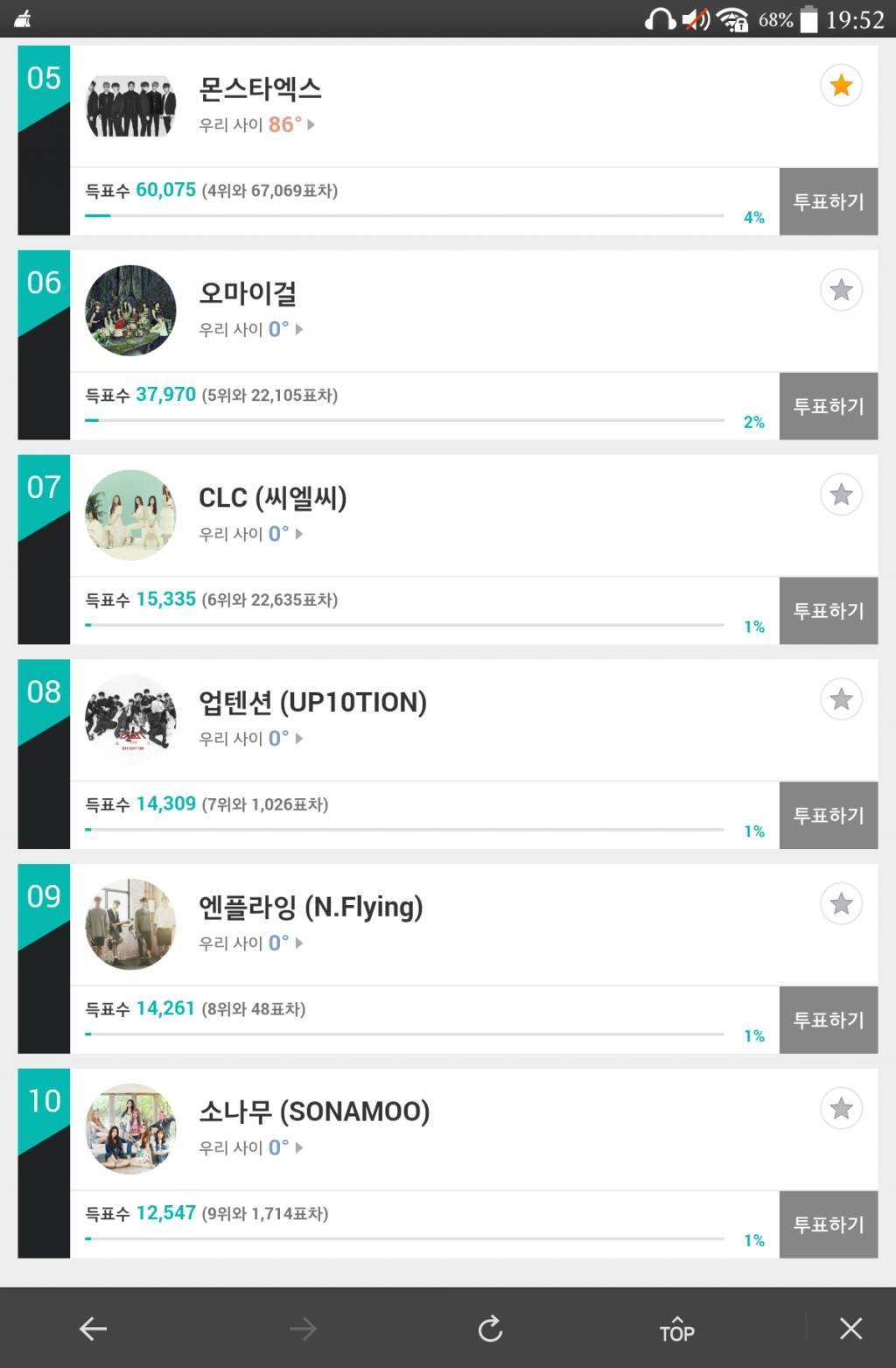 In the following screencap, the netizen watches the count for the rookies from 8:34pm to 12:24am (4~ hours).
iKON – 2,997,792 → 3,111,998 votes (#1 → #1)
SEVENTEEN – 2,077,359 → 2,172,387 votes (#2 → #2)
MONSTA X – 1,087,586 → 1,135,501 votes (#3 → #4)
N.Flying – 1,016,435 → 1,161,340 votes (#4 → #3)
UP10TION – 593,557 → 620,561 votes (#5 → #5)

---
NETIZEN REACTIONS
Koreaboo has collected reactions from Netizens who commented on the original article from our Korean source. The below comments are the most popular comments at the time of this article being published.
---
[+194, -20]  You're saying it's because their company fandom helped them?????? iKON is YG their sunbae? Big Bang ㅋㅋㅋㅋ
[+164, -7] Never mind everything else their vote difference of 26,000 constantly is irrefutable evidence of rigging.
[+158, -10] Of course it's this agency;;;; ㅋㅋㅋㅋㅋ so infuriating
[+73, -3]  I'm an EXO-L but shouldn't the rookie award go to iKON or SEVENTEEN? Where did N.Flying come from? ㅋㅋㅋㅋㅋ It would be ridiculous if they won. Rookie awards is once and if that is rigged, it would be such a shame.
Source: Pann
Share This Post