"High1 Seoul Music Awards" post official apology to Girls' Generation's Taeyeon
High1 Seoul Music Awards has officially posted an apology on their official website on January 23rd, following the shocking stage accident involving Taeyeon the day before. 
The music award show writes on their website's front page, "Please accept our apologies for the incident, Taeyeon. In regards to the celebrations on January 22nd at Korea's grand celebration the '24th High1 Seoul Music Awards,' which was held at the Seoul Olympic Park Gymnastics Stadium, girl group Girls' Generation – TaeTiSeo's Taeyeon had an unexpected accident while exiting the stage, to Taeyeon, the members, their agency, and to fans, we sincerely apologize. 
We will explain the accident overview.
The accident occurred when the lift installed on stage was lowered hastily, as Taeyeon was exiting the stage following the members accepting their Bonsang and "Holler" stage. 
Due to mis-communication, the stage crew had the lift lowered 1m halfway its full length of 1.8m, and Taeyeon missed her steps and fell down the lowered lift. The TaeTiSeo members Tiffany and Seohyun and the backup dancers immediately noticed and pulled her back up on stage. The stage team explained, 'Due to the delays, the accident occurred when there were attempts to hurry up [to catch up] the event.'
Taeyeon received minor injuries due to her fall down the stage. She was immediately taken to the hospital for a checkup. She was diagnosed with 'minor back muscle injury.' Taeyeon returned home after being treated and checked. 
The Seoul Music Awards organization committee has contacted SM Entertainment on January 23rd to give our sincere apologies to the members and Taeyeon, and have given our promise to cooperate with any follow-up necessary. In response, SM Entertainment said, 'Taeyeon's extent of her injuries are not serious. Thank you for following up.'
Despite the Seoul Music Awards' many efforts for safety through rehearsals and safety training, this accident still occurred unexpectedly, and we would like to extend our sincere apologies to Taeyeon, the members, the agency, and fans. In addition, we sincerely hope, like fans, that Taeyeon makes a complete and successful recovery."
Following TaeTiSeo's "Holler" stage, the group proceeded to exit stage right when the middle stage lift was prematurely lowered causing Taeyeon to suddenly fall through. Staff and dancers, along with Tiffany and Seohyun, were seen immediately coming to her aid. Fortunately, according to updates from SM Entertainment, Taeyeon suffered from a pulled muscle and is currently home resting as not to stress her injury.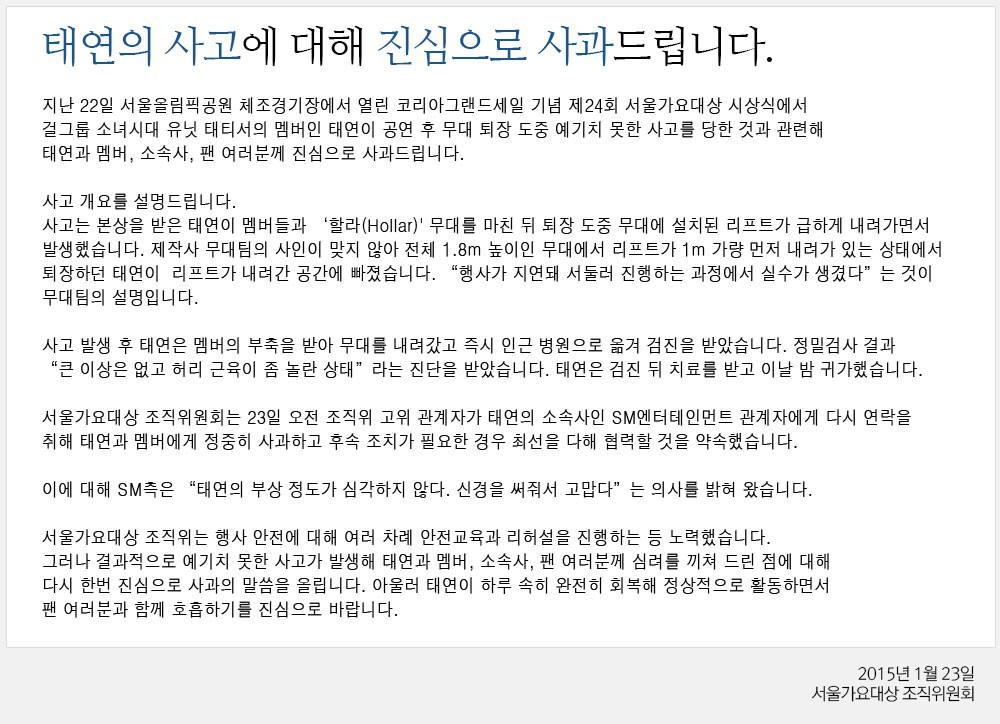 Source: Sports Seoul
Share This Post