Indonesian Politicians Outraged Over Girls' Generation's Upcoming Visit
Extremist political nationalists in Indonesia were outraged by the news of Girls' Generations upcoming performance as part of their Independence day events.
"I don't understand, what is the creativity of the band that will be invited, is this what we want to teach our kids?

– Elly Risman, Activist
Saya gagal faham pak,dimana letak kreatifnya band yg bpk mau undang itu &kreativitas macam apa yg mau dididikkan keanak negeri?#yangbenaraja pic.twitter.com/3eWOK8NBLb

— Elly Risman (@EllyRisman) July 29, 2017
They wrote to the head of the Indonesian Creative Economy Independence committee head, Triawan Munaf.
"Don't we have masterpiece from our [own] super creative artists. Why do we need to invite symbols of sex and prostitution to Independence Day?

– Elly Risman
https://twitter.com/EllyRisman/status/891132206709485568
Triawan Munaf had previously announced that Girls' Generation would be visiting Jakarta during the month of Independence Day events.
"We try to get the Korean artists to participate more in the month of independence activities."

– Triawan Munaf
(Indonesian Creative Economy Independence Committee Head)
Munaf later clarified that the Girls Generation will not be participating in the Independence Day events directly, rather the Asian Games Stage the following day.
"We explain that we did NOT the negotiate the arrival of Girls' Generation as a group but some personnel only.

And they ARE NOT invited to attend the Independence Day event at the State Palace."

As the Asian Games is a big event, we plan to bring in some of the leading Asian artists in addition to prioritization of the artist/singer/ performer of the leading Indonesia to enliven the event that the Asia/International scale.

Incidentally (both) fall in August 2017."

– Triawan Munaf
Unrest, however, had already spread like wildfire on social media, with news outlets and extremist groups.
"Oh God, isn't this girl band is a symbol of sex & prostitution?

Will they be served for young people on independence day?"

– Elly Risman
Wahai bpk Kepala Badan Ekonomi Kreatif Indonesia!ada apa dibalik rencana bapak undang band simbol seks dihari proklamasi? #yangbenaraja Pak!

— Elly Risman (@EllyRisman) July 29, 2017
New outlet Postmetroinfor began posting censored photos of Girls' Generation in traditional hanboks in an attempt to make the images seem inappropriate.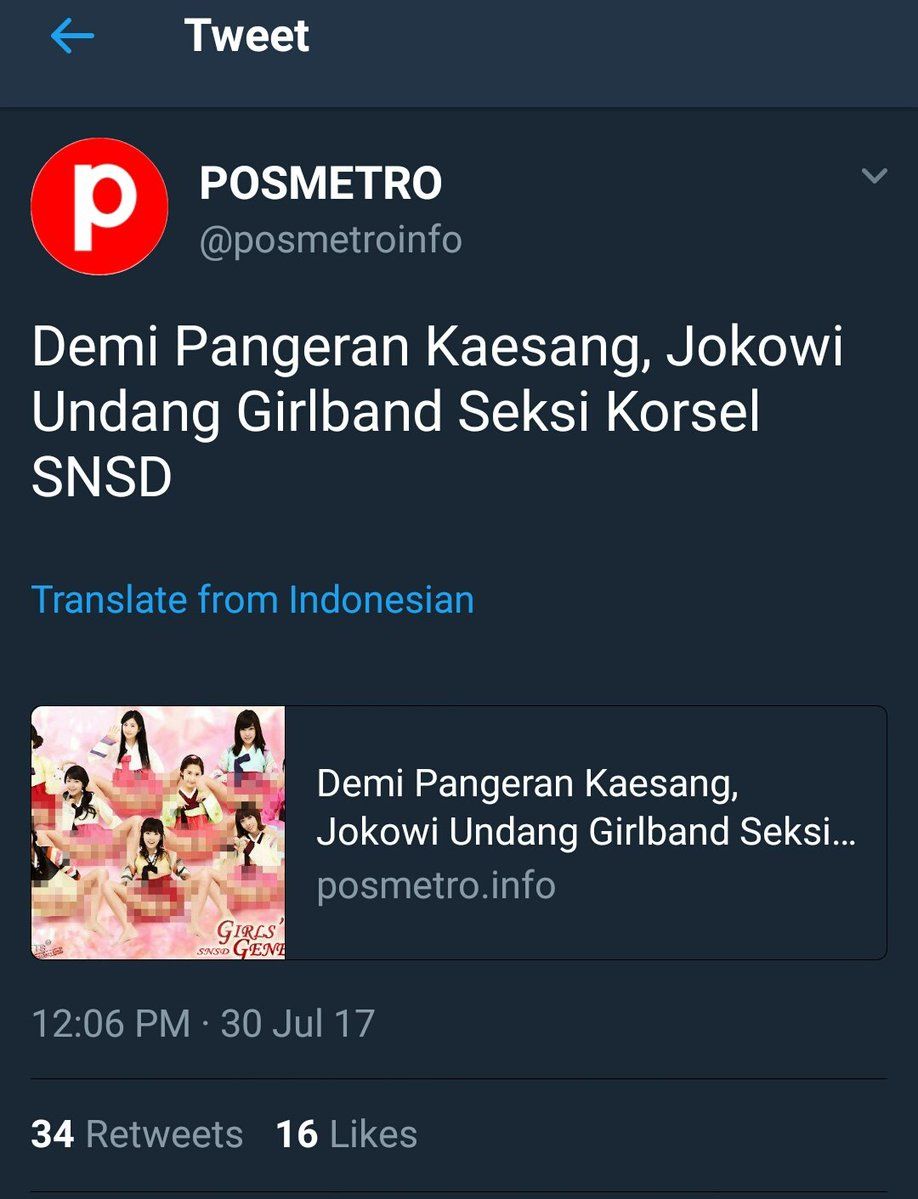 There was a petition started to prevent Girls' Generation's attendance at the events that garnered nearly 12,000 signatures from politicians and other groups.

Indonesian fans of Girls' Generation, in turn, are furious over the political parties extremist agenda targeting Girls' Generation members.
SONES please report this tweet! they degrade korean traditional clothing + snsd, censoring HANBOK so it seems like snsd wear something shady https://t.co/1dpaPyRBjk

— #GIRLS6ENERAT10N (@sunnytheslaya) July 30, 2017
There are campaigns to have the offensive content removed from Twitter as soon as possible.
SONES PLEASE REPORT THAT TWEET THEY POSTED SNSD FAKE EDIT PHOTO AND USE IT AS THEIR OWN AGENDA AGAINST OUR PRESIDENT JOKO WIDODO pic.twitter.com/VPNestYr8l

— ً (@captaenken) July 30, 2017
Source: CNN Indonesia (2)
Share This Post