[★TRENDING] Here's Where GOT7 Jackson's Nude Video Rumors Started From (And Why They're Fake)
GOT7's Jackson has had rumors spread about his involvement in the recent Korean #CelebGate along with Kim Giri, Kim Minseok, ASTRO's Eunwoo and Madtown's Jota. 
[This article is constantly being updated with new information regarding the male idols/actors nude video leak]
Actor Kim Min Seok, who was mentioned in the post listing names of male celebrities whose videos are going to be leaked, angrily denied having ever filmed such a video.
Read his statement posted on his personal instagram below.
Translation of post: 
My friends keep calling me. Asking me if I've ever filmed anything weird like a nude video….Am I going to have to resort to legal channels…Who comes up with these preposterous rumors? The world is going crazy..I'm just here to enjoy my Pyeong Yang Noodles with Sungkyu hyung. #I'VENEVERDONEANYTHINGLIKETHAT
gIn breaking news on December 10th and 13th, two male actors had their nude videos leaked online. With the videos, it was also revealed that another male idol and a female trainer also had their videos leaked.
Rumors began to immediately emerge that other idols also had leaked nude videos that were floating around on the internet. GOT7's Jackson immediately became the center of this news, with posts quickly being spread on social media and especially amongst international fans on Twitter.
Here are the two main accounts who spread the rumor on Twitter:
https://twitter.com/shadykpop/status/808535437665042432
https://twitter.com/newpervsboy/status/808512536475672576
These tweets contained no source and had no evidence to back their claims, however, fans began spreading the misinformation online quickly. It was revealed in reports that the idol who also had his video leaked was 30-years-old. Jackson is not 30.
Koreaboo looked for the original source of these rumors and tracked it down to an anonymous community post on the forum, MLB Park. The post has only 9,445 views and 30 comments as of December 13th, 2:18PM KST.
Here is the archive of the forum post: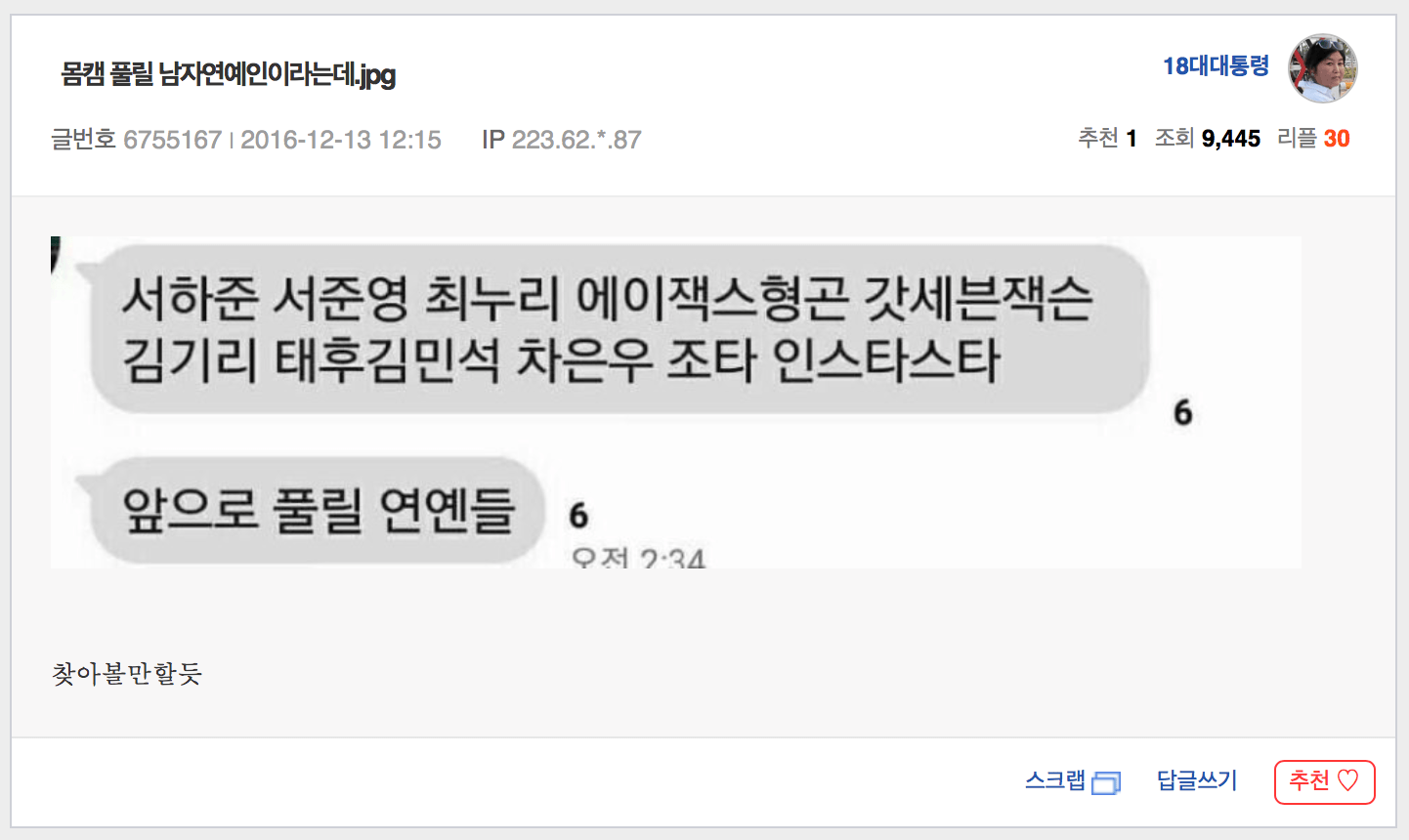 Comments included disbelief from Netizens as well, with one saying, "OP is messing around by posting this. The original article said it was 3 or 4 people. Why is this list growing? Half of the list is a fake."
[Note: MLBPark does not have comment rankings.]
There are no other posts on forums that claim Jackson to be a part of the #CelebGate leaks. There are no media reports that claim Jackson is involved and it seems highly likely that he is not involved in these leaks.
Source: MLBPark Forums
Share This Post