Jeon Somi Showcases Her Love For Labelmates BLACKPINK's Jennie And G-Dragon On A Teaser For Her Upcoming Reality Show
The first episode of "Follow Somi" will be released on June 17
Somi has recently made her solo debut with "Birthday" and it looks like the former I.O.I center will be very busy with promotions and television appearances for the next few weeks!
Additionally, she is set to be starring in her solo reality show "Follow Somi", which will be released on the Dingo Music YouTube channel and Dingo Facebook.
For the first teaser for "Follow Somi", Somi did a Q&A where she answered questions from fans.
One fan asked Somi what type of music she listens to when she is bored.
Somi replied with a video of her lip-syncing and grooving to her labelmate, BLACKPINK's Jennie's "SOLO" while in the car.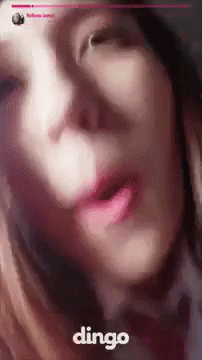 Not only has Somi shown her love for Jennie's solo debut, but Jennie has also posted a video of herself dancing to Somi's debut song "Birthday".
Somi continued to show her love for her labelmates when she played G-Dragon's song "Crayon" while she was dicing vegetables.
She couldn't resist singing and dancing along to one of her favourite songs.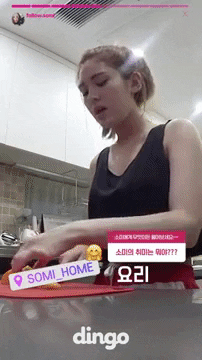 It is well known that Somi is a huge stan for YG Entertainment artists! Before her debut, she revealed that she is a huge fangirl of BIGBANG and 2NE1.
She is close friends with 2NE1's maknae Minzy, and it was singing 2NE1's "Lonely" that got Somi into JYP Entertainment when she auditioned.
Her upcoming reality show will show Somi's personal life and her experience preparing for her solo debut.
The teaser showcased a lot of hilarious moments that fans would be able to look forward to.
When a fan asked what was the most upsetting thing that happened recently to Somi, she revealed that it was when she dropped her phone at the beach.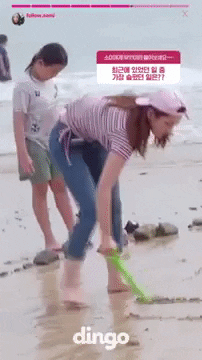 The teaser captured her screaming when she realised her phone fell out of her pocket.
Additionally, the teaser also showed some scenes of Somi's family life. Somi's adorable little sister Evelyn was seen running away with the camera despite Somi calling her out.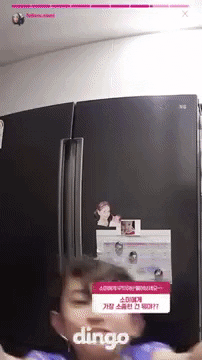 Furthermore, the teaser shows Somi practising her choreography as she prepares for her long-awaited debut stage.
But it looks like the show will feature a lot of happy moments as well! When asked when Somi is happiest, she gladly showed a video of herself enjoying a delicious jam donut.
Fans will certainly have a lot to enjoy in Somi's upcoming reality show! Hopefully, there will be more moments of her interacting with her labelmates.
The first episode of "Follow Somi" will be released at 6PM KST on June 17 on the DingoMusic YouTube channel.
Share This Post