K-Pop Idol Group LABOUM CROWDFUNDS Their Latest MV Raising Over 20 MILLION Won
LABOUM's comeback is happening sooner rather than later thanks to their successful crowdfunding campaign.
Just last week, it was reported that girl group LABOUM started their crowdfunding campaign for the production and release of their upcoming music video. Despite already reaching their goal way ahead from their deadline last week, funding for their music video production soared with the amount doubling from their original target.
The estimated amount raised from the campaign is about 20 million won.
According to MakeStar officials, online donations were received not only from South Korea, but also Japan, China, Europe, and the United States.
Fans who bought the packages online are entitled to be named as honorary producers for the music videos and will be named in the credits section accordingly.
The campaign is due to end on April 4th.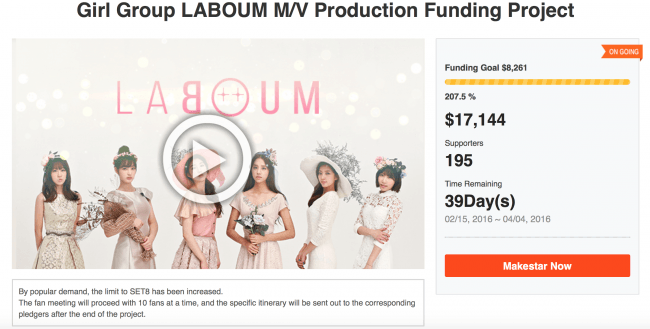 https://www.youtube.com/watch?v=o3C_frwl79A
https://www.youtube.com/watch?v=JrSrXr5E7P0
Source: Dispatch
Share This Post