Kevin Woo Reveals His Feelings On Leaving U-KISS In This Heartfelt Letter To His Fans
Kevin Woo expressed his thoughts on leaving U-KISS through this handwritten letter to his fans. 
On March 2, Kevin Woo posted an image of his handwritten letter through U-KISS's official fan café. The letter was posted after NH EMG confirmed that he will be leaving the group once his contract expires at the end of March 2017.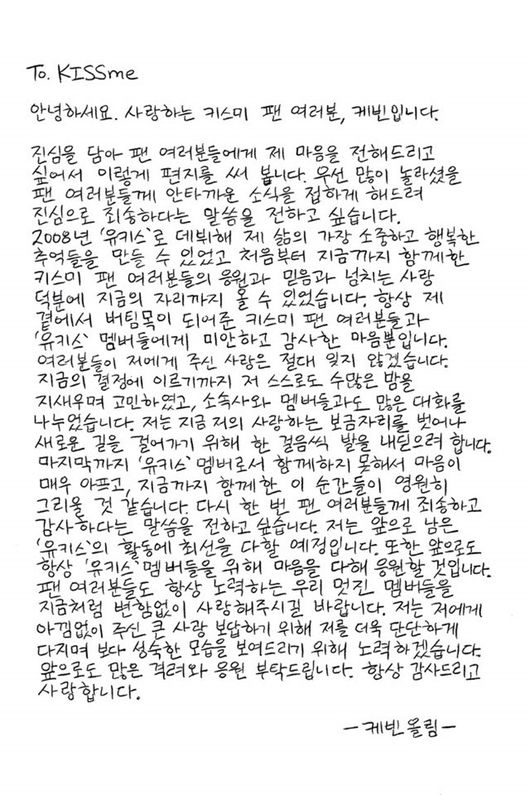 Good morning. My dear KISSme fans, this is Kevin.

I wrote this letter to convey my heartfelt sincerity to my fans. First of all, I would like to express my deepest apologies for disappointing you.

Since I made my debut with U-KISS in 2008,  I have been able to make the most precious and happy memories of my life. I was able to come to this moment thanks to the support and trust of our fans. I feel sorry and thankful to all our fans and the members of U-KISS who have always been at my side.

I struggled for a few nights and had many conversations with my company and members before I made this decision. I am going to step out of my beloved home and walk towards a new path. I feel bad that I can't be a member of U-KISS until the end and I will always think about the times we spent together. Again, I would like to say sorry and thank you.

I will do my best for my remaining activities with U-KISS. I will always cheer for the members of U-KISS and I hope you will continue to love our wonderful members as always. I will try harder to make myself stronger and more mature to give back your generous love.

Thank you for your encouragement and support. Thank you and love you.

– Kevin Woo
Kevin made his debut as a member of U-KISS back in 2008. He has been active in all of their activities and promoted in Japan and South Korea. He last promoted with the group with Stalker last June. He will continue their scheduled activities until his contract expires this year.
Source: Osen
Share This Post