Kim Hyun Joong leaves heartfelt handwritten goodbye letter before enlistment
Before enlisting in the military quietly on May 12th, Kim Hyun Joong left a handwritten letter to his fans by uploading a picture of his letter onto his official fan cafe. 
His letter reads as follows:
Hello, this is Kim Hyun Joong.
I regret that this is the way I have to say goodbye to you all instead of planning it in another manner. Truthfully, I have been greatly filled with guilt recently. I have been spending days blaming no one but myself for not being able to show a more mature side of me. I have also had to stay under the radar and have not been able to thoroughly explain my side (emotions) due to the fact that I am a celebrity.
This is why I had a hard time thinking of a way to incorporate an apology and a farewell in the same letter. To me, for all of my fans… I have two mixed emotions towards all of my fans. I'm both sorry and thankful…
During the times when many people were shocked, you all helped me mentally. Many have trusted me from the beginning and even predicted the parts that I couldn't explain myself and thus giving me courage. How will I be able to repay you all…
And to those who have been hurt or mad because of me, I don't know a way to apologize appropriately and I am just leaving with a big debt in my heart. I know that whoever born in this land are required to enlist in the military, but now that it is finally my turn, there's a feeling of unrest in the corner of my heart. I have always thought myself to be the most competitive and confident, but… now that it's the day before enlistment, I feel weak…
However, I believe that these two years is an opportunity for me to be born again. As a man, celebrity, and a responsible citizen, I will come back a better man. For the past year, I have truly felt protected trusted and even respected by my family, friends, fellow companions, thankful people, and my fans.
Even if enlisting in the military and serving my country isn't the best I could do for everyone who has kept believing in me, I'll do my best to return as a better person. I will end this letter with a promise of a smile the day I return.
May 12, 2015
Kim Hyun Joong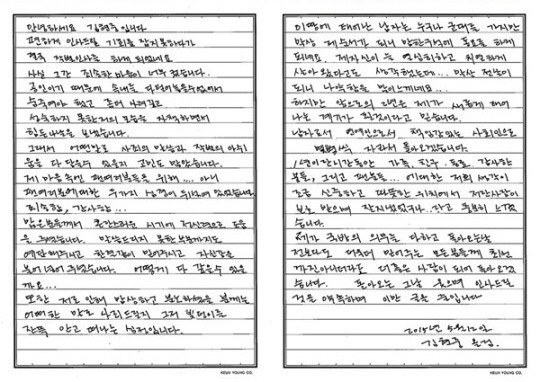 For the past year, Kim Hyun Joong was embroiled in a dispute with his ex-girlfriend, who filed physical assault charges, announced that she was pregnant with his child, and most recently filed another lawsuit suing him for damage compensation.
Although the case had been closed with a consensus between the two parties, more unconfirmed rumors and speculations recently arose, most notably Kim Hyun Joong's former girlfriend claiming that her current pregnancy was actually the second because she miscarried last year due to his  abuse.
Source: Sports Chosun
Share This Post