LEDApple lineup to change following December Japan concerts
A sudden lineup change has been announced via LEDApple's Japanese website on October 30th, revealing Hanbyul, Kyumin and Kwangyeon will be leaving the team come December with three new members joining in their stead.
Posted on their Japanese, the statement reads:
"An important announcement to LEDAs, who have always supported LEDApple, regarding the "2014 the last live tour 「Thank You LEDA」.

Greetings to all  LEDAs,

LEDApple recently celebrated their 4th anniversary on October 7th. For supporting, cheering and staying by their sides, thank you. Coming December 2014, LEDApple will have their last live tour, "Thank You LEDA", and Hanbyul, Kyumin and Kwangyeon will halt their activities as band members. Youngjun and Hyoseok will continue as a new LEDApple with three additional members that will join them in 2015.

But this does not mean Hanbyul, Kyumin and Kwangyeon are quitting [as members of] LEDApple, as part of the LEDApple team, they are planning to continue achieving their dreams through projects. 

As part of the LEDApple team, Hanbyul will take a leap forward into activities as a solo singer, Kyumin will start unit activities singing hip-hop, a genre he loves. 

For Kwangyeon, there is difficulties for him to continue stage activities as there is a possibility that his lower back pains will worsen, and the doctors have recommended a temporary long-term rest and treatment. 

The agency has thought a lot about this and held several meetings, and as the LEDApple members recently celebrated their 4th anniversary, they have come to a conclusion to spread the activities of the members individually. Even individually and to reach the most happiness, the company would like to respect what the members would like to do.

Although their activities as a five member band will stop, three members will be welcomed into LEDApple along with Youngjun and Hyoseok, and we promise to show you a better looking LEDApple that will continue on in 2015.

And to pursue better music, or in the case of some band members, their health, please look forward to [LEDApple's] new activities with the three new members with unchanging support.

For the sudden announcement, we'd like to apologize from the bottom of our hearts for worrying fans. 

Before the activities begin for the new LEDApple, the current LEDApple members will be performing all of their nine performances in December, and we promise to show you their best appearance to fans. 

Starting from 2015, please expect activities from the new LEDApple. 

Please note that due to the lineup change, we would like to inform you that the album scheduled to be released at the end of the year has been postponed. To everyone who was looking forward to the release, we are sorry. Until a new release date is determined, we will inform everyone, thank you."
This is not the first time LEDApple has unfortunately changed their lineup. Prior to the current lineup, five other members had joined and left the group since it's inception in 2010, leaving only Youngjun and Kwangyeon as the original members. With the latest lineup changing coming in 2015, Youngjun will remain the sole original member of LEDApple.
Meanwhile, LEDApple, with its current lineup, will complete their remaining nine performances in Japan:
■ Ledapple Day – Shibuya at VENOS
12-21  &  12-22  /  Doors Open:18:30 Curtain:19:00
■ Happy Christmas Day – Shibuya at THE GAME
12-23, 12-24, 12-25  /  Doors Open:18:30 Curtain:19:00
■ Ledapple Day in OSAKA at LIVE SQUARE 2ndline
12-27  / Doors Open:18:30 Curtain:19:00
■ Music Note Day Vol.1 – Shibuya at WWW
12-29  / Doors Open:18:30 Curtain:19:00
■ Music Note Day Vol.2 – Omotesando at GROUND
12-30  /  Doors Open:18:30 Curtain:19:00
■ New Year's Eve Countdown- Omotesando at GROUND
12-31  /  Doors Open:22:00 Curtain:22:30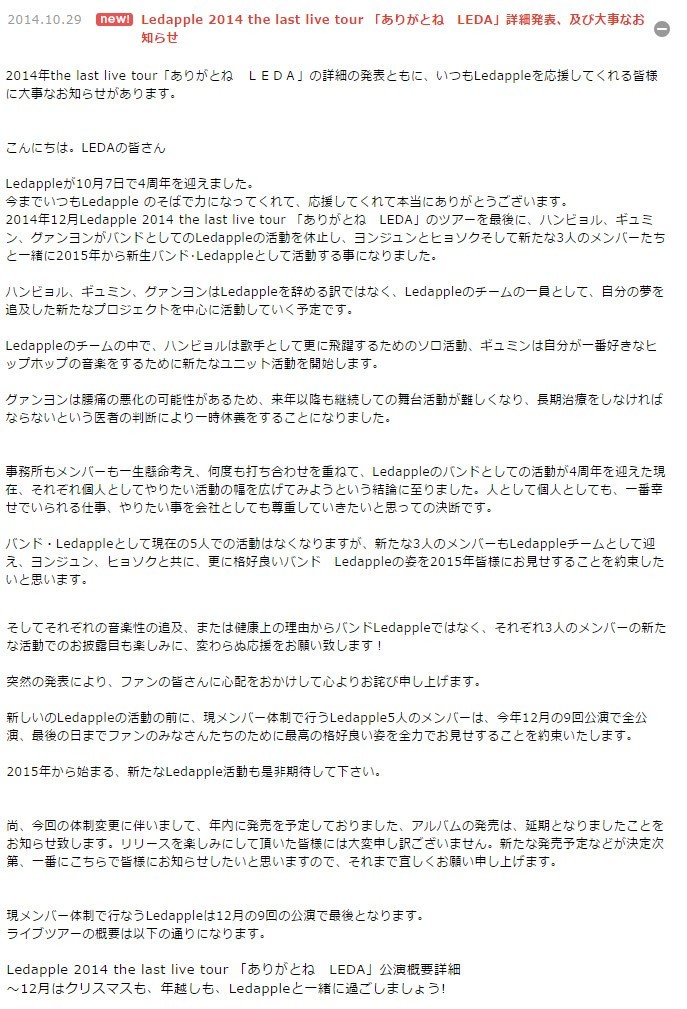 Share This Post