Male group K-MUCH visits fans at their middle school
Four member male group K-MUCH recently made a surprise appearance at a middle school in Seoul, shocking yet delighting fans who attended.
K-MUCH, who is housed under Chrome Entertainment and are the brother group of Crayon Pop, held a special Christmas event for their fans at the middle school in the Gyeonggi-do province of Seoul. It was reported that event was thought of spontaneously by K-MUCH members, who personally contacted the school to set up the meet.
Bewildered at first by their sudden appearance, the students, who could not erase the smiles from their faces, happily enjoyed lunch with the stars until school was dismissed. The male group presented the students with signed albums and polaroid photos.
Chrome Entertainment stated, "We want to thank all the students your sincerity, the members were very touched."
K-MUCH recently released a Christmas album with the Chrome Family, to which they held a special fan meet for 100 lucky fans who were able to meet all the artists under the agency.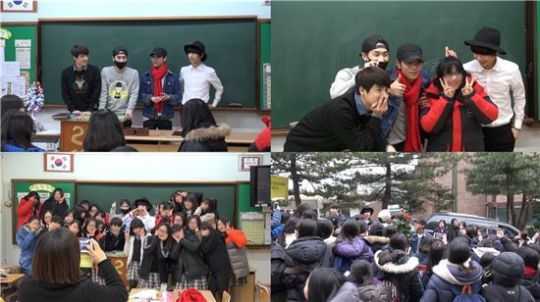 Source:  Sports Today
Share This Post