MBC Celebrated The Arrest Of Former President Lee Myung Bak, And It Was Hilarious
Intentional or not? We'll never know.
Due to the urgency and significance of former South Korean president Lee Myung Bak's arrest, MBC added "News Flash" captions on their regularly scheduled shows, informing people of the news throughout the day.
However, many netizens believe that the timing of the captions were not accidental.
The "News Flash" caption was seen during MBC's broadcast of News Concert.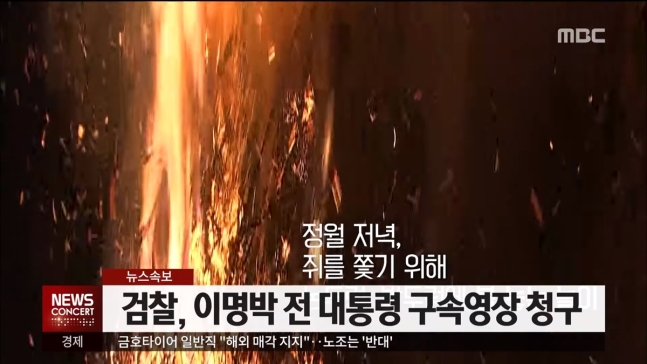 News Concert was doing a segment on "Jwibullori" (roughly translated to rat fire game), which is when cans of fire are attached to a stick, and is swung in circles.
Above the News Flash captions, the subtitles read "New Years night, chase away the rat."
Traditionally, "Jwibullori" was used by farmers to chase away pests like bugs and rats. Netizens don't think the timing of the caption was a coincidence.
The subtitles about the Breaking News caption reads "Remove the rat from the grain."
The caption was also seen during the airing of drama Let's Hold Hands Tightly and Watch The Sunset.
It was seen again right as three men were excitedly jumping into a lake.
Finally, as Lee Myung Bak was being transferred to the Seoul Eastern Detention Center for holding, MBC focused on this sign.
The sign reads "We welcome your visit."
Netizens are speculating that it may have to do with Lee Myung Bak's rumored media blacklist that included celebrities as well as members of the press.
Lee Joon Gi Was Blacklisted By The Former South Korean President
Whether it was coincidental or not, we will never know.
Share This Post