Multiple Idols Slip And Fall On Stage "Show Champion" Outdoor Rehearsal In The Rain
The stage was so wet and slippery that these idols couldn't stay upright.
Idols from multiple K-Pop groups slipped and fell while rehearsing for MBC's Show Champion on an outdoor stage in Ulsan.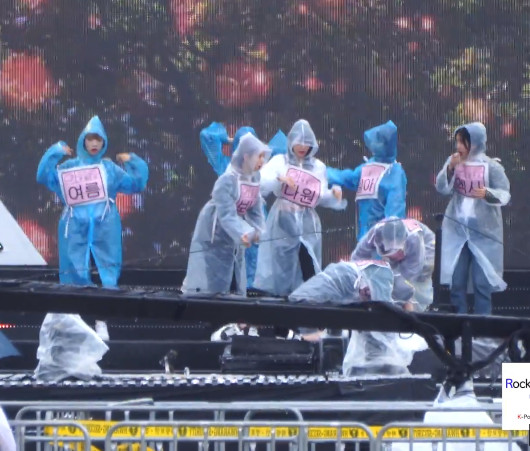 The members had to wear ponchos because of the rain.
Cosmic Girls's Yeonjung was the first casualty. She fell while the group was rehearsing on the slippery stage while the rain continued to fall.
Yeonjung seemed to be in incredible pain as the rehearsal was completely stopped and members rushed to check on her.
F9's Changhee also slid while dancing. The other members looked to be moving cautiously, but Changhee stepped backwards and his foot slipped.
Unfortunately, the conditions didn't get any better by the final performance as Cosmic Girls continued to slip on stage.
This isn't the first time a Cosmic Girls members fell on the same Ulsan stage. Dayoung tumbled mid-performance in the past when they performed on the same stage.
SEVENTEEN also has history of slipping on the same Ulsan stage.
Other idols from groups KNK, LABOUM and VIXX have also been slip-victims to the same stage in the past.
Netizens are expressing their concern over the safety of the specific outdoor stage, since it always seems to cause idols to fall.
"It's really dangerous. What if there's a big accident?"
"It rains all the time so does it really have to be outside?"
Despite the dangerous conditions, idols continue to perform as professionals.
Share This Post