Former After School member Kahi graciously shows off "baby bump" in new pictorial
Soon-to-be mother Kahi shows off how much her baby bump has grown and confesses about the hardships of pregnancy with an elegant pictorial and interview from Elle Magazine Korea.
The Korean installment of Elle Magazine has released one of the best cuts from their photo session with former After School leader, Kahi, which will be used as part of a special campaign dedicated to expectant mothers called, Because Moms Are Women, Too.
In the photos released by the magazine, the star is seen dressed in a casual, yet elegant beige dress that accentuates her pregnant belly. Her famous dimple-smile is also captured in these photos, giving off a glowing "motherly" vibe that makes her look even more radiant than ever.
Despite having entered the third trimester of her pregnancy already, many netizens have noticed that Kahi has shown almost zero signs of weight gain. This has evoked many other expecting mothers like Kahi to wonder how she has maintained such smooth and firm skin on her "D-line" as well as to how she has kept the "baby weight" off with all the food cravings and pregnancy binges that follow.
It turns out that the former idol star has a daily fitness "fit-mom" routine that keeps her in shape. It is said that even during the photoshoot, many Elle Magazine staff members were constantly impressed by the flexibility Kahi displayed while exhibiting her yoga techniques, which can be seen below.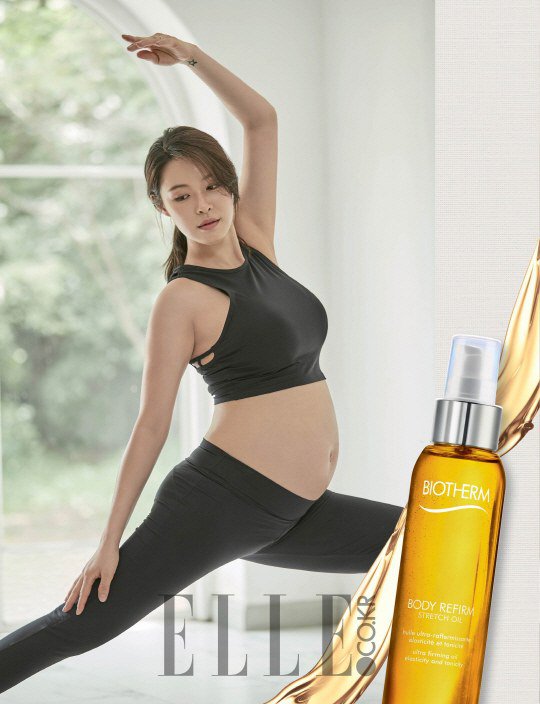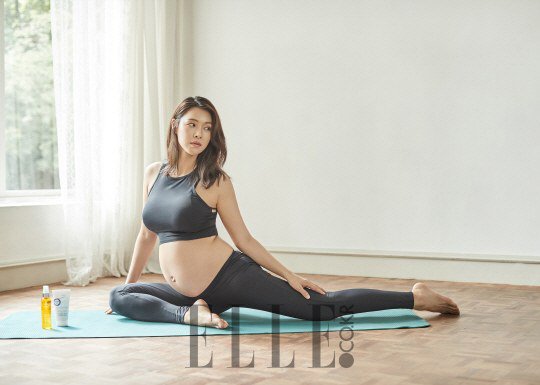 In addition to the photos, Kahi expressed the changes she has been experiencing as an expectant mother, saying, "There are many changes that I've never had to deal with before in my life, but recently I've had to deal with a lot of issues after becoming pregnant and one of the major changes that worries me the most is skin resilience."
"I've learned that women's skin becomes extremely rough and loses its resilience and tends to get loose and stretched a lot after giving birth so I've been exercising extremely hard to avoid such a happening. Before and after I do my exercise routines, I put on a special lotion and resilience oils for expectant mothers on my skin to help moisturize it. I've been putting in a lot of effort to keep my skin firm, yet flexible," added the star.
Kahi got married earlier this year to Incase Korea CEO, Yang Joon Moo, after a sudden and surprise announcement in the month of March. Among the many congratulations she received from netizens and fans, Kahi also received suspicions of pre-marital pregnancy, which she initially denied, but ultimately turned out to be true.
Kahi's special campaign pictorial can be viewed in the upcoming September 2016 issue of Elle Magazine Korea.
Source: Sports Chosun
Share This Post