Netizens discover something strange during Lee Byung Hun's tearful airport apology
As Lee Byung Hun and Lee Min Jung returned to Korea together for the first time in three months on February 26th, netizens were quick to spot the absence of the couple's wedding rings.
Lee Byung Hun, who appeared very thin and haggard in his black cardigan and jeans, was barely able to contain his emotions and ended up crying as he apologized saying, "I am sorry. I am forever in debt to my wife and my family. Everything that has happened is my fault. I am sorry I have hurt and disturbed so many people." 
Although Lee Byung Hun had been traveling back and forth to Korea for the past few months to work on his upcoming Terminator film, Lee Min Jung had stayed in Los Angeles, California during this time.
The couple, who are expecting their first child in April, have recently faced a trying past couple months as Lee Byung Hun was blackmailed by model Lee Ji Yeon and Dahee. The case has since been closed, with prison sentences issued to Lee Ji Yeon and Dahee, although Lee Byung Hun has since then filed a pardon for the two women.
Netizens were quick to notice that the couple were not wearing their wedding rings upon their arrival in Korea, expressing disbelief and suspicions toward the couple's situation.
1. [+ 459, – 13] The acting was natural but you missed a small detail.
2. [+ 350, – 18] Well Lee Minjung could have taken hers off due to swelling from the pregnancy…I don't know about Lee Byunghun tho – -;;;
3. [+ 258, -6] Hul what is this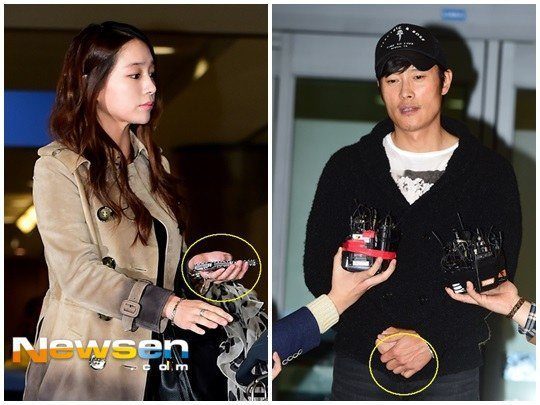 Source: Newsen, Starnews, TV Report
Share This Post