Netizens furious over Swings's million dollar income
Despite claiming that he was low on cash, it was recently revealed that rapper Swings earned about 1.25 billion won (~$1,040,087 USD) last year. 
This was revealed through a recent broadcast aired on January 25th via MBC's Documentary Special. They report that Swings had earn hundreds of millions of won for television appearances.
He revealed on the show, "I earned 1.2 billion won," showing the camera his earnings from last year. Swings adds,  "래퍼 중에 제가 제일 많이 벌었을 거다."
Swings first came under fire after it was revealed he was earning tens of thousands of dollars a month giving rap lessons and lectures.
The rapper was discharged from the military eleven months early in order to focus on his treatment and rehabilitation, and promised fans that he would take a break from the music industry to do so.
However, upon learning about his lucrative earnings, however, netizens became furious over Swings's apparent lies.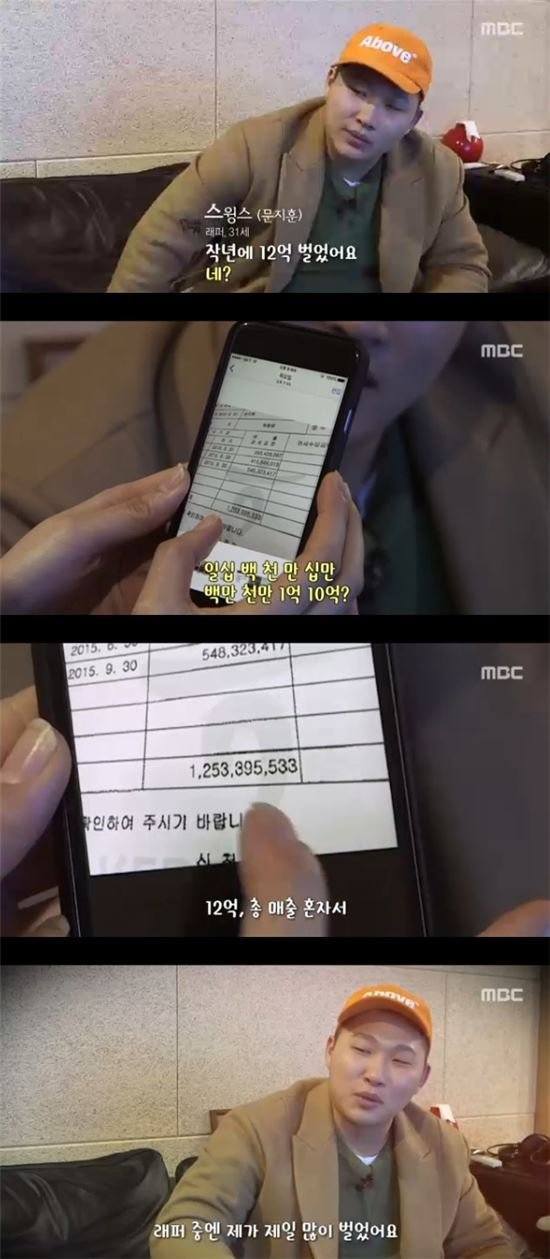 ---
NETIZEN REACTIONS
Koreaboo has collected reactions from Netizens who commented on the original article from our Korean source. The below comments are the most popular comments at the time of this article being published.
---
[+1133, -10] This is the same guy who said he wouldn't make money until the date his release was supposed to be and then claimed he gave rap lessons because he was running low on money? ㅋㅋㅋㅋㅋ
[+1030, -11] I don't understand people who idolize a guy with such morals as the god of hip hop…he pulls this and then goes to write about the wrongness of society and things he suffered? Do these people know what real suffering is? Drinking till late in Hongdae and then going on shows a couple times to sing then going off and throwing thousands of dollars on shoes and cars.  His hard work should be acknowledged sure but he needs to know what being a person is like first. There are no differences between him and trash politicians.
[+896, -13] He's going to have a tough time being active in Korea.
[+71, -1] As bad as Steven Yoo. F'ing pig
[+61, -1] Mentally ill freaking pig rapper yo~~♪
Source: Sports Today
Share This Post