Nine Muses Hyuna officially "graduates" from the group
After 6 years of being active as a member of group Nine Muses, Hyuna officially announces that she will be leaving the group.
Upon her contract expiration with her agency Star Empire, Hyuna will be the 3rd member to graduate from the group following former members Lee Yoo Ae Rin and Minha in June.
Hyuna released a hand-written letter to her fans and the public.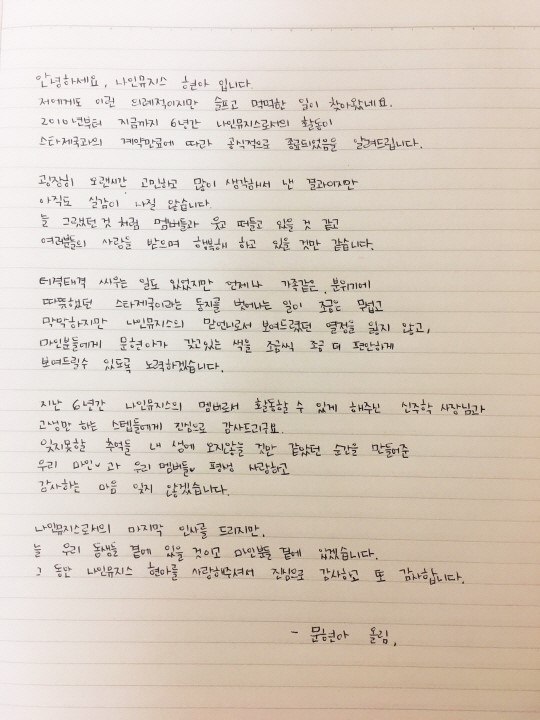 Here is the full translation of the letter from Hyuna to her fans:
"Hello. This is Nine Muses Hyuna. The sad but inevitable day seems to have found me as well.
I want to announce that my contract with Star Empire as a member of Nine Muses for 6 years since year 2010 has come to an end.
It seems unreal even though I made the decision to part ways after thinking about it long and hard. I feel like I will always be laughing and joking with the members and basking in your love with happiness.
Star Empire is like a family to me. We fought like normal families do and it has become a nest of comfort and I am a bit scared to step outside of it, but I will not lose my passion and show you guys different sides of Moon Hyuna little by little.
I want to thank all the staff that made it possible for me to be a part of 9MUSES for 6 years and I want to thank all the MINEs and members that gave me memories I will never forget. I love all MINEs and my members and I will never forget you.
This is my last good bye as a member of 9MSES but I will always be by my dongsengs' and MINEs' side. Thank you for loving Hyunah of 9MUSES again.
-Moon Hyuna
Source: Sports Chosun
Share This Post