I.O.I introduces their super-sweet official light stick
Rookie girl group I.O.I recently released their official light stick for purchase, unveiling an adorable ice cream cone. 
With a large swirl of vanilla ice cream on top of a cute cake cone, the light stick looks almost as sweet as the girls of I.O.I.
Photos of the light stick were released online through popular Korean retailer Auction, with each light stick going for 24,000 won (~$20.52 USD), a relatively standard price for light sticks. Although the project group will be disbanding in January, fans will be able to show their support for the girls by bringing their light stick to I.O.I's final concert.
The cute ice creme-themed light stick joins a small group of food-themed light stick, which also features TWICES's lollipop shaped Candy Bong and MAMAMOO's radish-shaped Moo. With so many girl groups releasing food-themed light sticks recently, perhaps the trend will continue on with future groups as well.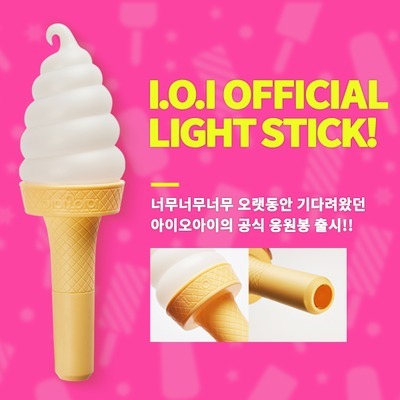 Share This Post