Phone Recordings Leaked Of Korean Military Official Interrogating Gay Soldiers
A series of phone recordings have been released, revealing the interrogation of gay Korean soldiers by an army official.
After initially reporting that South Korea's army chief of staff, Jang Junkyu, had set out to expose all gay personnel in the army, phone recordings were released by a South Korean gay rights group called Military Human Rights Center for Korea (MHRCK). These recordings have made their rounds thanks in part to social video startup Dot Face.
In the audio recording, an officer can be heard interrogating a soldier about his relationship with other men within the army, attempting to gain information about other possibly gay personnel, and asking personal questions about his sexual habits.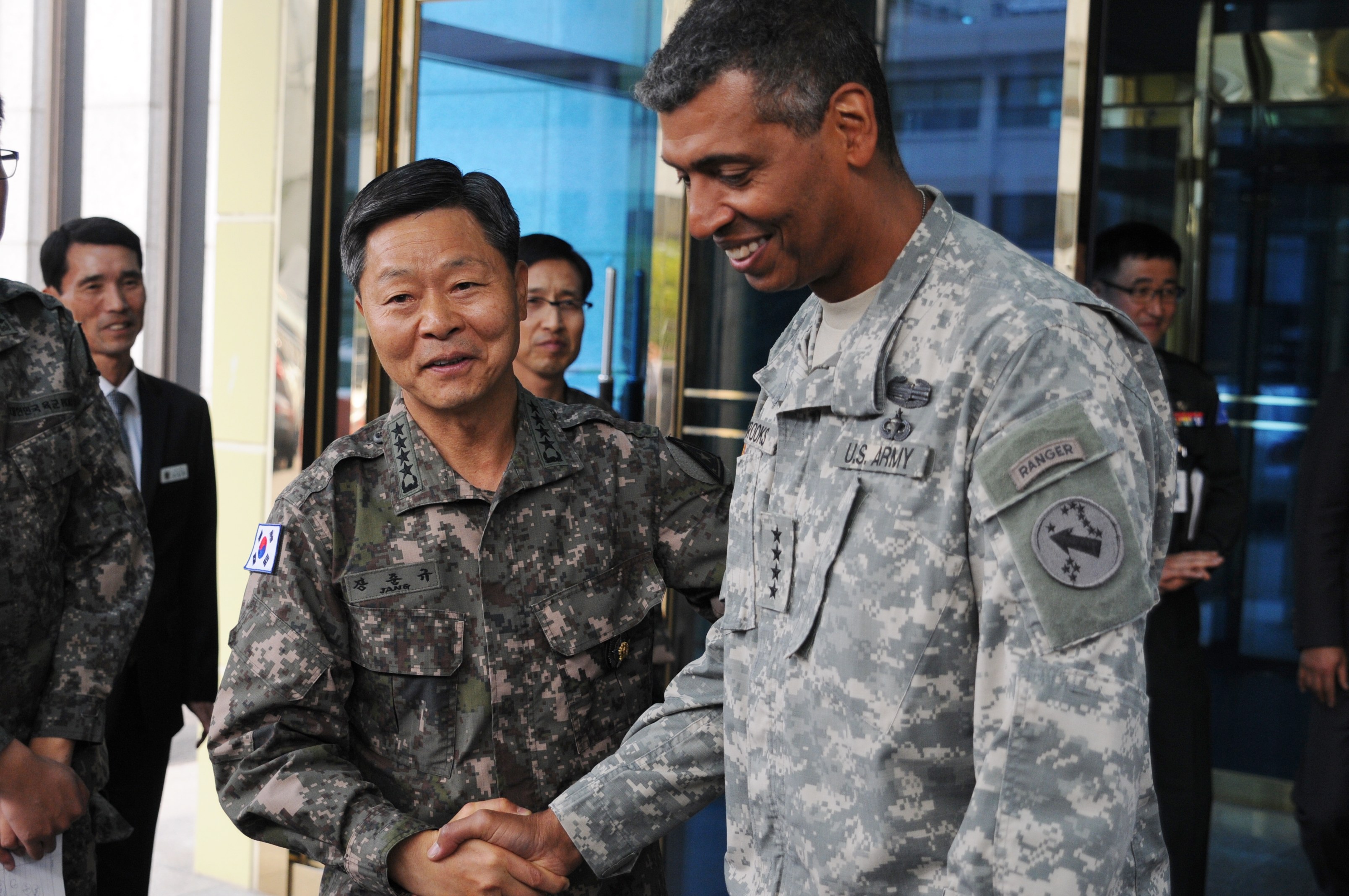 The recordings were taken over the course of several days, during which the soldier (identified only as Soldier 1) was pestered, intimidated, and warned not to speak to anyone about the investigation. This led one of the soldiers involved (identified only as Soldier 2) to seek a lawyer.
What follows is the translation of the audio recordings taken between March 5 and April 11:
March 5 – Soldier 1 is interrogated and advised not to tell anyone
Investigator: "The names that you wrote, you said there were more"
Soldier 1: "Yes"
I: "You didn't mention anything about the additional names?"
S1: " I wrote it all in my report."
I: "No, what you wrote was who you meet, who you contact, that's all that you wrote."
S1: "Yes."
I: " But in real life, there were other people that were in connection with you — besides these two people." 
S1: " But I told you the day that I was investigated, too, regarding these other people …" 
I: " Yes." 
S1: " That I knew the two peoples' names and everything accurately" 
I: "Yeah"
S1: "But the other people, I don't know their names, or even if they are military or not. I don't know them accurately. So I don't know their status clearly."
I: "You don't know accurately?"
S: "No, I don't. I don't even know their names."
On March 5, Soldier 1 was also warned not to speak of the investigation:
I: "Among your group of people, you can't tell anyone about the fact that you were investigated."
S1: "Yes, I won't do that."
I: "Good, don't contact anyone. If you do, we're just trying to help you, but it could backfire on you. Don't tell anyone, and just act normally, okay?"
March 22 – Soldier 1 is interrogated about his relationship to Soldier 2
S1: "He and I are just like brothers."
I: "Yeah."
S1: "We never did anything from the beginning, no sex."
I: "Not even oral or that kind of stuff?"
S1: "I didn't even see his thing."
I: "So you're just sleeping over?"
S1: "Yes, we've known each other for so long."
I: "When you say long, how long are we talking about?"
S1: "Almost ten years."
On the same day, the investigator claimed to have proof of the soldier's sexuality:
I: "We have 400 pages on your relationship with [Soldier 2]. It's two books of A4 paper. Just by looking at that, you can totally see your relationship right away with this guy. So if you lie to me, it's not like we're just going to let it slide."
Some days later – Soldier 1 is further interrogated about his relationship to Soldier 2
I: "How did you get to know him in the first place? Did you meet him on a gay dating app?"
S1: "No, just from outside. I went to a gay bar, and we drank together. That's how we know each other."
I: "Did you guys have sex?"
S1: "No."
I: "Is that true?"
S1: "Yes."
I: "You guys just met up?"
S1: "Yes."
March 29 – Soldier 1 is interrogated regarding a human rights committee complaint
I: "I just wanted to ask you.. was there like a human rights committee that you contacted or something?"
S1: "No, nothing."
I: "Nothing, really?"
S1: "Nothing, sir."
I: "Then why did I get contacted by someone saying that someone reached out to a human rights committee? Like, you haven't been seeking legal advice or anything about this?"
S1: "No."
I: "Did [Soldier 2] do it?"
S1: "We haven't been doing such a thing."
I: "Then why did [censored] say that we got a call from a human rights committee or something? It sounded a lot like you were seeking legal advice from somewhere, really specifically."
S1: "I have never done such a thing."
I: "Really? None?"
S1: "None, sir."
April 11 – The investigator informs Soldier 1 that Soldier 2 sought the council of a lawyer and is "stupid" for not cooperating.
I: "That's stupid, isn't it? If he gets a lawyer, doesn't that mean that he's forcing himself to come out of the closet? If he gets a lawyer, then we have to send in a written summons, tell him where to go, and the human resources department will be able to see everything about him, including the summons."
I: "If that happens, then the 'confidential' part becomes extremely limited. If he was quietly investigated and cooperated actively like you, we would just say that he was 'actively cooperative in investigation', like I said I would. I don't know why you guys are making this so difficult."
The original audio recording follows:
The legitimacy of the recordings has not yet been verified, but The Center for Military Human Rights Korea has decided to hold a rally on Friday outside of the Ministry of National Defense headquarters in Seoul.
Source: Buzzfeed
Share This Post