Polaris Entertainment confirms memorial concert for Ladies' Code in August
Following the tragic car accident last September which claimed the lives of two Ladies' Code members, EunB and RiSe, the girl group's agency has announced a memorial concert for the girls.
While the case has come to a close as the road manager involved reached a settlement with the two girls' families, the tragedy is still lingering in the hearts of many. Ladies' Code's memorial concert I'm Fine Thank You will be held in remembrance of the two singers on August 22nd at Shinagawa Stellar Ball in Tokyo, Japan, the country where RiSe grew up in and the place where she was buried. All proceeds from the concert will be donated or used to fund memorial projects.
Lablemates from Polaris Entertainment will be paying tribute to EunB and RiSe during the concert and will also be attended by by R&B singer Kim Bum Soo, hip-hop artist YDG (Yang Dong Geun) Ivy, Rumble Fish, Sun Woo, and Han Hee Jun. Several other idol group members who promoted around the same time as Ladies' Code will also be present at the event.
The agency stated, "On a regular basis, the members all dreamt about performing in Japan and always talked about it. We have arranged for this memorial concert in Japan, to make that dream come true together with familes, fans, fellow singers, and those who have shown lots of love for Ladies' Code. We are also planning to arrange for a place where people can continue to remember the members in the future."
In related news, the other three members are back living in their dorm and undergoing training, although Polaris Entertainment has denied comeback rumors due for this year.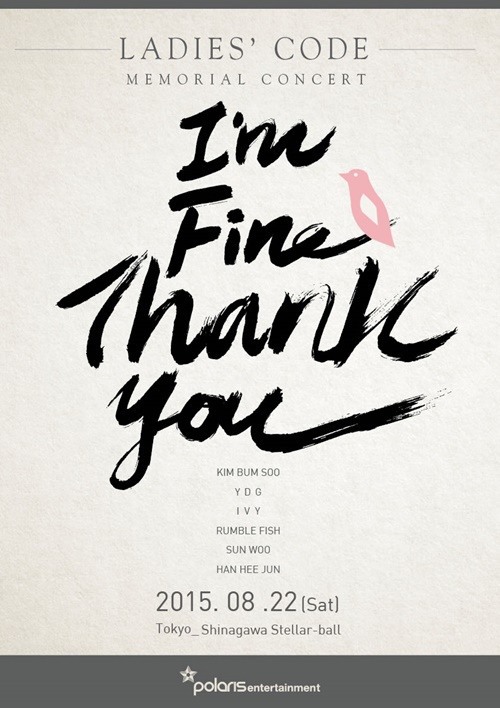 Source: Newsen
Share This Post