Red Velvet Spotted Suffering From The Cold Due To Stage Outfit
Red Velvet recently gave a stunning performance at a football match, but it was their reaction to the cold weather that caught the most attention. 
Last March 5th, Red Velvet showcased a halftime performance in a match between Anyang FC and Suwon FC at the Anyang Sports Complex. More than 10,000 sports fans were gathered at the venue when Red Velvet performed their latest track, "Rookie."
However, it was the stage costume worn by the members that made their fans sad. In the middle of the cold weather and outdoor venue, the members wore short skirts.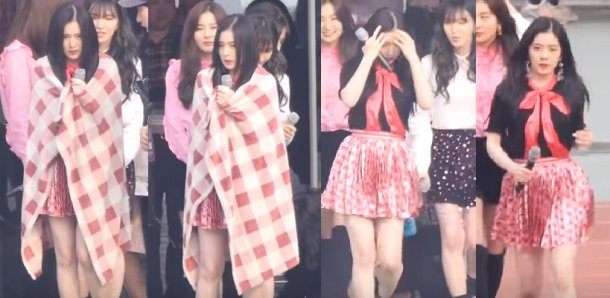 A video prior to their performance showed the members seemingly cold while wrapping themselves with blankets, while their staff members wore thick padded coats.
It was Irene, in particular, that the looked more vulnerable in the cold weather and she walked towards the field holding the blanket tightly. She even rolled it along her legs as she shook. But the members were known professionals and continue to perform enthusiastically when it was their turn to come to the stage.
Red Velvet was praised for their professionalism on stage especially when faced with heavy technical issues during a recent performance. Seulgi was commended for her graceful save when she suffered from a microphone malfunction.
Source: JoongAng
Share This Post