Seongnam K-Pop concert official commits suicide after tragic accident
Following the death of 16 reported fatalities at the Seongnam K-Pop concert yesterday, it has recently been disclosed a concert official was found dead this morning.
At approximately 7:15am KST, according to reports, a pedestrian called in to 911 to report a dead body found on the streets beside the Bundang Techno Valley Building, located in the vicinity of the ventilation grate accident. It is believed that the man had jumped from the 10 floor rooftop of the Bundang Techno Valley Building.
The body is identified to be a man who was involved in the planning of The 1st Pangyo Techno Valley Festival concert. The man had been called in by the police for questioning lasting an hour and 20 minutes on the day of the K-Pop concert accident, thus it is highly believed his death was a suicide.
The official was working for Gyeonggi Institute of Science & Technology Promotion, who sponsored The 1st Pangyo Techno Valley Festival. Known organizers for the event included Korean news site E-Daily and E-Daily TV, who issued an official statement, expressing their apology:
"We apologize with bowed heads. As the event organizers, E-Daily and E-Daily TV feel immense responsibility, and express our condolences toward the victims and their families. But as the safety and care [of the attendees] were under performing, it has led to a heartbreaking accident where lives were lost. Once again, we express our heartfelt condolences to the victims and the families. We will do our very best to rectify the situation."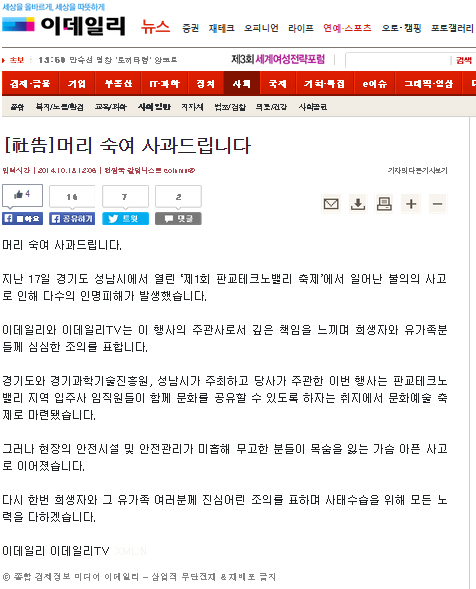 The fatal accident took place on October 17th around 5.53pm KST, where approximately 700 people were gathered around the concert venue in Seongnam. The line-up for the concert included 4minute, T-ARA, JunggiGo, and Cherry Filter. Many of the attendees attempted to gain a better view of the concert by standing on a ventilation grate, but the grate finally gave way, resulting in 27 people falling from a height of 10 to 20 meters. Though this incident occurred during 4minute's performance, the girl group were unaware of what had happened until the after the event ended.
Besides the 16 deaths, the remaining 11 people are reported to be seriously injured. Thirty million won (around $28,000 USD) per person will be compensated to cover the funeral costs for the deceased.
Our thoughts and prayers are with the victims and their families.
Source: TV Report (1,2), StarNews, GStep
---
Related news:
Share This Post