[★BREAKING] Japanese Hostess leaks private information about her relationship with BIGBANG Seungri
Japanese media company Shukan Bunshun has released a full interview with a woman who claims to be BIGBANG Seungri's ex-girlfriend, with photo evidence. 
Earlier today, we reported that Shukan Bunshun would be releasing an interview on December 15, 2016 with Seungri's alleged ex-girlfriend. The magazine revealed that they were talking with a woman who claimed to have been dating Seungri since 2013.
The interview and magazine post begins by describing Seungri's activities in Japan. The Japanese woman will remain anonymous in this interview and states she has been dating Seungri since 2013. She revealed in the interview that she met with Seungri at a "membership only karaoke bar".
It reveals the following:
"Seungri took the bullet train from Nagoya to Tokyo and immediately went to 3 bars with a group of girls. They rented out a Korean restaurant and when they started eating and drinking a lot, he told the owner, 'If it has to do with money, I have it!'"
The woman who was earlier identified in Shukan Bunshun's tease post yesterday reveals intimate quotes about how they met and Seungri's alleged behavior.
"His behavior is bad when he drinks. He gets any hostess he can so there are a lot of bad girls. He calls a lot of girls over at the karaoke bar and takes home the person he likes. He plays like a super rich (bubble era) famous Japanese person."
— Roppongi Bar Worker
The magazine then switches on to describe a Japanese woman in her 20s, previously described in yesterday's report, who had a relationship with Seungri since 2013 for more than one year.
"There were a lot of people around him. A lot of the girls were night workers (hookers/hostess/etc). When they left the shop he would say, "Come to the hotel with me." At the hotel, they talked about her day job and he would ask why Japanese people are willing to do these kinds of jobs so quickly. After they finish, he would say, "Please don't tell anyone. Japanese people like to spread rumors (talk a lot)."
The magazine then goes on to reveal that she continued having a relationship with Seungri, even after these incidents. She claims that Seungri would come to Japan and he'd take her to expensive hotels.
Seungri would allegedly take her phone away as a precaution. In one incident, she claims they played rock-paper-scissors and if she lost, they would take a bath together. He would sing Justin Timberlake songs to her and they would only meet at the hotel and only order room service.
The magazine claims the following in their publication:
"Famous Japanese women such as Takei Emi and Ishihara Satomi say Seungri is cute and wanted to know him. Even though Seungri was together with [the woman in this interview], he would message other girls on LINE. His girlfriend at the time found evidence of him cheating on her."
— Shukan Bunshun
The woman goes on to claim that Seungri would consistently cheat on her and that's the reason she broke up with him.
"Seungri is really bad when he drinks. He doesn't make friends with girls. There have been times where I went to his room and passed another girl that was leaving. Naturally, I hated this so I cut off the relationship."
Finally, the interview is concluded with additional information alleging that Seungri would consistently cheat and have relationships with women.
"Seungri once left a store at 4am and put his arm around a brunette model type girl he met 30 mins beforehand. He got into a car with her and went to one of his usual hotels with the woman."
The original post by the Magazine claimed to have been waiting to release photos that would prove their relationship existed. However, they did not release such photos or proof that this relationship in fact existed.
Here is the original copy of the magazine, which was spread across 3 pages.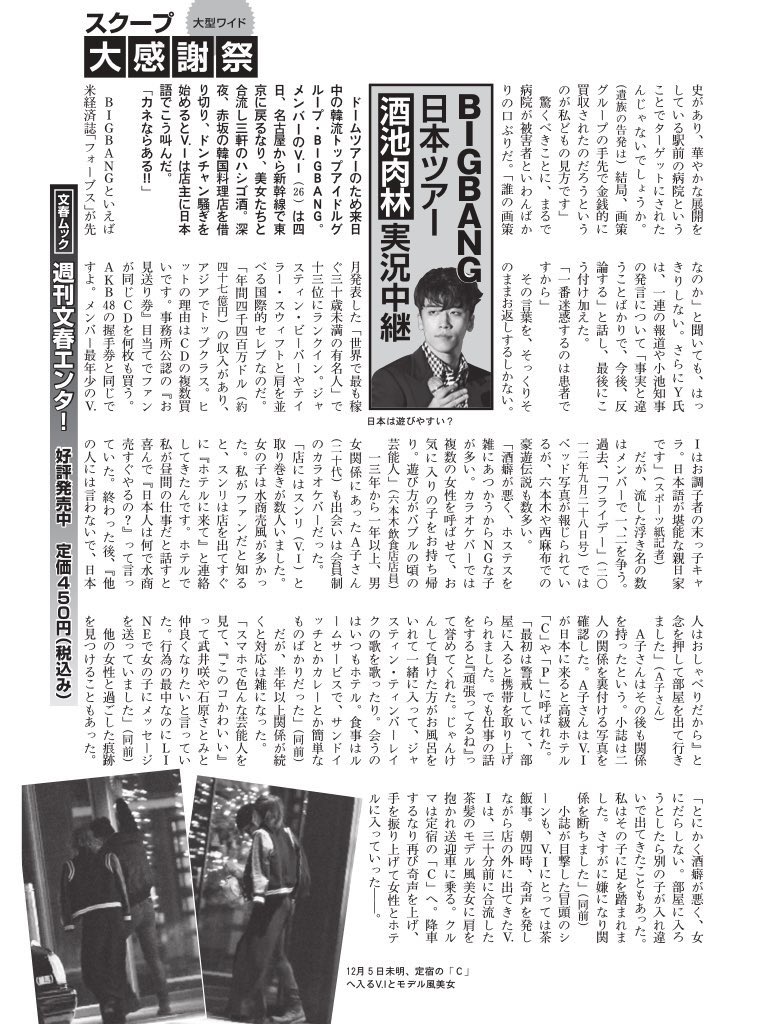 Source: Shukan Bunshun Physical Magazine
Share This Post