Song Ga Yeon undergoes therapy after receiving death threat and malicious comments online
It was revealed that road fighter Song Ga Yeon has been receiving psychological treatment because of the stress resulted from malicious comments on her SNS and online media articles.
A carpenter in his late 20s, known as Y, was accused of sending a death threat to Song Ga Yeon after posting vicious words on his SNS, reading, "I want to kill Song Ga Yeon", along with a photo of a chain saw. The full post reads, "Ah I want to kill Song Ga Yeon. For real I feel like murdering. I will buy electric saw soon. I don't know what will I use this for. Try to make me not want to use it on you."
According to The Fact, Song Ga Yeon started the treatment last August, and has halted her current training due to the immense stress resulting from these malicious comments.
The malicious comments began after her fight against Yanamoto Emi from Japan at the "ROAD FC 017" (Road Fighting Championship) during the special main event and 47.5kg match on August 17th, where Song Ga Yeon won her match with a TKO. However, critics have stated Yanamoto was not a matching rival for Song Ga Yeon and that the latter was overrated.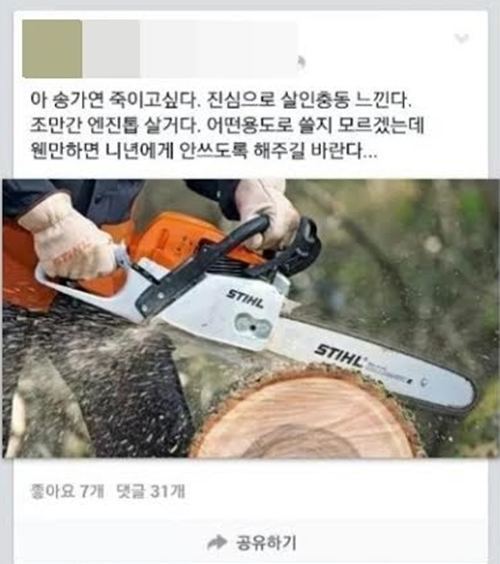 On October 18th, Korea's largest Mixed Martial Art organization,  "Road Fighting Championship" announced that Song Ga Yeon had been enduring so much of criticisms and personal attacks, however, the recent death threat crossed the line. The blackmailer has the history of posting up a number of criticizing comments on Song Ga Yeon, and despite other people's persuasions, he left another comment, "Happy to convey my feelings that I want to kill her with chain saw."
"Road Fighting Championship" and its legal team is now working on the process of charging the blackmailer who has sent death threats to Song Ga Yeon. Currently, the MMA fighter is attending psychotherapy sessions in order to recover from the threats and harsh criticisms that have been targeted at her.
Source: Donga
Share This Post