Song Ga Yeon's agency rejects netizen's apology for death threats and will continue to press charges
Road FC Entertainment has released a statement, saying that they will not be accepting the apology of the netizen who has been sending MMA fighter Song Ga Yeon death threats, and will continue to press charges against him.
Song Ga Yeon has previously been reported to be undergoing psychiatric treatment, as a result of immense stress inflicted upon her prior to reading malicious comments uploaded by the netizen, who has publicly expressed his desire to kill her via his SNS. In response to the netizen, her company Road FC Entertainment  has been reported to be pressing charges, saying that despite the fact that she had been receiving numerous personal threats, "the recent death threat is way over the line".
It was then reported that the netizen, who has been identified as Yoon, had uploaded a photo of a handwritten apology letter to Song Ga Yeon that he left at her company building, saying:
"To Song Ga Yeon, Kim Ji Hoon and Seo Doo Hwan. I have inflicted much emotional and mental pain through the death threats and malicious photos I have uploaded onto the Internet. I am truly sorry. I wanted to express my sincere apology in person, but I could not get in contact with the attorney, and so, I have resorted to contacting you like this. I leave you a drink that I hope you drink while exercising and a handwritten letter of apology. I know that there is no way to avoid the consequences of posting death threats, but even so, I decided that personally seeking you out would be more sincere than an apology lacking in sincerity. I believe that legal punishment is the appropriate way to go about the situation, and I offer you once again, a sincere apology."
In response to this, however, Road FC has simply rejected his apology, stating that, "This letter has been published before the charges were pressed." They then continued to say, "In reality, we did not have any form of contact with the netizen since we announced that we will be pressing charges, and we have no intentions of pulling back the charges."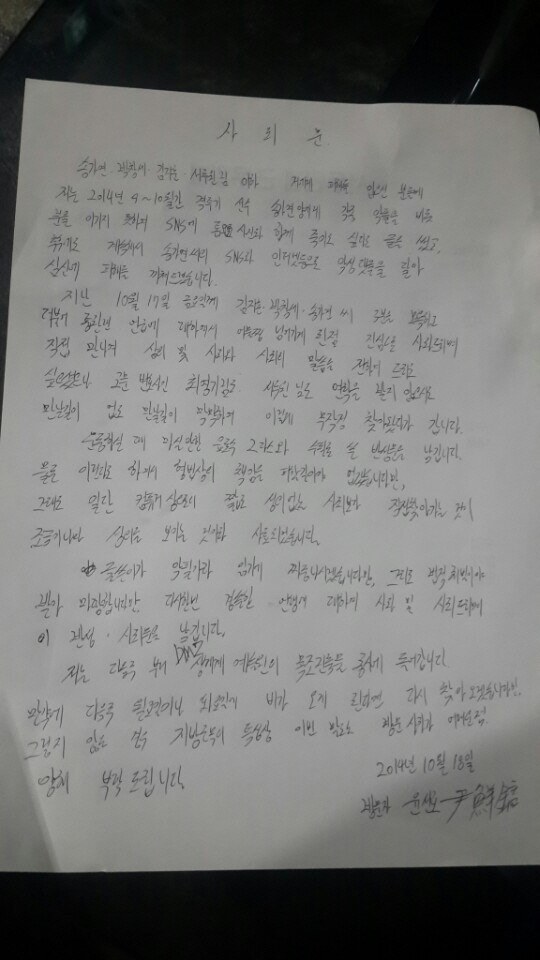 Share This Post