T-ARA becomes the first Korean girl group to achieve over a million members in their Baidu fan cafe
The popularity rankings of Korean girl groups in China were shared in a recent Instiz bulletin board post, revealing the first one to ever reach over a million fans in its fan cafe.
In a post titled "China's Baidu fan cafe ranking of Korean girl groups" shared on July 8th, the original poster writes, "T-ARA #1. First Korean girl group to exceed one million people in China's Baidu fan cafe."
The screencap reveals five different columns with the ranking, girl group name, number of members in their fan cafe as of July 4th (2015) and another more updated one for July 7th (2015), and finally, the difference of people who joined or left between the two date. Notes at the bottom also reveals what is reflected in the numbers, including solo artists and former group members.
In first place is T-ARA with 1,000,872 members as of July 7th, up 51,641 members in a span of three days. Jessica Jung is behind in second place with 960,995 members. Girls' Generation comes in a close third with 951,415 members, f(x) in 4th with 801,590 members, 2NE1 with 605,151 members in 5th place, IU in 6th with 562,985 members, Apink with 523,334 members in 7th, BoA with 287,604 members in 8th place, Girl's Day in 9th place with 283,745 members, and miss A completing the top 10 with 262,283 members.
Netizens who read through the post wrote:
➜ Heol, this is awesome
➜ Ladies Code..
➜ T-ARA is awesome but Jessica..
➜ Lovelyz so cute ㅠㅠㅠㅠㅠㅠㅠㅠㅠㅠㅠㅠㅠㅠㅠㅠㅠㅠㅠㅠㅠㅠㅠㅠㅠㅠ
➜ A few days ago Jessica was #1 and SNSD #2 and T-ara #3 I guess T-ara is super big in China ㅠㅠㅠㅠㅠㅠㅠㅠ they keep climbing ㅠㅠㅠㅠㅠㅠㅠㅠ so awesome..I hope our babies keep climbing too!!
➜ Wow.. Amazing… *tremble* IU's is also huge.. 500,000 people *tremble*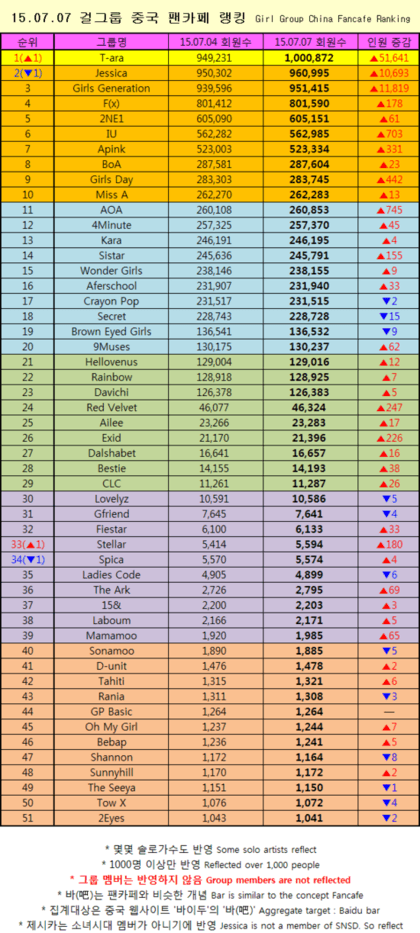 Source: Instiz
Share This Post