These Are The Top 11 Produce 101 Contestants Right Now
If Produce 101 Season 2 ended today, this is who would be in the new group.
The first episode of Produce 101 Season 2 recently aired and at the end of the episode, Mnet showed the current rankings of each of the trainees. These rankings are separate from those rankings given before the show started airing, as these results influence which trainees will continue on the show and ultimately join the new group and which trainees are eliminated.
Only the top 11 trainees will be allowed to debut in the group created by Produce 101 Season 2. The current top 11 contestants are as follows:
Park Ji Hoon (Maroo Entertainment)
Jang Moon Bok (ONO Entertainment)
Lee Daehwi (Brand New Music)
Joo Haknyeon (Cre.Ker Entertainment)
Bae Jin Young (C9 Entertainment)
Samuel Kim (Brave Entertainment)
Ahn Hyungseob (Yuehua Entertainment)
Ong Sungwoo (Fantagio Entertainment)
Lee Euiwoong (Yuehua Entertainment)
Lai Kuan Lin (Cube Entertainment)
Hwang Minhyun (Pledis Entertainment)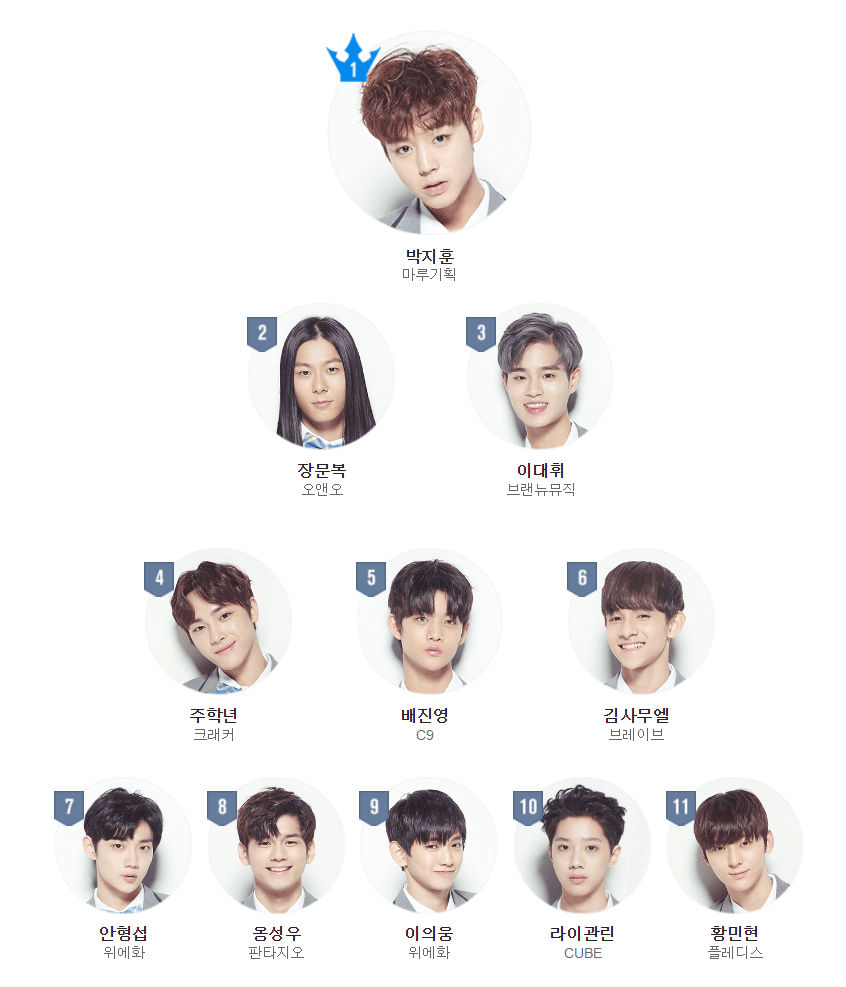 Other notable trainees' rankings are "tip-toe boy" Park Sung Woo at #12, NU'EST's Ren at #14, NU'EST's JR at #15, and NU'EST's Baekho at #19.
The next episode of Produce 101 Season 2 airs on April 14 at 11 PM KST. This episode will continue the level evaluations, ranking each trainee into a class from A – F.
Source: Mnet
Share This Post