[★TRENDING] Possible punishment for netizen who sent death threats to Suzy
On November 12th, the SBS show Midnight TV Entertainment discussed the online death threats that were recently posted against miss A's Suzy.
Suzy had received angry tweets on Twitter saying that Suzy should, "Banish from the entertainment industry! Go die in a car accident," and "Worthless person.. Die in a car accident.."
On November 9th, Suzy posted a very shocking response directed towards the netizen who has been threatening her. The response was calm and collected, which simply said, "I see that you want me to die."
JYP Entertainment made a statement claiming that "the company will no longer overlook such indiscriminate actions directed towards their affiliated artists, and our legal team will take action."
The agency added that they will continue to protect their artist and press charges against the netizen who left the malicious comment.
The representative from the police department gave a word about this situation and said, "The investigation has already begun, but no details about the case and investigation process will be disclosed to the public."
A lawyer from JYP Entertainment has stated that, "Due to the continuous threats, Suzy and her agency decided to take action. The criminal will be sentenced to one year of imprisonment and will have a penalty of 2,000,000 KRW."
Due to all the commotion caused by the tweets on Suzy's Twitter, the netizen who made the death threat was in shock and made their Twitter profile private. The netizen's threats and Suzy's response is currently no where to be found on Suzy's Twitter profile.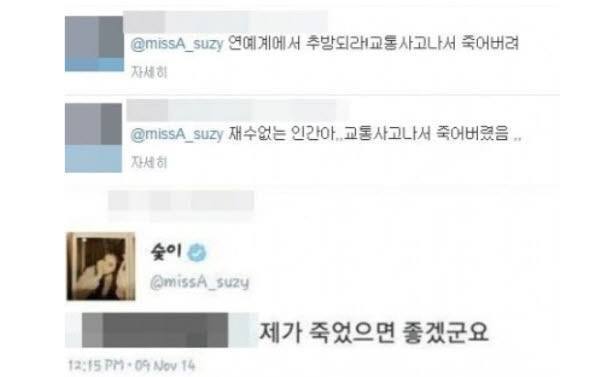 Source: Newsen and Sport KyungHyang
Share This Post