VIPs BUSTED By EXO-Ls For Attempting To RIG VOTES On Gaon Charts
After an attempt to rig the Gaon Fandom voting chart, VIPs are under fire from EXO-Ls.
The Gaon Fandom Chart voting allows all fans to vote on their favorite groups. But after EXO-Ls found out some irregularities on the voting, they found out that votes were rigged to give BIG BANG a big lead.
Originally posted on Pann, VIPS are under fire for rigging the Gaon Fandom Chart by EXO-Ls.
Titled "VIPS Caught Rigging Again," here is the direct translation of the post and comments below.
"On February 10th, the rankings were EXO at 1st place with 47% and BIGBANG at 2nd place with 45%.
But all of a sudden after midnight, there were irregularities in voting so an EXO-L decided to screenshot the live time voting.
This resulted in BIGBANG rising to 75% to take first place in just couple of hours.
After suspecting foul play, EXO-Ls asked for a recount to Gaon. After investigating, Gaon chart found out that BIG BANG's fandom in China was involved in a foul play.
1. Here is the live time screenshots of BIG BANG's votes rising.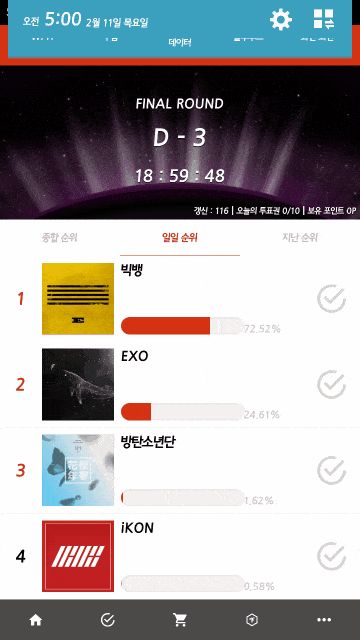 2. Here is the official statement by Gaon regarding the foul play in voting.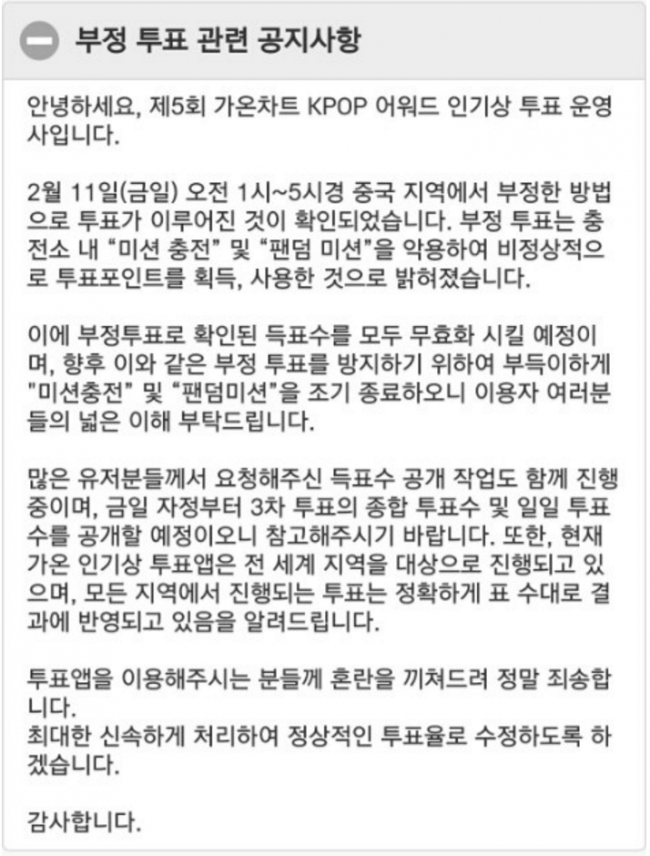 Translation:
"Hello, we are the management in hosting Gaon Chart's 5th annual K-Pop award popular voting.
On February 11th around 1AM through 5AM, we found out that there was foul play involved in voting from areas in China. It was revealed that they tried to gain voting points in irregular ways by using 'mission recharge' and 'fandom missions.'
We will be getting rid of all the votes that are revealed to be foul play and we will end the 'mission recharge' and 'fandom mission' early in order to prevent further foul play.
We are going to process publicly all of the users' requests in voting and we will be revealing the true vote counts soon. We also want to let all you know that we are accepting votes from all of the countries in the world and we assure you that votes will be accurate.
We apologize for the inconvenience to our users.
We will try our best to fix the voting fast as possible.
Thank you."
3. This is the result after they fixed the voting.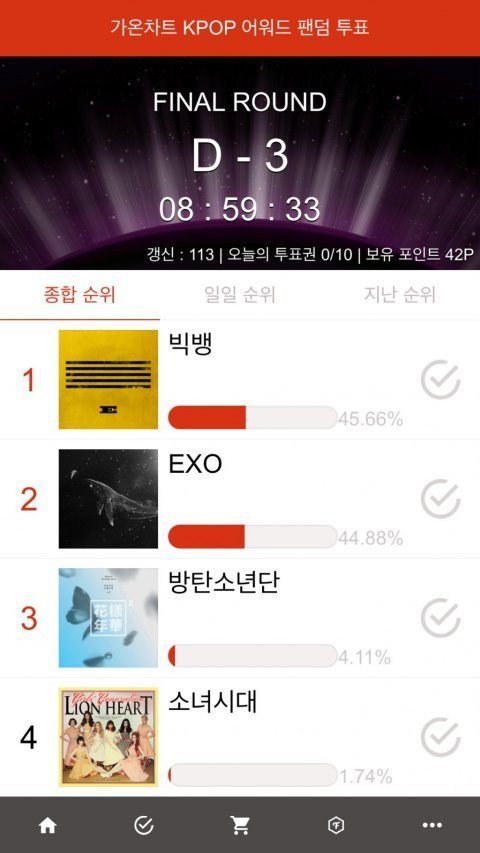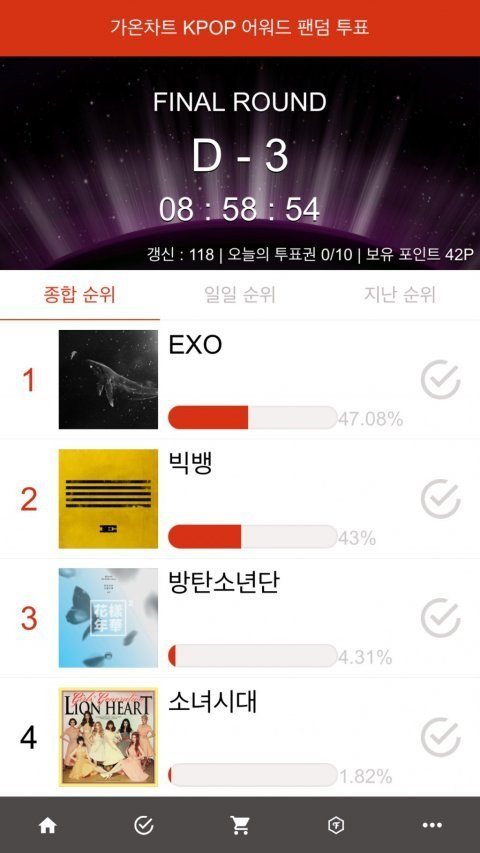 hahahahaahahahahahahahahahahaahha."

---
NETIZEN REACTIONS
Koreaboo has collected reactions from Netizens who commented on the original article from our Korean source. The below comments are the most popular comments at the time of this article being published.
---
[ +815 / -64] Wow that means if the EXO-Ls didn't request this, BIGBANG would have won the award through rigging…. I honestly freaking love EXO-L fandom
[ +629 / -45] Hahahahahahahaah I have nothing to say but to laugh hahahahahhahahaha
[ +610 / -49] Rigging hahahahahaahahhahaahahha This is already the second time
[ +55 / -85] I heard Chanyeol's personal fans in China can cover BIGBANG fans in China. Is this true?
Source: Pann
Share This Post