VIXX to bring their live show "THE UNDERWORLD" to Hong Kong
Get ready, STARLIGHTs in Hong Kong! VIXX will be bringing VIXX Live Show 'THE UNDERWORLD' to the city on February 18th!
VIXX is set to perform their popular tracks at the live show, including new songs from their most recent mini-album, Kratos. The members, N, Leo, Ken, Ravi, Hongbin, and Hyuk, will also get up close and personal with fans through a hi-touch session, which is scheduled to take place immediately after the main show.
Prices range from $580 to $1,780 HKD (approximately $75 to $230 USD), with a mix of seated and standing tickets. The most expensive tickets also come with a pass for the hi-touch session. Priority booking for the event is available until December 11th for Citibank credit card holders, while the general public can grab tickets at hkticketing.com and its outlets starting from the 16th.
The event is organized by Rolemodel Entertainment Group (REG), a subsidiary of CJ E&M. The company has recently organized other popular and successful events in Hong Kong and Macau, such as Super Junior's Super Camp, BTS' 2016 BTS LIVE Hwa Yang Yeon Hwa on stage: epilogue concert, and BEAST's Beautiful Night Special Fan Meeting.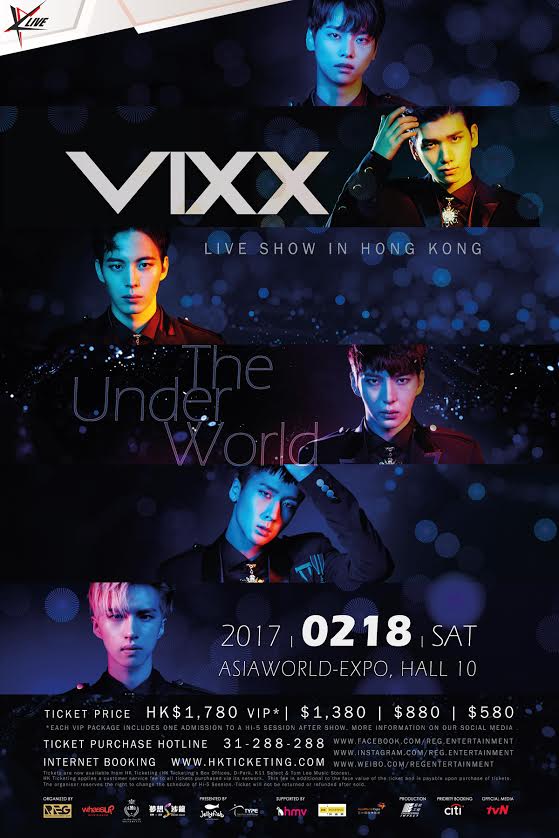 Share This Post