VIXX keeps #1 promise with 300 servings of patbingsu
Jellyfish Entertainment's boy group VIXX has kept their promise after grabbing their winning trophies on music shows!
On September 6, VIXX provided fans with 300 servings of patbingsu (shaved ice with red bean) in front of the SBS building. This was for fans who were there to cheer VIXX on for their filming for the music show, The Show.
On The Show aired on August 23, VIXX's leader N declared his commitment to provide 300 servings of patbingsu if the group won number one. Two weeks later, fans were able to have their dreams come true with their win on the new single "Fantasy". The first win was on The Show on August 23 and second win the next day on MBC Show Champion (where N's humble speech won the internet) and the group gained momentum to take their third win on The Show on September 6.
Posing with a cup of shaved ice each, the VIXX members stood in front of a special banner for the fans that said, "Congratulations to VIXX's fantasy 'Starlight' for #1. We prepared this for you." This evidently showed their gratitude for fans who supported the group on their journey to reaching number one on the charts.
Fans were initially worried about member Leo, who was injured during the promotional period at the annual Idol Star Athletics Championship. Many are still bittersweet, but overall happy that he could share the same stage to share the win.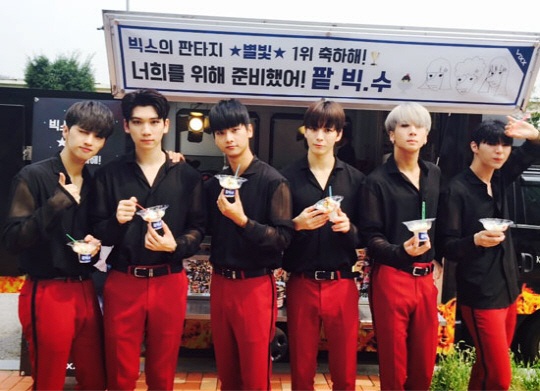 Source: Sports Chosun
Share This Post