Weekly Idol's lie detector ships Jackson and Youngji
GOT7's Jackson and KARA's Youngji revealed that they had seen each other as a man and woman (someone they would date), during a lie detector test on Weekly Idol.
MCs Jung Hyungdon and Defconn who also host Hitmaker, invited the male and female project bands Big Byung and Cham So Nyeo on the show. During one segment, they had the eight members take a lie detector test.
Defconn asked Jackson, "Have you ever liked Youngji?," to which Jackson answered "Yes, because the lie detector will say it is a lie regardless." However, to his surprise and the excitement of the rest of the cast, the lie detector indicated that the rapper was telling the truth!
As a result, the group turned their attention to the now embarrassed Youngji to the same question to which she answered yes as well, believing that it would shock her hand indicating a lie. Yet, the lie detector pinged once again for the young star as the other members and MCs began to sing the wedding march with glee.
Fans have been rooting for the two become a couple as the two rookie artists are currently fixed cast members on Roommate Season 2 and are often seen playfully bickering. Even their fellow castmates have left comments such as, "If you two keep bickering, you will get married!," fanning the flames as fans created the couple name "Jackji" for the two. The two even created a parody video of EXID's "Up and Down" with fellow cast member Lee Guk Joo
Hitmaker currently features Big Byung with members Wang Kong (GOT7's Jackson), Dol Baegi (VIXX's N), Hyuk Ddi (VIXX's Hyuk), and Yook Duck (BTOB's Sungjae) and their sister group Cham So Nyeo, consisting of G.NA, 4MINUTE's Kwon Sohyun, After School's Lizzy, and KARA's newest member Heo Youngji, who create unique songs with hilarious concepts produced by Brave Double Tiger (Jung Hyungdon and Defconn).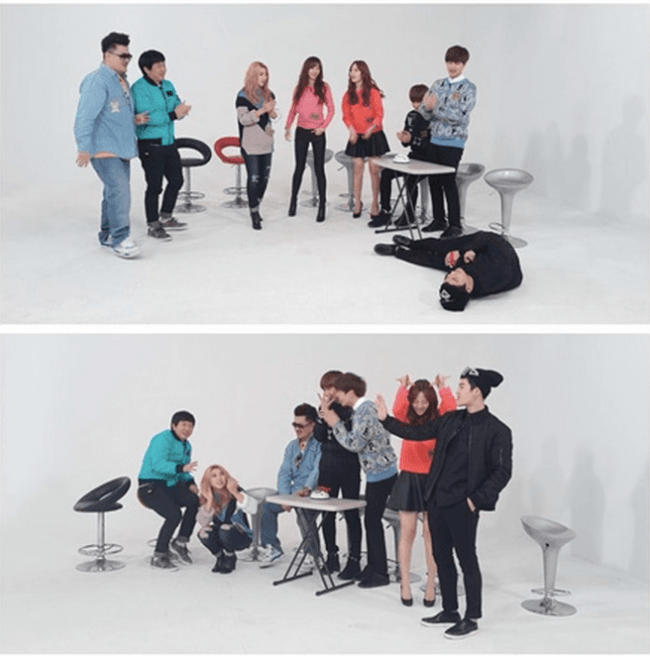 Source: Sports Seoul
Share This Post