Yang Hyun Suk held a grudge against T.O.P for four years for saying this
It turns out that YG Entertainment's Yang Hyun Suk  is the type to hold onto a grudge for a long time. 
During BIGBANG's recent appearance on MBC talk show Radio Star, the group told an interesting story about a series of events between member T.O.P and YG Entertainment executive Yang Hyun Suk.
When the company opened up their very own restaurant back in 2015, Yang Hyun Suk asked his artists to give their honest opinions about the food after they had tried it. Trying to fit a joke in, T.O.P pretended that the food was mediocre and said that it was only "so-so." But rather than take it as a joke, he revealed that Yang Hyun Suk became noticeably upset. T.O.P then added that this was not the first time he made Yang Hyun Suk angry with his words.
According to T.O.P, Yang Hyun Suk once asked him what YG Entertainment meant to him. Not wanting to sound corny, he responded by simply saying it was his workplace. Apparently T.O.P's cold and straightforward answer apparently left a bad taste in Yang Hyun Suk's mouth, as T.O.P explained that those words are still mentioned occasionally in BIGBANG's group chat room even after four years.
To right his wrong, the radio star hosts asked T.O.P to explain what YG Entertainment meant to him now. When he quickly responded with the word "family," fellow group member Taeyang added that T.O.P has actually started calling Yang Hyun Suk "father" after his faux pas years ago.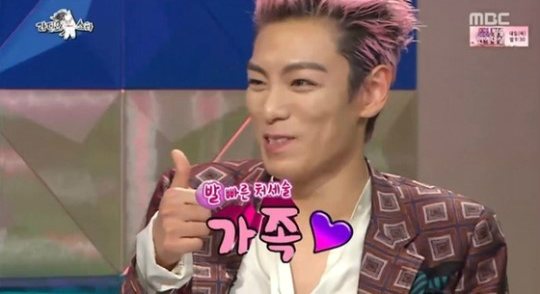 Source: News 1
Share This Post