Yonghwa, Jonghyun, and Jongshin revealed as lyricists and composers for upcoming "BLUEMING"
Male band CNBLUE is making an exciting comeback this April with their 6th mini-album BLUEMING, and following the release of various image teasers, they share further information regarding their new album with the full track list.
Published on March 30th, the mini-album will consist of five tracks including "You're So Fine," "The Seasons," "Young Forever," "Without You" and "Stay Sober."
In particular, this track list has gained attention for the activeness of Yonghwa as the lyricist in the majority of the tracks such as the leading song "You're So Fine," in which he also participated as composer and arranger, "Young Forever" and "Stay Sober." In addition to Yonghwa, band member Lee Jonghyun also participated with the track "The Seasons," credited as both a lyricist and composer, while member Lee Jongshin takes part in the track "Without You" as a lyricist and composer as well.
BLUEMING is the first mini-album from the band in seven months, and it is said the album is filled with spring-like tracks. The album will be released on April 4th.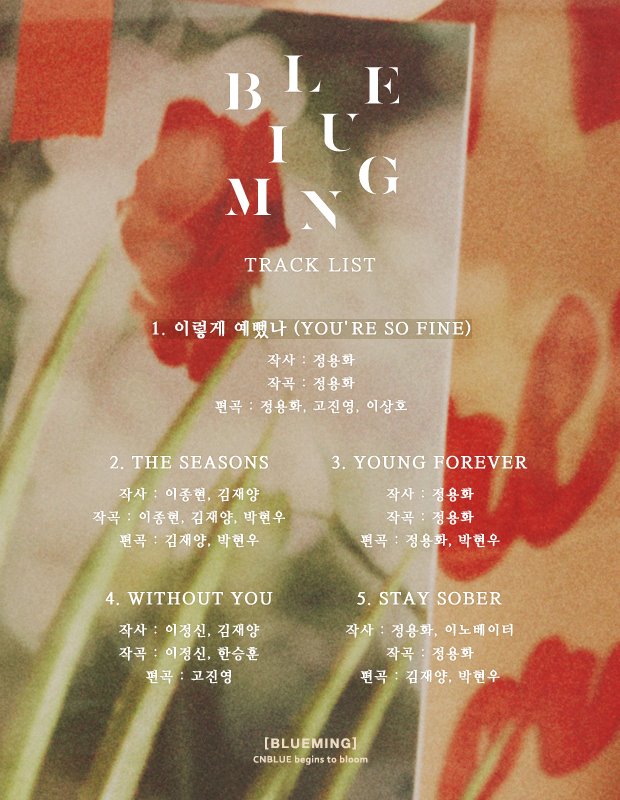 Source: X Sports News
Share This Post