14 Times Idols Proved They Genuinely Care About Their Fans
After the recent incident regarding BOYS24's Hwayoung, fans have become extremely worried that their favourite idols might be like Hwayoung. But there's really nothing to be worried about.
There are LOTS of idols out there that genuinely love and care about their fans. These idols have the same personality both on and off-camera, and they don't secretly talk rubbish about their fans.
We've compiled a list of some instances where idols proved that they are actually really good people.
Take a look at these 14 examples of idols proving that they genuinely care about their fans:
BTS's Jimin Is Always Thinking About His Fans
After taking home four awards at the 26th Seoul Music Awards, BTS repaid their fans for their love and support. Jimin posted a video on Twitter expressing his gratitude to fans by sending them finger hearts.
하고 싶은 말 있었는데
감사하고 사랑합니다❤️#JIMIN#축하해우리아미상받았네 pic.twitter.com/Oo4ncpiLiJ

— 방탄소년단 (@BTS_twt) January 19, 2017
That Time Chanyeol Surprised A Fan Who Uses EXO's Music To Deal With Her Depression
An EXO-L girl appeared on SBS's Same Bed, Different Dreams and revealed that her parents did not have much time for her since her older sister was always sick. As a result, she attempted to hurt herself because of loneliness and depression. She then found security and a sense of belonging in the EXO fandom and became more social with her friends by talking to them about EXO. Then, surprisingly, EXO's Chanyeol appeared as a guest for the fan.
Taeyeon Showed Gratefulness For Her Fans With A Heartwarming Message
After finishing her Butterfly Kiss concert, Taeyeon uploaded a photo on Instagram of her holding up a note saying: "I will wait again, I will look forward to more" and writes a touching message for her supportive fans.
You have no idea how many people worked so hard for a long time for this concert and that includes SONEs. You've been patient and hung in there until the very end. I am reminded once again that I'm a very happy person. My 28th year. My most precious moment in the present. My most precious people, you.
BTS Fulfilled The Wish Of A Fan With An Incurable Illness
Angelica, a young girl with an incurable illness, wished to meet her favorite idols and BTS made her wish come true when they all went to visit her.
Make-A-Wish Korea posted a picture of the members and Angelica on Twitter:
방탄소년단을 만나고 싶은 난치병 아동 안젤리카의 소원이 드디어 이루어졌습니다! Thank you @bts_bighit for making Angelica's wish to meet #BTS come true! @makeawishsacto pic.twitter.com/mLGFJffq0X

— 한국메이크어위시재단 (@makeawishkorea) November 14, 2016
SHINee's Jonghyun Wrote A Touching Personal Note For A Fan
During a SHINee fan signing event, a fan came up to Jonghyun to get his autograph but opted not to give him her name. She then changed her mind and asked him to write her actual name. When she did this, she burst into tears and had a mental breakdown. The fan was so embarrassed that she wasn't able to complete her interaction with Jonghyun, but then she received the following note from Jonghyun via a staff member: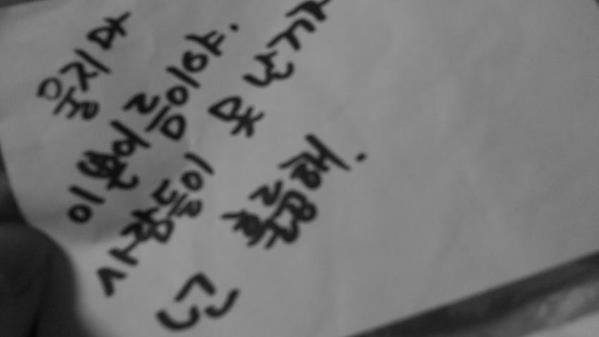 T.O.P Helped A Fan On Instagram Who Was Contemplating Suicide
One fan commented on one of T.O.P's Instagram posts:
Fan 1: Why do you like this flower? It's a flower that'll wither soon.
T.O.P: That sentiment is wrong.
Another fan then comments:
Fan 2: Although I'm not the one who received your reply, when I saw oppa's comment of "that sentiment is wrong" to the person asking why you'd like a flower that will soon wither, I felt moved. Until only a few hours ago, I was also thinking bad thoughts to the point of contemplating something extreme… I'm always cheered up because of oppa. I'm really thankful… Oppa doesn't just make people happy, but he's a person who moves people's hearts.

T.O.P: People are never as foolish, simple and miserable as when they're contemplating/doing something extreme.
While another fan compliments T.O.P for his actions:
Fan 3: I want to resemble T.O.P in the way you look at things and your sensitivity. You're really special and have something extraordinary. I want to become a beautiful person like T.O.P.

T.O.P: Thank you…
EXO's Kai Defended A Fan When The MC Made Fun Of Her Weight
When an MC asked a female guest on the show, "Why do you dance so well, yet lose no weight?", Kai immediately jumped to her defence and said, "Don't be like that."
SHINee's Jonghyun Surprised An Unsuspecting Fan At Her Work
Just before finishing her shift, one lucky fan was taken by surprise when Jonghyun appeared. She was so surprised that she collapsed on the floor! Jonghyun helps her up and assists her with finishing her shift by cleaning the windows and making her a smoothie.
SHINee's Key Encouraged A Fan To Stop Her Self-mutilation
SHINee's Key commented on a fan's Instagram who was publicly harming herself: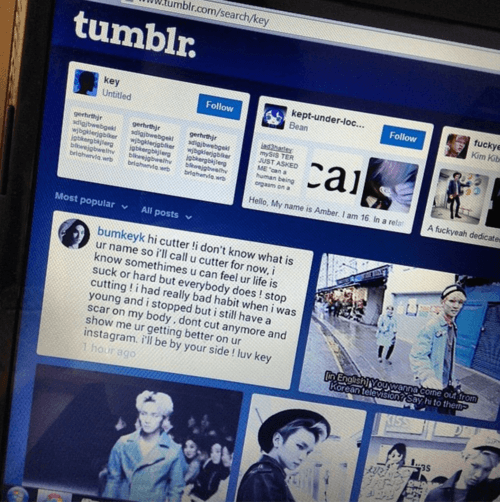 After his heartfelt comment, the fan replied with a promise to stop harming herself.
MAMAMOO's Wheein Shared A Tender Moment With A Hearing-Impaired Fan
At a MAMAMOO fan signing event, Wheein greeted a deaf fan with a big smile. She listened to the fan and responded in sign language. She tried to speak slowly and clearly so that the fan would be able to read her lips.
IKON's Bobby Cared For A Pregnant Fan At A Concert
A post that was originally posted on Pann titled, "The Manner of This Really Mannered Idol At Concert" was uploaded on Twitter which resulted in netizens praising Bobby for his kind act:
During the concert in Busan on March 5, Bobby decided to go down from stage and take his jacket off for a pregnant fan that came to watch.

I attended the iKON concert with my pregnant fan and watched from the back since it might have been dangerous… But then Bobby and Chanwoo came down together and noticed us. After noticing us, Bobby saw my pregnant friend and put his jacket around her T_T

But after the fans reached their hands toward the jacket, he took it back only to come back and put it over her. He is such a nice nice nice nice nice nice nice nice man.

My friend said she would 'give!' it to me… But I couldn't receive the gift but got the chance to wear the jacket once. I told her to give the jacket to her baby. Telling him or her that it was from Bobby

I didn't receive the jacket myself but I was so happy to see Bobby's manners and kind act. Thank you Bobby and my friend.
VIXX's N Showed Pure Dedication And Love For His Fans By Giving Them Personal Presents
VIXX's N surprised fans by presenting hand autographed cards to each of the two thousand fans who attended his birthday event in Japan.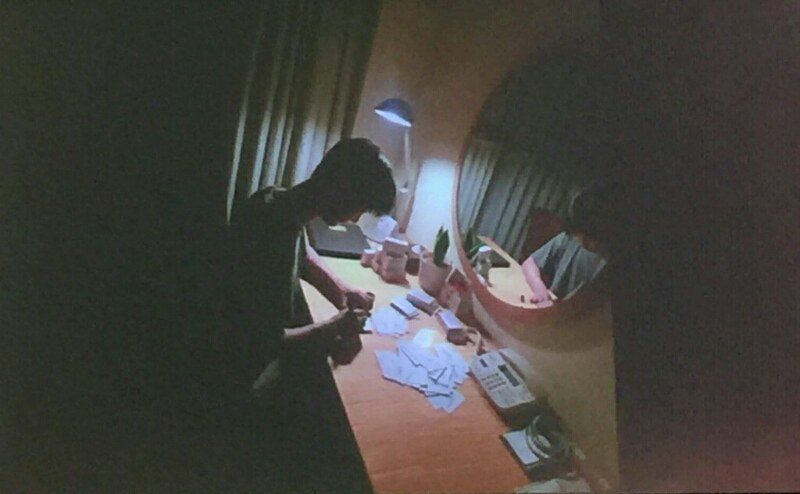 BTS's V Helped A Fan Who Slipped
One fan tried to get a closer shot of BTS with her camera but she accidentally slipped. V then helped her stand back up.
EXO's Lay Danced "Overdose" With A Fan
On EXO's Guerrilla Date, one passionate fan was asked to dance to EXO's "Overdose" and she absolutely killed it. Stunned, EXO's Lay then joined her and they danced to the song together.
There, now doesn't your heart feel warmer?
Share This Post