30 experts determine the most legendary male and female idols and songs in the history of K-Pop
During this recent survey, several of the most renowned industry experts have determined the top 25 idols in all of K-pop history, including the artists' most influential hit songs.
On the 19th, results from a new survey consisting of votes from 30 different South Korean music industry experts were revealed on the popular online community, Instiz.
The survey in question was regarding who South Korea's top 25 male and female idols are, including all bands from the start of the K-pop scene back in the 1990's to the current K-pop scene today. This should not be confused with South Korea's music as a whole, but rather focusing on just the genre of "K-pop", which hints at the more contemporary, youthful music of the country.
The panel of thirty experts in this survey include the following public contemporary music critics Kang Il Kwon, Kim Kyung Jin, Kim Bong Hyun, Kim Sung Hwan, Kim Young Dae, Kim Yoon Ha, Nam Sung Hoon, Park Joon Woo, Bae Soon Tak, Seo Jung Min Gap, Song Ki Chul, Song Myung Ha, Lee Kyung Jun, Lee Dae Hwa, Cha Woo Jin, Choi Kyu Sung, Choi Ji Sun, Han Dong Yoon, Han Myung Ryun, and Mnet M! Countdown producer Ma Doo Sik, Idology editor Mi Myo, MBC Show! Music Core contents provider Park Jung Kyu, Mnet contents team leader Shin Hyung Kwan, MBC Radio producer Ahn Dong Jin, SBS Radio producer Yoon Eui Joon, KBS Music Bank contents provider Han Kyung Chun, and reporters from DongAh News'  cultural trend team Jung Yang Hwan, Lim Hee Yoon, Jang Sun Hee, and Lee Ji Hoon.
The voting system was in the form of multiple votes, where each of the thirty experts could place a vote for every idol group, if desired. The votes would then be calculated to see which artists have received the most tallies.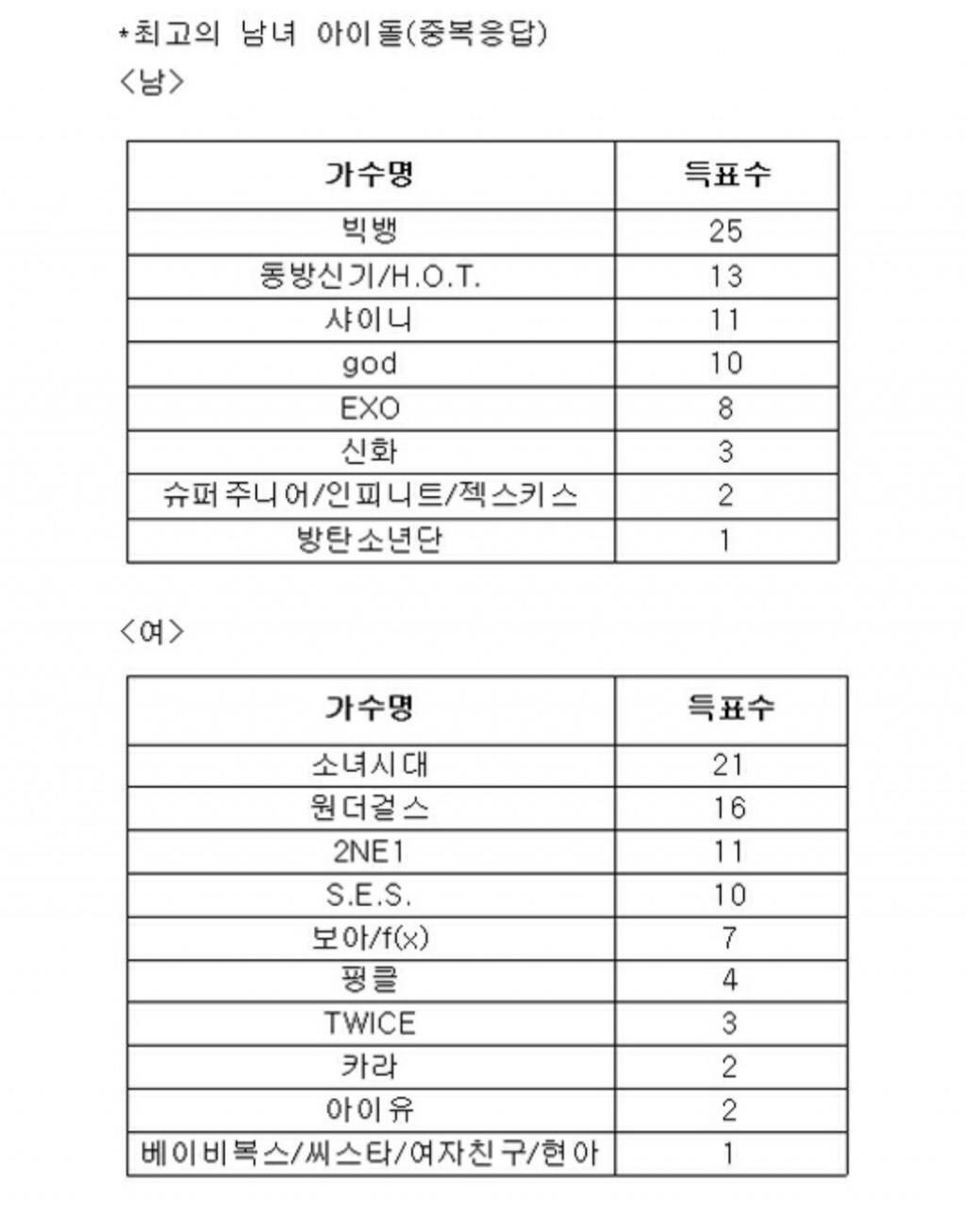 To begin, the top male groups in the history of K-pop chosen by the panel of experts include:
BIGBANG – 25 votes
H.O.T and TVXQ – 13 votes
SHINee – 11 votes
god – 10 votes
EXO – 8 votes
Shinhwa – 3 votes
Super Junior, INFINITE, Sechs Kies – 2 votes
BTS – 1 vote
The second category of the top female groups in the history of K-pop chosen by the panel of experts include:
Girls' Generation (SNSD) – 21 votes
Wonder Girls – 16 votes
2NE1 – 11 votes
S.E.S – 10 votes
BoA and f(x) – 7 votes
fin.K.L – 4 votes
TWICE – 3 votes
KARA – 2  votes
IU – 2 votes
Baby V.O.X, SISTAR, G-FRIEND, Hyuna – 1 vote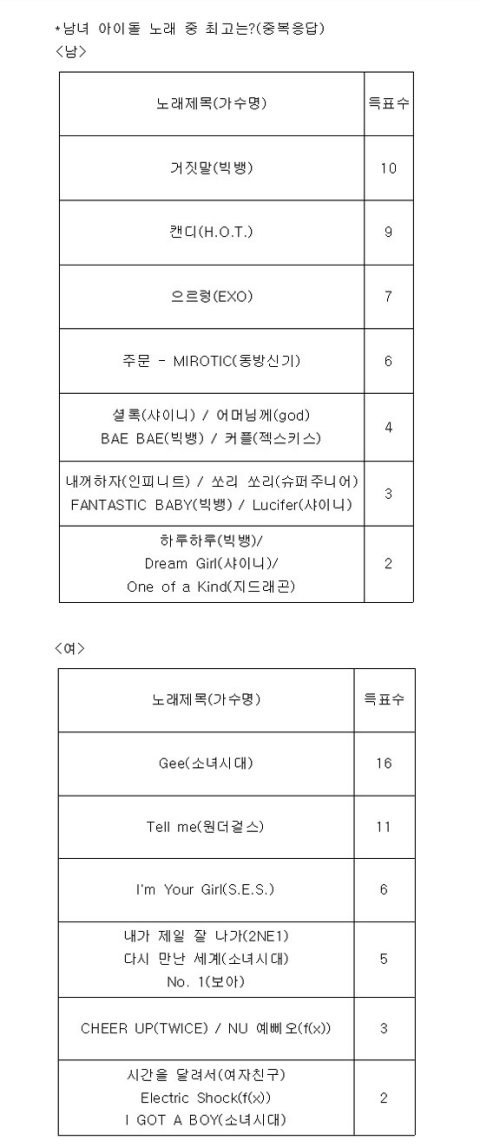 In addition to the survey of the top male and female idol stars above, the experts were asked to choose the most influential and legendary songs that have been released over the fairly recent years of K-pop, which was previously mentioned as being from the 1990's to the present.
The most influential and legendary songs released by male K-pop artists that the panel of experts chose are:
BIGBANG – Lies (10 votes)
god – To Mother (2001), SHINee – Sherlock (2012), BIGBANG – Bae Bae (2015), and Sechs Kies – Couple (1998) – (4 votes)
INFINITE – Be Mine (2011), Super Junior – Sorry Sorry (2009), BIGBANG – Fantastic Baby (2012), SHINee – Lucifer (2010) – (3 votes)
BIGBANG – Haru Haru (2008), SHINee – Dream Girl (2013), G-DRAGON – One of a Kind (2012) – (2 votes)
The most influential and legendary songs released by female K-pop artists that the panel of experts chose are:
Girls' Generation – GEE (2009) – (16 votes)
Wonder Girls – Tell Me (2007) – (11 votes)
S.E.S – I'm Your Girl (1997) – (6 votes)
2NE1 – I Am the Best (2011), Girls' Generation – Into the New World (2007), BoA – N0.1 (2002) – (5 votes)
TWICE – Cheer Up (2016) , f(x) – Nu ABO (2010) – (3 votes)
G-FRIEND – Rough (2016) , f(x) – Electric Shock (2012), Girls' Generation – I Got A Boy (2012) – (2 votes)
Source: Instiz
Share This Post