BTS creates the ultimate visual, using parts of each members' bodies
BTS have made their own profiles in celebration of their 2017 BTS Festa where they shared their personal goals and reflected on their achievements.
BTS's official Facebook page recently uploaded profile forms with each of the members' hand-written answers, in which they all answered various questions about their group.
These new profiles were the first step towards their 2017 BTS Festa, a two-week-long celebration of their anniversary as a group, where they release various types of media content for their fans.
Below are the five different profile answers provided by each BTS member and the direct translations.
The perfect BTS visual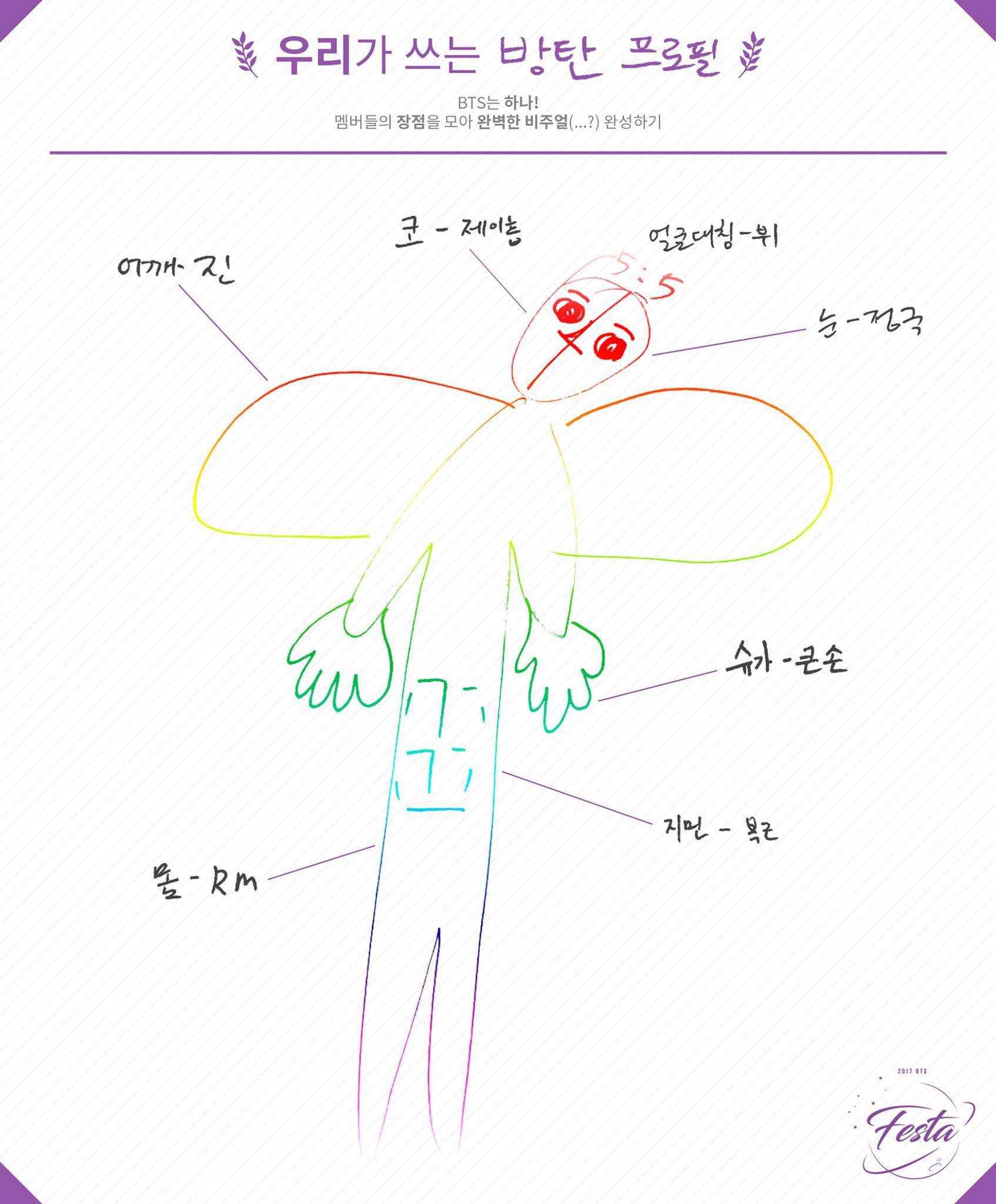 "BTS is one! Make the perfect visual(…?) by combining the members' best traits.

Shoulders – Jin
Nose – J-Hope
Facial symmetry – V
Eyes – Jungkook
Big hands – Suga
Abs – Jimin
Body – Rap Monster"
2016 / 2017 Self-Evaluation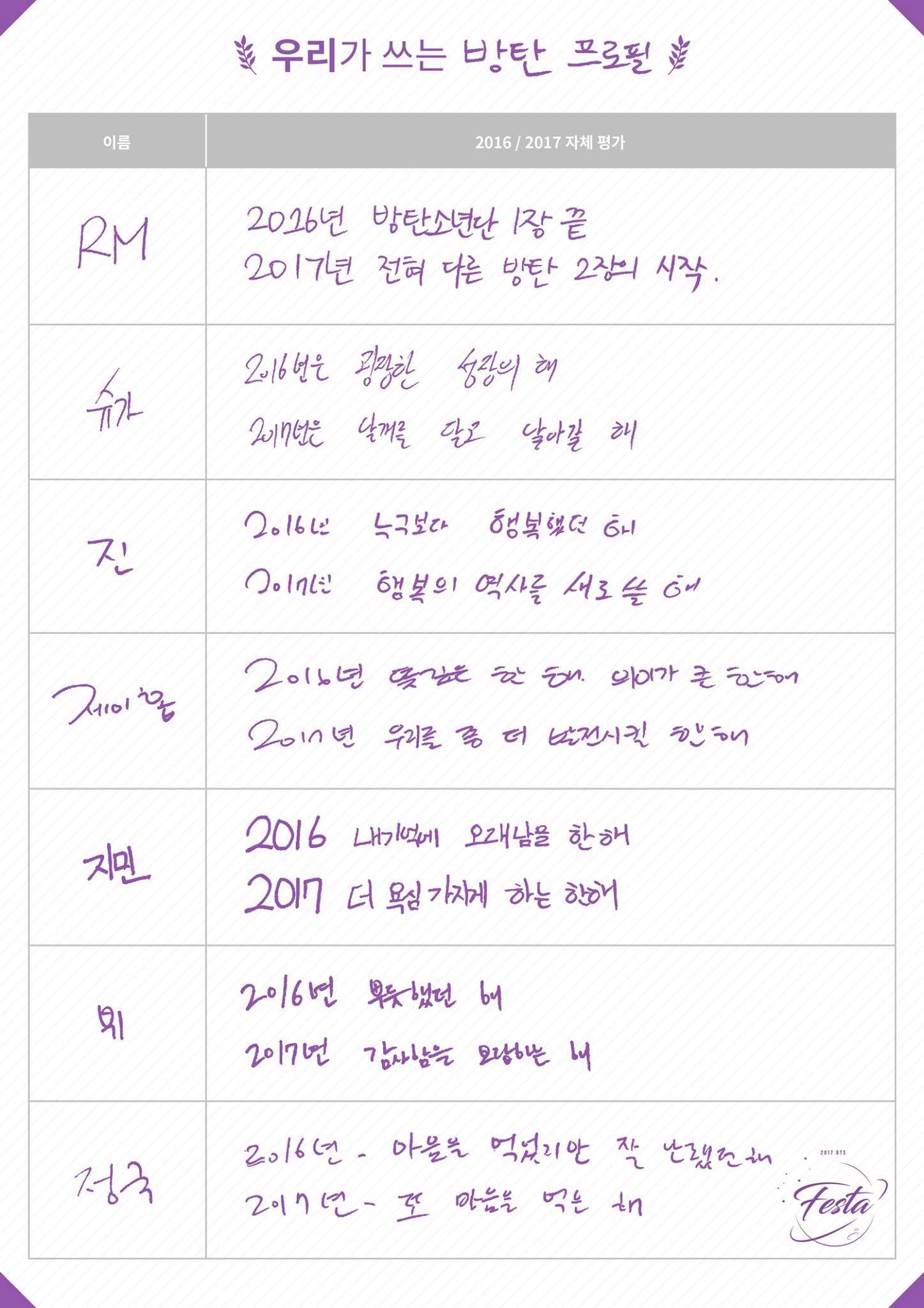 Rap Monster: BTS's Chapter 1 ends 2016
A completely different BTS's chapter 2 starts in 2017

Suga: 2016 was a year of great growth
2017 is a year for us to attach wings and fly

Jin: 2016 was a year where I was the happiest
2017 will be a year where I rewrite the history of my happiness

J-Hope: 2016 was a meaningful year
2017 will be a year for us to develop ourselves more

Jimin: 2016 was a year that will remain in my memory for a long time
2017 will be a year where I become more ambitious

V: 2016 was a year that I am proud of
2017 will be a year where I hope for thankfulness

Jungkook: 2016 – Even though we had determination, we didn't do well
2017 – Another year of determination
2017 / 2018 Goals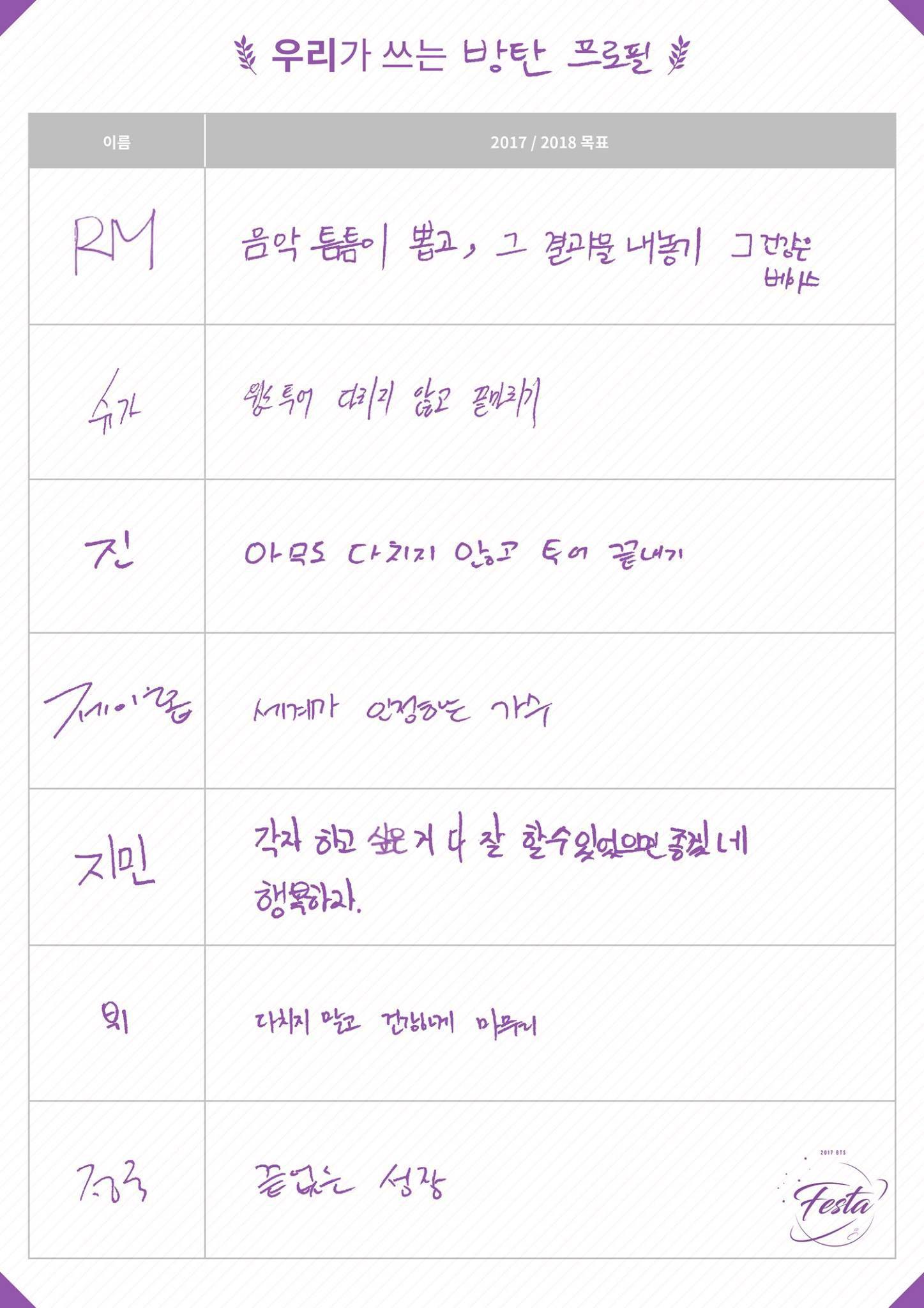 Rap Monster: Make music consistently and release them – good health is the foundation

Suga: Finish the Wings Tour without getting injured

Jin: Finish the tour without any injuries

J-Hope: Becoming an artist with worldwide recognition

Jimin: I hope we can all do well what we individually want to do. Let's be happy.

V: Finishing up without getting injured and being healthy

Jungkook: Endless growth
Happy moments together & activities to do together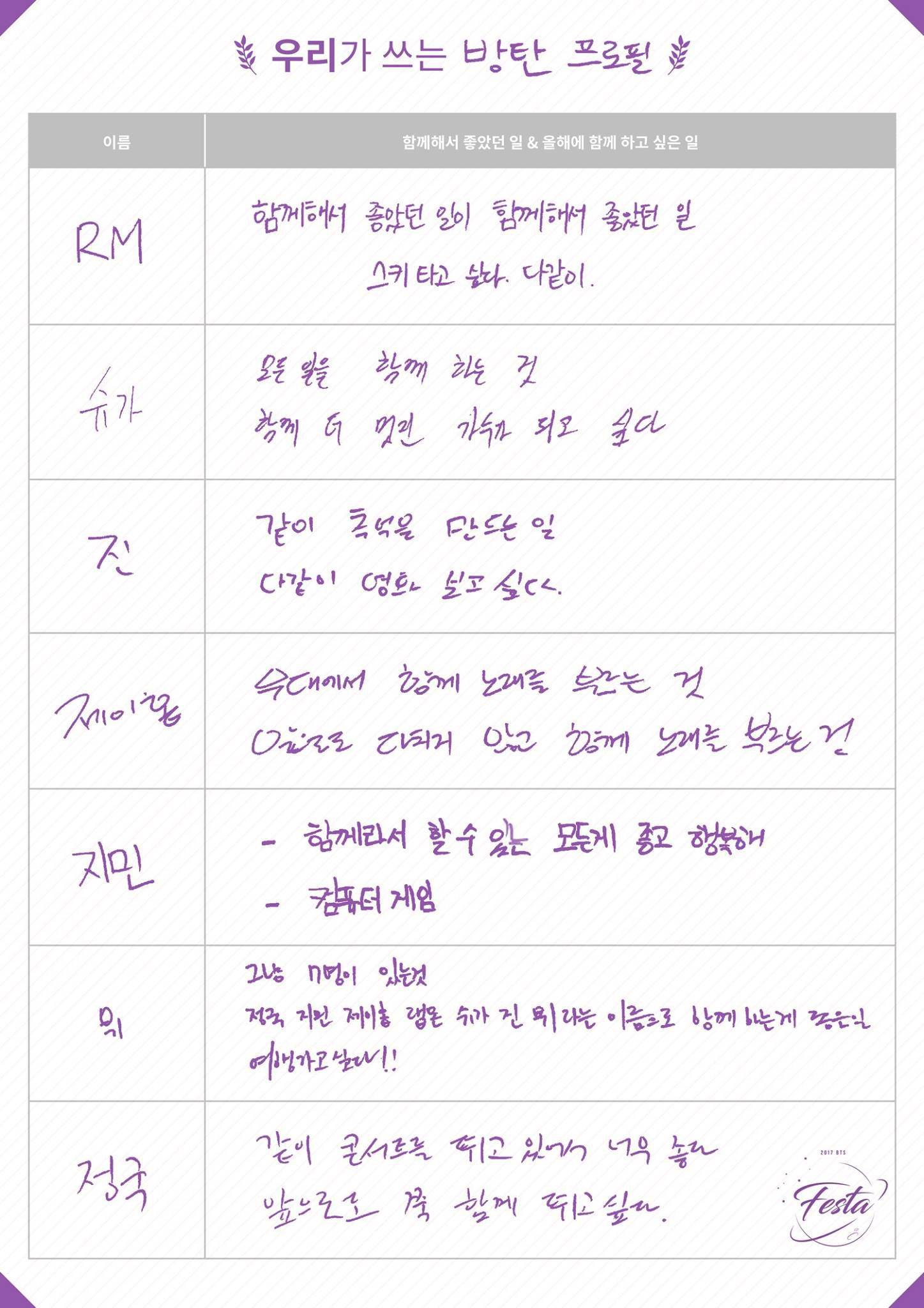 Rap Monster: My happy moment together is the fact that we were always together. I'd like to go skiing with everyone.

Suga: Doing everything together. I want us to become great artists together.

Jin: Making memories together. I want to watch a movie all together.

J-Hope: Singing on stage together. I hope we don't get injured and continue singing together.

Jimin: — I like that we can do everything together and it makes me happy.
— Computer games

V: Just the fact that all 7 of us exist
My happy moment is that we're always together as Jungkook, Jimin, J-Hope, Rap Mon, Jin, and V.
I want to go on vacation!!

Jungkook: I'm really happy that we're doing concerts together.
I want to do concerts together forever.
Song that represents BTS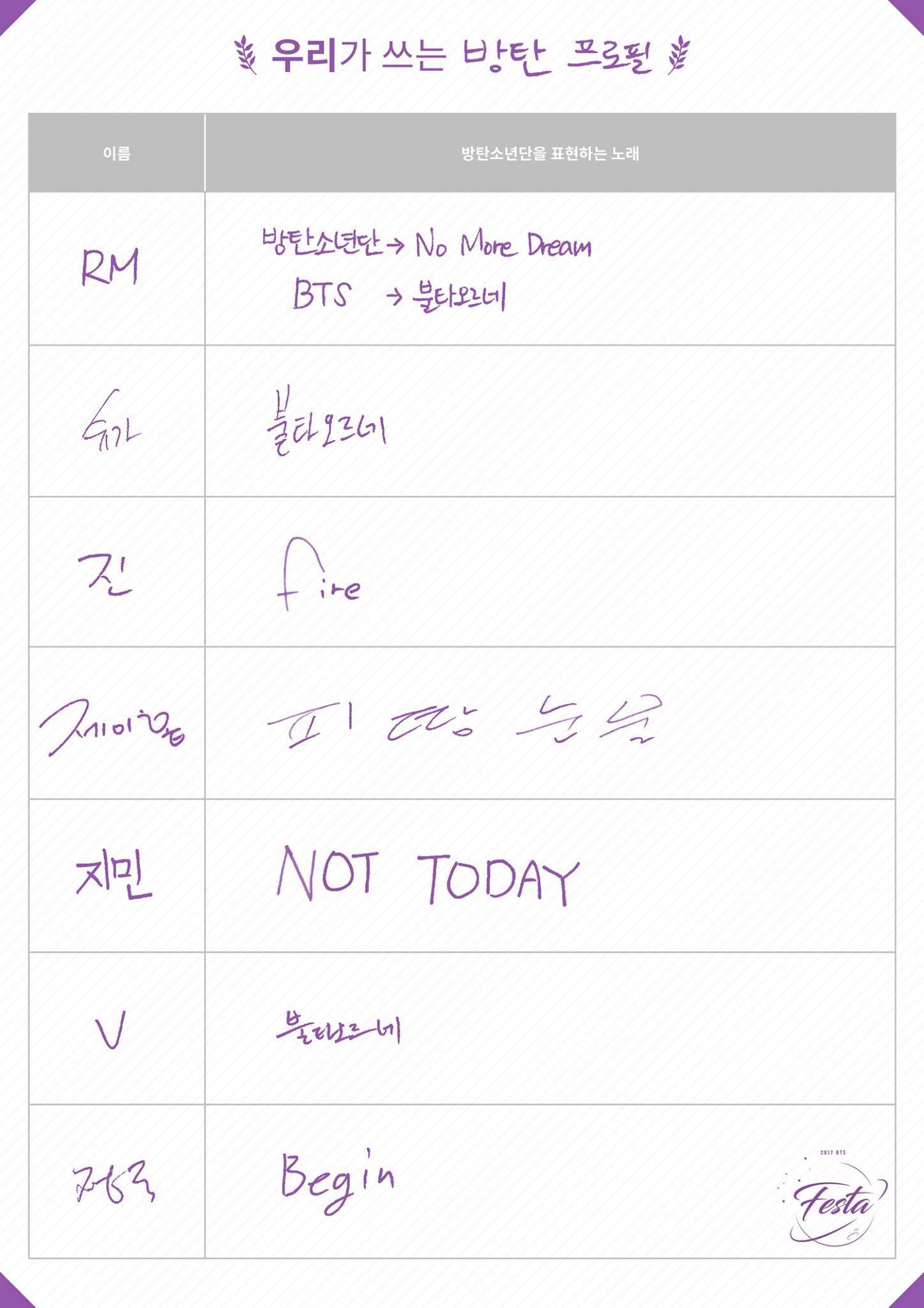 Rap Monster: For Bangtan Boys ➜ No More Dream, for BTS ➜ Fire

Suga: Fire

Jin: Fire

J-Hope: Blood Sweat & Tears

Jimin: Not Today

V: Fire

Jungkook: Begin
Share This Post