BTS Jimin's High School Teacher Opposed His Idol Dreams, At First
He shared his memories of Jimin, and opened up about why he changed his mind.
Before BTS, Jimin was Park Jimin, an ordinary student with extraordinary talent.
Several of Jimin's former Busan High School of Art classmates shared their memories of him with KOREA NOW. Jimin's homeroom teacher also opened up about this famous graduate.
When asked about what Jimin was like as a student, Mr. Lee said, "He was excellent in both his studies and dances, entering as the top student of his department."
"When he was hanging out with his friends in the classroom," he continued. "I did not see him dancing as much, but I remember whenever he was in the practice studio, he practiced more than anyone else." 
"He loved listening to music. So, I remember whenever music came out, he wanted to express something through that music."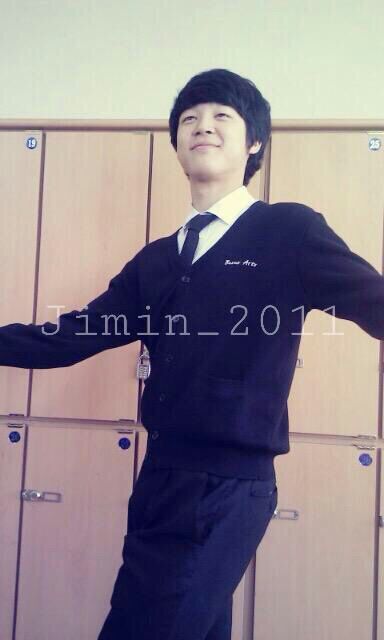 When asked if he has any special memories of Jimin, Mr. Lee talked about the performance Jimin and his classmates put on at his wedding.
When he was in the tenth grade, he and his classmates did a surprise celebration at my wedding. I still remember Jimin singing and dancing at the same time with a mic in his hand, but he didn't even get tired. People told me they felt like they weren't at a wedding, but at a musical show.

— Mr. Lee
Mr. Lee also revealed that, in the beginning, he opposed Jimin's dreams of being an idol. "To be honest," he said. "I opposed at first because that job, being an idol, it's easy to dream about, but definitely not easy to succeed."
Before Jimin's audition with Big Hit Entertainment, Mr. Lee gave him an ultimatum; choose to be an idol or a dancer.
So when he told me he is taking an audition for Producer Bang Si Hyuk, I told Jimin this is his last chance. After this audition, I told him you have to choose your path on becoming an idol or a modern dancer. But on that day, he passed the audition.

— Mr. Lee
When Jimin passed the audition, Mr. Lee realized that becoming an idol, an unattainable dream for many people, could become reality for his pupil. 
As far as I know, thousands of people took that audition, but Jimin was the only one that passed. So after that, I started to think, 'he definitely has potential.'

— Mr. Lee
Mr. Lee never forgot his star student, and Jimin didn't forget his teacher either. During BTS's Japan tour, Jimin's father passed this message from Jimin on to Mr. Lee and Busan High School of Art.
Find out more about Jimin's school days here:
Share This Post