Epic Meal Time Harley Morenstein claims to be Jimin's new Fanclub President
Co-Creator of Epic Meal Time and actor, Harley Morenstein just revealed that he's huge fan of BTS' Jimin.
On May 8, the actor tweeted a video of himself using a Jimin filter as he jokingly claimed to be Jimin's fan club president.
I'm the NEW #JIMIN fan club president. Who dares challenge me?! #BTS pic.twitter.com/UvYcMGzr7o

— Harley Morenstein (@HarleyPlays) May 9, 2017
He even posted a hilarious meme with him "speaking" to Jimin via a SNOW app filter.
Yo #JIMIN where my money at?! WHERE MY MONEY AT?!!! pic.twitter.com/nVrdAghWXc

— Harley Morenstein (@HarleyPlays) May 8, 2017
He then updated his profile to share the news that he's officially a BTS Fan. Welcome to the A.R.M.Y., Harley!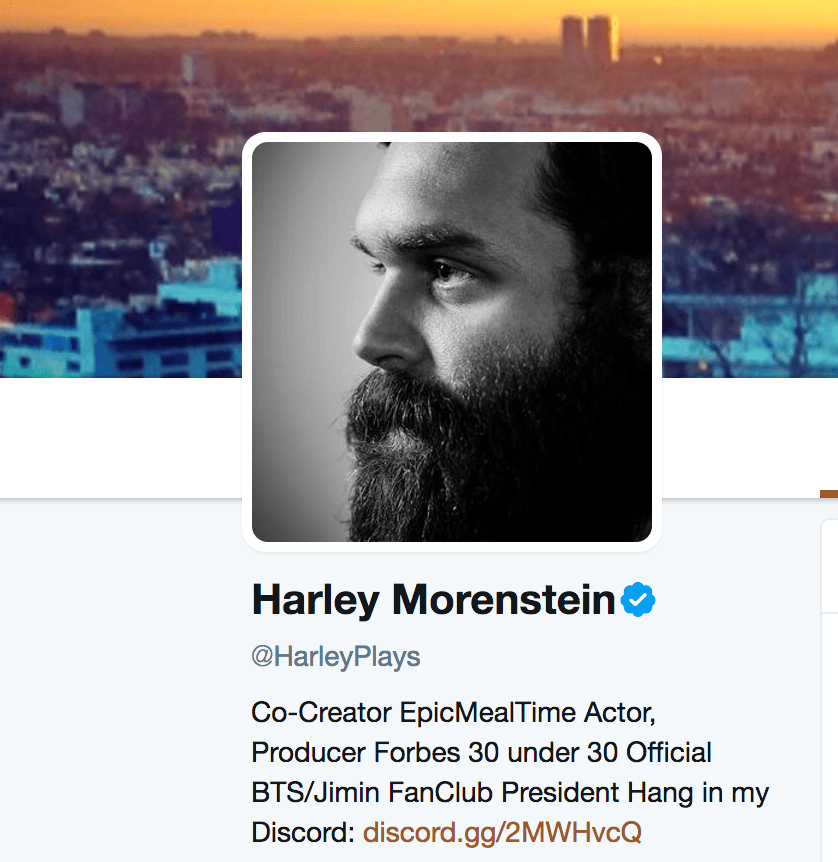 Harley Morenstein is well-known for being one of the actors and co-creators of the YouTube cooking show, Epic Meal Time and the show is well-known for cooking high-calorie types of foods from meat and alcohol.
A few Fans lashed out at him for his tweets, but many welcomed him and his love for Jimin!
jimin hates white people

— 5hinee (@bravegays) May 9, 2017
@zoemellard @HarleyPlays Fam, welcome to the club! ? High five! There are many youngsters & immature K-pop, BTS, Jimin, Asian or white anti's. They'll grow up 1 day

— BTS Rise (@btsjiminierise) May 9, 2017
He even called out all the haters who claimed his love was untrue and made his own memes.
I am saddened by some of these #BTS fans. #JIMIN is about respect. Please refer to image and realize I AM THE ENLIGHTENED ONE! pic.twitter.com/ELMhioY6bL

— Harley Morenstein (@HarleyPlays) May 9, 2017
#BTSBBMA To all those #JIMIN Stan wannabes that are mad cause I'm the JIMIN Fan Club President and want to fight me for it…. pic.twitter.com/4yxeUUtrhq

— Harley Morenstein (@HarleyPlays) May 9, 2017
He called on the support of ARMY to help him defend against haters and promised to continue to love BTS.
To all the #BTS #JIMIN fans. Don't be toxic. It's unbecoming. Be positive. Don't give BTS a bad name. I leave you with this pic.. #BTABBMAs pic.twitter.com/k1M1i9zlnt

— Harley Morenstein (@HarleyPlays) May 9, 2017
Harley even went on to retweet some BTS fans, showing that he's in this for the long run!
To @BTS_twt , you should check out @HarleyPlays

He loves you guys, especially Jimin 👌👍

— MERRY SHITSCRAM! NumbahWonCaptain #JOOLEEN HYPEMAN (@Nikkichewits) May 9, 2017
@HarleyPlays is the president we all need right now 👌🏻✨

— 🎄 Papa Elf 🎄 (@hhannahleighhh) May 9, 2017
And talked about how much he supports all members of BTS, not just Jimin or any other single member.
Trying to blow out #JIMIN's candle won't make #HOSEOK's candle brighter. Wish the army was as good as a #Squad as the actual boys are. #BTS

— Harley Morenstein (@HarleyPlays) May 9, 2017
I think 80% the #BTS fans that were tweeting me were mean. I'm making new positive BTS army members! My home is a #StanPlant starting NOW! pic.twitter.com/FXxP0giBQG

— Harley Morenstein (@HarleyPlays) May 10, 2017
Share This Post