These Footages Prove TWICE Is Greatly Loved Even By Idols
TWICE's playful charisma and adorable charm have won the hearts of fans, as well as other idols too. 
TWICE have always been an extremely outgoing and playful group, regularly reaching out to fans and showing their affection to one another, but the group also have close friendships with many idol groups and artists, as their interaction with Red Velvet has recently shown.
Here are just a few more of TWICE's interactions with other idols that will show just how popular the group is:
Taeyeon
During the Golden Disk Awards TWICE are seen fangirling over Taeyeon on two separate occasions.
As Taeyeon goes to accept an award for her song "Rain," TWICE can be seen just behind Taeyeon. To her right, Nayeon and Jeongyeon are making hearts to show their love and support for the leader of Girls' Generation.
At the same event, Chaeyoung, Jeongyeon, and Nayeon were recorded giving their love to Taeyeon during her performance of "11:11."
https://youtu.be/DfjbyXnaQ-o
Cosmic Girls
TWICE were also making friends at the Seoul Music Awards, applauding and speaking with Starship Entertainment's Cosmic Girls. The two groups walk off together before taking a group selfie and congratulating one another for their hard work and success.
G-Friend's Eunha
Eunha has already proven that she's a huge fan of TWICE and that the two groups have a close relationship. At the Seoul Music Awards, Sana proved that the feeling is mutual. Seemingly out of nowhere, Sana appears and hugs Eunha while clearly full of excitment.
Eunha was just waiting there to hug Sana 🤗🤗😬#TWICE #트와이스 #GFRIEND pic.twitter.com/QSDttuGJrh

— Chaeng's Republic (@ChaeyoungSter01) January 19, 2017
In fact, the two really can't seem to stay apart from one another. On another occasion at the 31st Golden Disk Awards, Sana just couldn't resist tightly hugging Eunha. 
I.O.I
As two of K-pop's most popular groups, the members of TWICE and I.O.I are often competing with each other on the charts. But for the two groups, their regular meetings on stages and at events have actually led them to become close friends rather than rivals. I.O.I's Yoojung, Sejeong, and Mina were even seen taking some artistic liberties with the "TT" choreography at the Seoul Music Awards.
sejeong doing TT is the qtiest IM LIKE TT pic.twitter.com/DIL1bRe9oV

— j 🐧 r (@missmyoui) January 19, 2017
BLACKPINK
Members Jisoo and and Jennie were spotted by fans doing the "TT".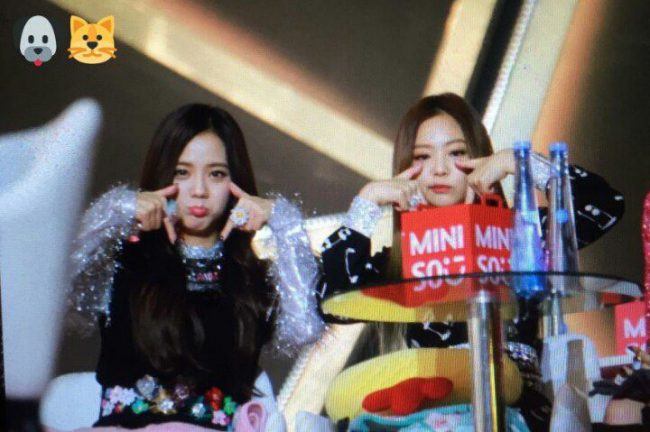 Whether it be between themselves, their label mates, or even their own fans, TWICE surely are some of the friendliest girls in K-pop.
Share This Post