I.O.I Members Take Over Chaeyeon's Instagram Account To Spam Sohye's Post
Despite having recently disbanded, the members of girl group I.O.I continue to show their strong bond after promoting together for a full year.
Member Kim Sohye recently uploaded a photo to her personal Instagram account commemorating the time the group spent together, with the caption "Up until now, Yes I love it! This has been I.O.I. I love you." Shortly after her upload, each of the I.O.I members left comments on her picture through Chaeyeon's Instagram account.
Doyeon: We all really worked so hard ?
Chaeyeon: I love you I.O.I. We'll all be happy. ? Thank You.
Somi: I was I.O.I's best maknae. ?
Chungha: Call me whenever you want, I'll be ready to run over to you ? ?
Yoojung: I.O.I forever. All 11 members are mine. ?
Mina & Sejeong: Thank you for always staying next to us. In the future, we'll be cheering for you. I love you all. ❤️❤️❤️
Yeonjung: We'll be forever together~~ I really love you. ❤️ Let's be together for our entire lives. ?
Kyulkyung: I love you I.O.I >< Really really.
Nayoung: I.O.I is the best. ?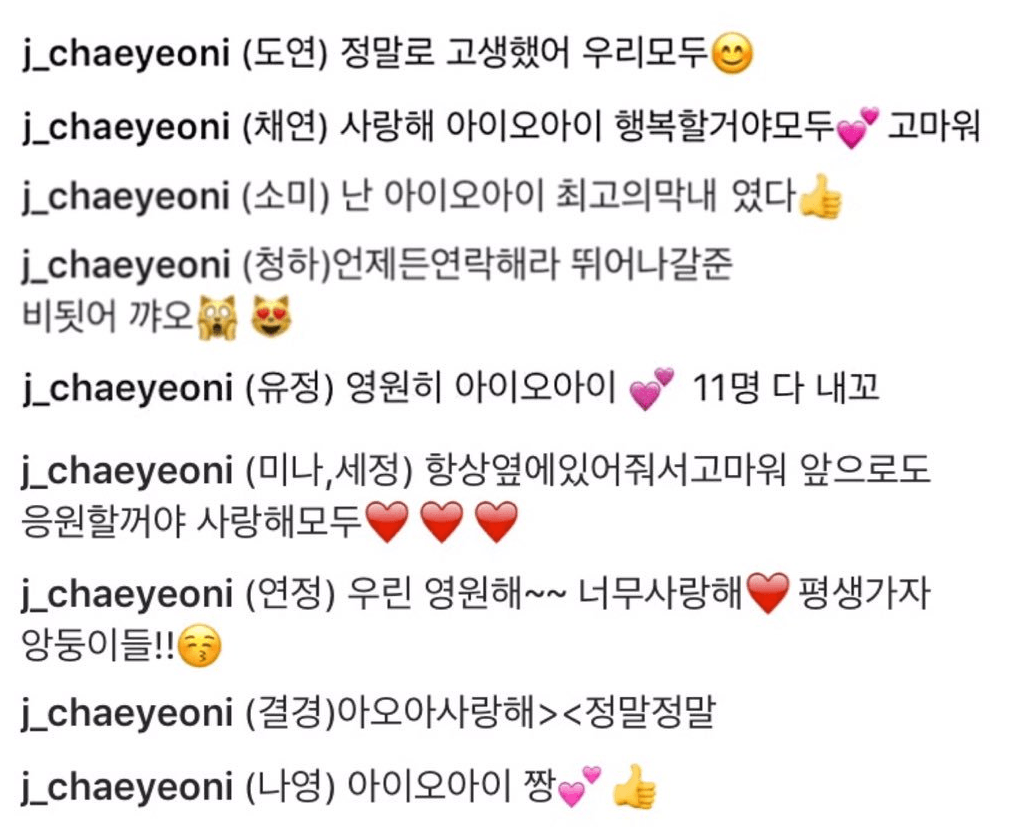 With I.O.I's fancafe having officially shut down on January 31, the members will likely only be able to communicate to their fans directly through Instagram. Even though the group is no longer active, the members were recently seen hanging out and enjoying time together.
Share This Post